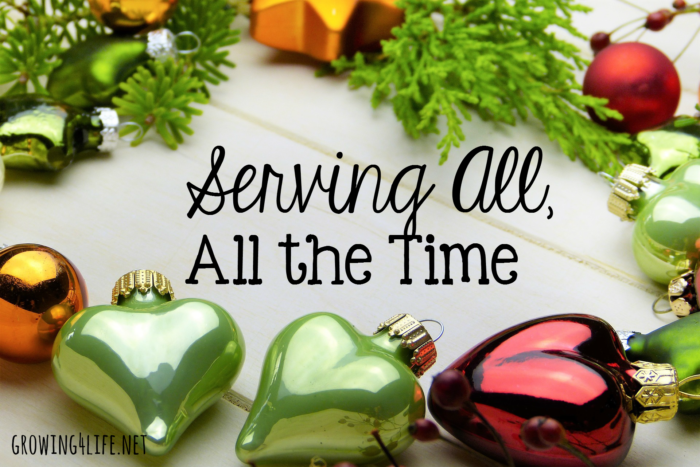 This is the time of year that we focus on giving. Much of the giving is focused on children. We fill shoe boxes and purchase toys to give to local charities. It is rewarding to watch our children's excitement as they walk with us through the store and help to pick out toys and toothbrushes and socks for children across the world or in their own neighborhood. It is truly a wonderful opportunity to touch the world with the love of Christ.
Giving to children is so special. There is something especially delightful about it. And Christmastime is such a fun time to give. There are so many different opportunities available that it doesn't take much work for us to be part of something greater than ourselves. Perhaps we should use this time of year as a catalyst for change– a change that yields a life that intentionally gives and serves all year long.
There are some things to consider as we evaluate our lifestyle of service.
Children are wonderful, but there are so many elderly people who have no family to visit them. They sit, sad and lonely, throughout the year, wondering if anybody cares. Do they have the same value as a child? We would answer of course because we know that is the "right" answer but do we live it out by our actions?
And do we give all year long or do we only serve and give during this one little window of time during the year? Are we practicing a life of service all year long or do we live a life of self-absorption that disappears for a short time at Christmastime?
Time goes so fast. We will be back to our normal routine again before we know it. This holiday season seems a good time to consider our patterns of giving and serving.
Many people have set examples for me in this area of serving others throughout the year, but one example that made an impact on me was something my mother-in-law did when I was a young mother. She would take my kids along with her to the local nursing home to visit a few of the elderly from our church. As a pastor's wife, it was a way she could bring a little sunshine and joy to their lives. At the time, I didn't realize just what a service of love this was. Most older people love kids. As I watched her set this good example and as I grew braver and more mature, I hesitantly decided to try it myself. I say "braver", because my greatest fear was that I wouldn't know what to say.
So one day I gathered my children and we set off in our minivan. How do you talk to an elderly person that you don't really know? But what I found was that, especially with kids along, there is rarely an awkward moment. I figured out how to ask lots of questions and we would learn so much about the past. (The incredible upside of this is that so many of these older people have so much to teach us. If we will just take the time, we can learn so much.)
But this post is not just about giving of ourselves to elderly people. Are we serving and encouraging our pastors, and other church members such as the single parents, the downcast and depressed, the sick and weary, and those who are struggling financially? These should all be on our radar throughout the whole year.
There are many ways we can encourage, serve, and build them up. We can do this by sending a card or an email. We can do this by babysitting; providing meals, if needed; by just sitting and talking after church instead of rushing out the door. And, of course, we can do this by praying for them. There are many more ways we can love and serve others.
One of the things I try to do is to think about what I would want someone to do for me if I were in their situation. And you know what? Sometimes I am the one who needs encouraged. Sometimes I need to be the recipient of the love and service of my church family. I have been there, too. And this may be one of the best things about being part of a church family–the love and care we take of each other. Learning to receive gracefully and gratefully is a topic for another post.
As I write this, I can see how I have failed in this area of serving others in such a big way. I can be so blind. I often find myself so caught up in my own agenda that I lose sight of those who need to be encouraged, built up, and supported.
But scripture continues to prod me (and hopefully you, too!) into a holier and more obedient life that is filled with love for others. I Peter 4:10-11 exhorts us to serve one another–
As each has received a gift, use it to serve one another, as good stewards of God's varied grace: 11 whoever speaks, as one who speaks oracles of God; whoever serves, as one who serves by the strength that God supplies—in order that in everything God may be glorified through Jesus Christ. To him belong glory and dominion forever and ever. Amen.
I John 4:7-8 exhorts us to love one another–
Beloved, let us love one another, for love is from God, and whoever loves has been born of God and knows God. 8 Anyone who does not love does not know God, because God is love.
And I Thessalonians 5:11 exhorts us to encourage one another–
Therefore encourage one another and build one another up, just as you are doing.
These passages are particularly referring to the Church. This is our first priority–serving other Christian brothers and sisters, loving and taking care of each other in a way that unifies the church and causes the world to step back and wonder what we have that they don't have.
Scripture will not let us go. It continues to draw us to a more mature faith, showing us how we fail and where we need to grow. Christmas season is a great time to evaluate our life of service.
May we broaden our horizons and see that needs abound across all classes, races, and ages of people. May we never miss an opportunity to share the Gospel as we give to those that don't know Christ. And may we be especially sensitive to the needs of our Christian brothers and sisters both here and across the world as we faithfully serve and give throughout the whole year!