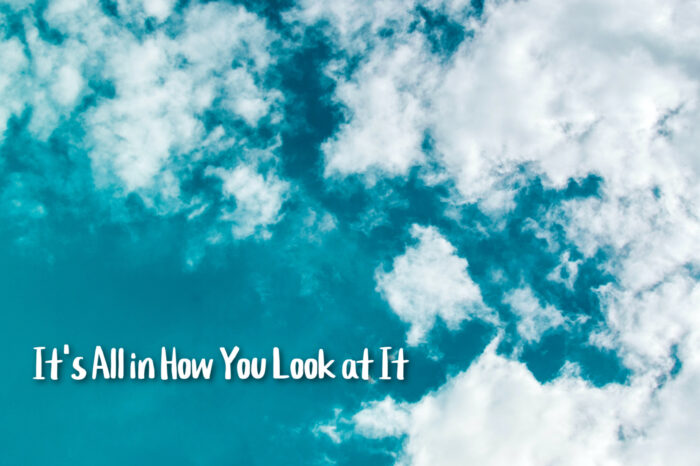 Do you remember laying on the ground when you were a kid and finding shapes in the clouds? Oftentimes, two people looking at the same cloud see two different things. One might see a dinosaur, while another may see a truck. That is because those looking have two different perspectives.
As believers, we should always have a different perspective than the world around us when it comes to the small irritations, the bigger frustrations, and even the great trials in our lives. But how often I fail at this very thing! I thought of this the other day when I took a quick trip to a store.
My eyes strained and tried to make sense of the words. But, as I stood in that toy store, I knew there was no way that I could decipher the small print on the box I had picked up. The words were just blurred blobs of black. And I have to admit that I sighed as I pulled out my reading glasses. The sigh indicated my frustration and my heart of complaint. Though I didn't speak, my head was certainly thinking it and God knows my thoughts.
A few minutes later, this thought struck me: Have you considered just how many people in history never had the incredible gift of reading glasses to extend the usefulness of their eyes?!?
Whoah. As I thought through this, I knew it couldn't have been but a few hundred years that they have been in existence. And, although literacy has not been in existence all that long and the need wouldn't have been terribly great for reading glasses, I knew that it would have been frustrating to grow older and not be able to see anything close up.  All through history, women would have to have had to mend and sew and cook and bake and wash clothing. How frustrating it must have been for them as their eyesight failed and detailed work became impossible to do well–if at all.
And I was complaining? If even in my heart, I knew this was sinful. I had the wrong perspective! Instead of being thankful for God's gift of eyeglasses, I was grumbling because I needed them.
As I intentionally turned my perspective right side up, my overall attitude changed. There is just not room for complaint in a heart that is filled with gratitude.
I wish I could say I am always so quick to see what is going on in my heart when I complain. But, alas, I am not. It's like second nature for us all. It is the thing we turn to when things aren't going our way. Sometimes we have the wherewithal to simply think it. Other times, we vocalize it. No matter how we express our complaining hearts, it is always sin.
The Bible says this in Philippians 2:14-15–
Do all things without complaining and disputing, that you may become blameless and harmless, children of God without fault in the midst of a crooked and perverse generation, among whom you shine as lights in the world.
There are no exceptions that make a complaining heart acceptable. No conditions or set of circumstances that give us a right to complain.
If we continue to read the verses, we can see that this is how we shine as lights in the world. Isn't this so interesting to reflect upon? We shine as lights in the world by not complaining and arguing about everything.
This has to mean then that when we do complain and argue (dispute), our lights are dimmed. Perhaps even turned off.
Later on in Philippians we read the following–
do not be anxious about anything, but in everything by prayer and supplication with thanksgiving let your requests be made known to God. (Philippians 4:6)
Did you catch that word in there that keeps us from having a complaining heart? It is by bringing our requests to God with thanksgiving.
Complaints and thanksgiving cannot reside in a heart side-by-side. They are mutually exclusive.
So, practically speaking, how do we cultivate a thankful heart rather than a complaining heart?
Sometimes, we can just turn our complaint on its head and change our perspective, as I did with my glasses. When we are doing housework, we can instead thank God that we have a home. When we are taking care of the children, may we remember the tremendous blessing of caring for these precious souls. When our car breaks down, well, let's thank the Lord for the car in the first place. You get the idea. This change in perspective can be a powerful tool.
But what about the things that happen in life that have no upside? The things that devastate us and are life-changing? How do we go from complaint to thankfulness then?
It is only through trusting God and His Sovereignty. Intentionally resting in His promises in scripture will enable us to endure and be thankful–not for them but through them as we dwell on His love, His grace, His mercy. Understanding and believing that ALL things work together for God's purposes and for the good of those that love Him (Romans 8:28) –this truth can and will uphold us and carry us through the darkest days.
Yesterday, I was in the company of an elderly couple who has been through some very rough times in the past couple of years. Things are still frustrating and difficult for them. When I asked them how the Lord has helped them, the wife said something like, "He's just been with us all the way."
When she said that, I thought of these verses from Psalm 37 (vs 23-24)–
The steps of a good man are ordered by the Lord,
And He delights in his way.
Though he fall, he shall not be utterly cast down;
For the Lord upholds him with His hand.
The Lord will uphold us, no matter what happens. And that is a reason to be thankful, no matter what we are going through.
Hearing this truth in the lives of those who have experienced it can be greatly encouraging. Even more encouraging is thinking back over our own lives and remembering the times we have been upheld. God won't drop us now. We are His sheep and we can never be lost–
And I give them eternal life, and they shall never perish; neither shall anyone snatch them out of My hand. My Father, who has given them to Me, is greater than all; and no one is able to snatch them out of My Father's hand. (John 10:28-29)

So may we turn our complaints into gratitude today. May we remember God's promises. May we look at things from an eternal perspective and, with a heart of gratitude, shine as bright lights in this very dark world!