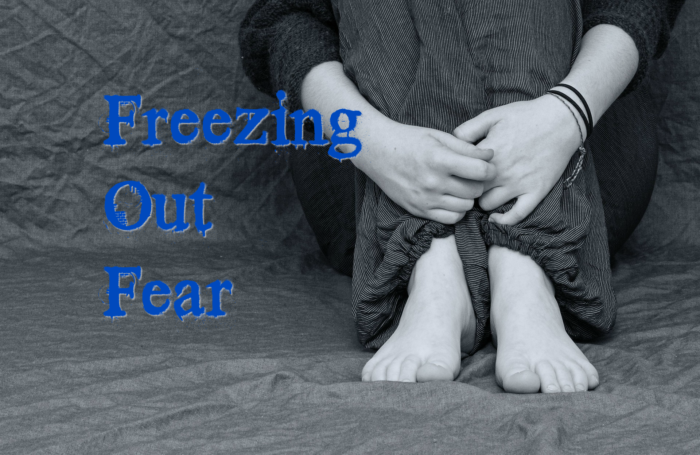 The other evening, as my family discussed the recent terrible church shooting, my father-in-law shook his head.
"Can you imagine discussing something like this twenty years ago??" he asked incredulously.
No, we can't. Because we wouldn't have. Oh, bad things happened and there have always been evil men and women. But this. This is just beyond anything we could have imagined.
And then someone else mentioned how frequent these things are becoming. The shock is almost wearing off because these types of events are becoming monthly–sometimes weekly.
And this can breed fear in some of us, making us wonder–when will it be us? Or someone close to us?
Or it could be something else that makes us fearful; some other anxiety that is stealing our peace and joy. There are innumerable causes for fear in our lives.
For some of us, this fear can turn into a life full of anxiety and worry, turning our happy smiles into frowns of concern. Fear is a mighty master, controlling our lives with an iron fist.
Of course, much of this comes from not taking Matthew 6:35-34 very seriously. As I have battled my own fears about a variety of things, these verses keep coming to mind–
Therefore I say to you, do not worry about your life, what you will eat or what you will drink; nor about your body, what you will put on. Is not life more than food and the body more than clothing? 26 Look at the birds of the air, for they neither sow nor reap nor gather into barns; yet your heavenly Father feeds them. Are you not of more value than they? 27 Which of you by worrying can add one cubit to his stature?
28 "So why do you worry about clothing? Consider the lilies of the field, how they grow: they neither toil nor spin; 29 and yet I say to you that even Solomon in all his glory was not arrayed like one of these. 30 Now if God so clothes the grass of the field, which today is, and tomorrow is thrown into the oven, will He not much more clothe you, O you of little faith?
31 "Therefore do not worry, saying, 'What shall we eat?' or 'What shall we drink?' or 'What shall we wear?' 32 For after all these things the Gentiles seek. For your heavenly Father knows that you need all these things. 33 But seek first the kingdom of God and His righteousness, and all these things shall be added to you. 34 Therefore do not worry about tomorrow, for tomorrow will worry about its own things. Sufficient for the day is its own trouble.
But how do we freeze out the fear that threatens to undo us? What can we do to help eradicate the sins of worry and anxiety from our lives?
I believe one of the most underrated things we can do to help us overcome fear is to cultivate a heart of gratitude. We learn this from Philippians 4:6-7–
Be anxious for nothing, but in everything by prayer and supplication, with thanksgiving, let your requests be made known to God; 7 and the peace of God, which surpasses all understanding, will guard your hearts and minds through Christ Jesus.
Do you see that little phrase in there?
With thanksgiving.
How often do we practice this as we face our fears and anxieties? Do we come to God with a thankful heart or is gratitude crowded out by the fear that threatens to overwhelm us?
Because you can't really have both. You can't be fearful and thankful at the same time. They are mutually exclusive.
Have you ever thought about that before?
And so this week of Thanksgiving, I want to encourage you (and me, too!) to give our hearts and minds to developing a spirit of gratitude. To truly live out Philippians 4 and to be be anxious for nothing, but instead making our requests be known to God with a spirit of thanksgiving. And that is when fear will be frozen out and the peace of God, which surpasses all understanding, will guard our hearts and minds.