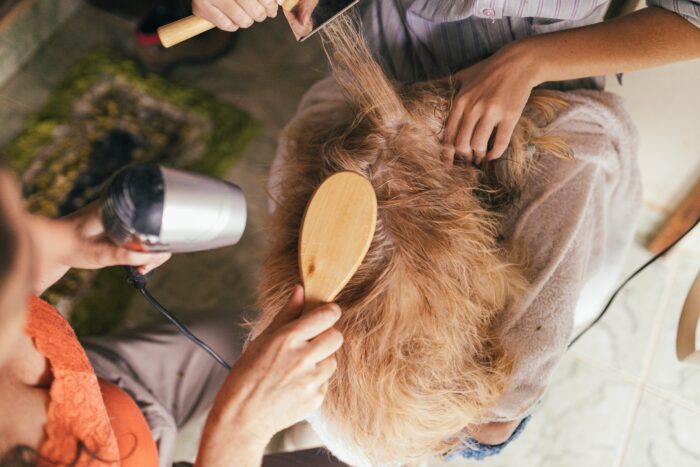 Our little puppy needed a haircut. I was unable to get her into a groomer for far longer than it should have been. She was an unkempt and matted little fluff ball when I dropped her off and a too skinny and yes, plain ugly dog when I picked her up. My heart sank as the groomer apologized profusely explaining how badly matted she was and that she wouldn't normally cut a dog that short. Yes, I understand. I had such a difficult time finding a groomer to take her and then when I found one, of course, I had to wait for an appointment so here we were. No one's fault.
As we pulled into the campground last Friday, our oldest grandson looked at her when she hopped out of the truck and wondered whose dog she was (yes, she looks THAT different). We all had a good laugh over that. A day later, he was in the camper petting her and exclaiming that her fur is already starting to grow and she's looking cuter already. Also had a good laugh over that.
But despite his hopeful words, we all know that she's just not very cute without her fur. I wish it wasn't true but it is. Currently, she's a dog only a mother (and perhaps those with soft spots in their hearts for ugly dogs) could love.
Now…she's the same dog. She hasn't really changed who she is. She just looks different. Not as appealing.
One could say that a similar thing happens when we turn to Christ or even when we grow in Christ. We recognize sin for what it is. We start turning away from sin. We begin our journey in living life to please God instead of pleasing self.
And this looks ugly to our friends. They don't like this change. Stripped of our partying, our sinful entertainment, our drinking, and our obscene language, well, we just don't look all that appealing to our old friends.
But this isn't just true with unbelieving friends. This often happens with Christians friends, too. When we really start studying the Word and recognizing the acceptable sins and the worldliness within the church and try to begin turning away from them, it usually means turning away from our friends, as well.
If we are going to get serious about our faith and follow the Lord whole-heartedly we will lose friends. People are going to treat us like my ugly dog. They will keep their distance and murmur cool hellos but they won't want to get within more than a few feet of us because we look unappealing to them. Not only do we no longer live up to their definition of "fun to be around" but, if they are saved, we may make them feel uncomfortably convicted.
And so, as serious believers, we need to be prepared to give up everything for Christ. And for many of us, that will probably mean a few (or many) friends.
But God is faithful. He will most likely provide new like-minded friends who love Him as much (or more) than we do. And if He doesn't do that, He will be our friend. For He alone is all we need. He will give us the strength to walk alone if that is what He asks of us.
When we read this verse in Luke–
Then He said to them all, "If anyone desires to come after Me, let him deny himself, and take up his cross daily, and follow Me. (Luke 9:23)
we often think of denying ourselves material wealth or some other tangible thing. But I'd submit to you that this means we deny ourselves in every way–including our much longed-for relationships with friends and even family. Our desire to follow Christ should be greater than our desire for anything else.
The true Gospel is so simple but it could potentially cost us everything.
When we begin to change, many won't like it. They will start distancing themselves. They may even get angry at us. They will ridicule, call us names, gossip and lie about us. I've been on the receiving end of all of these things at some time or another. It is not fun. But I can tell you without a doubt that it is worth it.
Growing more like Christ is always worth it in every way. In this life and the next. Oh, we may not think so during a painful time that would be made so much less painful if we'd just follow the crowd and be like everyone else. But God will help us survive that temporal, painful time (and it is temporal no matter how long it lasts).
And don't forget– eternity is just around the corner and it will be awesome.
If then you were raised with Christ, seek those things which are above, where Christ is, sitting at the right hand of God. 2 Set your mind on things above, not on things on the earth. 3 For you died, and your life is hidden with Christ in God. 4 When Christ who is our life appears, then you also will appear with Him in glory. (Colossians 3:1-4)