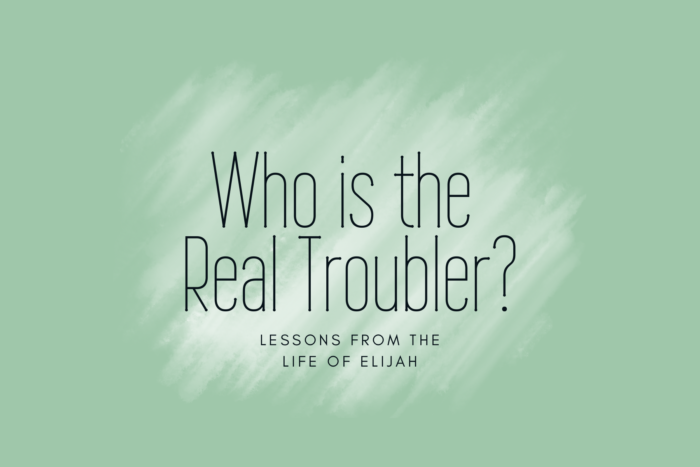 I have been reading I Kings 18 and I just had to send out a second post to you all this week because it is just so interesting. And so very relevant to our own culture today.
In case you are unfamiliar with this book of the Bible, this particular passage in I Kings is about Elijah. In chapter 17, Elijah had pronounced to Ahab (wicked King of Israel) that God would judge Israel by allowing a three year drought—"there shall be neither dew nor rain these years, except by my word." (I Kings 17:1).
We are especially dry here where I live right now and so thinking through this took on new meaning. I can't even imagine three whole years without rain!
In chapter 18, Elijah returns to Ahab three years later to pronounce that it would now rain. But this was not just a simple pronouncement. If you will remember, this is where Elijah calls all of the prophets of Baal to Mount Carmel to a showdown. Whose God would answer by fire? (I Kings 18:24).
But let's take a look at a few things of note in this chapter. There are quite a few lessons for all of us who seek to follow God whole-heartedly.
First, let's take a look at a man by the name of Obadiah. He was over the King's household but he "feared the Lord greatly" (I Kings 18:3) In fact, so much so that, when Jezebel sought to destroy all of the prophets of the Lord, he hid a hundred of them in a cave and took care of them.
So here was a man who was in a high place of influence and he used it for the good of God's people. Not all are called to be teachers or preachers or influencers. Some are called to protect and to help and to support. Wherever we are, we must determine what our role is in God's Kingdom. But we all do have one. God may have put you in a place of great influence, where you can really help and encourage those who are on the front lines. We should never neglect nor downplay this very important role in God's family.
Second, we have this interesting exchange between Ahab and Elijah at the end of that three years—
Then it happened, when Ahab saw Elijah, that Ahab said to him, "Is that you, O troubler of Israel?"
And he answered, "I have not troubled Israel, but you and your father's house have, in that you have forsaken the commandments of the LORD and have followed the Baals. (I Kings 18:17-18)
Ahab accuses Elijah of being the "troubler of Israel" but who is the real troubler here? Elijah says it to him straight: Ahab is! He has followed Baal and forsaken God and has brought judgment to Israel.
Oh, how often this happens still today! Particularly in churches. A person stands up for the truth of God's Word against false teaching and they are demonized and ridiculed. They are called divisive and a "troublemaker". Normally, they end up pushed out of the church. This has happened over and over again. I'd rather guess it has happened to some of you reading this right now.
It can be discouraging, can't it? But we must remember that just because someone calls us the "troubler" does not necessarily make it true. Now…we can do things all wrong when we stand for truth and we certainly must be on guard to constantly and intentionally be checking our heart attitudes and our demeanor when we speak up in defense of God and His Word. But speaking up—even if we do it with the right attitude and in the kindest of ways—will often bring censure and anger. The truth of God's Word is not something that most people love. Often, sadly, this includes even believers.
So don't be discouraged if you've been called a "troubler" in your church or family or workplace. We need to check our attitudes, pray for grace and love, and then speak up against false doctrine and worldliness, when given opportunity. Just as we know God has commanded us to do.
Third, in I Kings 18, verse 21, Elijah accused the people of "limping between two opinions". However, you can't waffle between God and pagan worship. You can't serve God and Satan at the same time. That's what most in Israel were trying to do.
And I think that often happens in this culture, as well. Only we have more sophisticated, modern names for the things we worship than "Baal". But, when it all comes down to it, it is the same thing.
When we choose to allow our child to play sports on a Sunday morning instead of go to church, we are dividing our allegiance. When we choose to watch a show or movie filled with wickedness, it's probably time we just call it what it is: An act of allegiance to the devil. When we live and breathe work or education or even our families, they have become an idol that is in just as much competition with God as Baal ever was.
These idols in our lives sneak in. We don't set out to worship anything else besides God. But, before we know it, our entire lives are wrapped up in something other than God. We must always be on guard against divided allegiance in our souls.
---
So those are just a few of the lessons God has for us in I Kings 18. There are more but I do not want to make this too long. I hope this has encouraged you this morning. I know it was very encouraging—and challenging, as well— for me to consider these things.
As we read on in chapter 18, we realize anew that God is all-powerful, all-knowing, and that He, and He alone, is the ONE, TRUE GOD. May we keep this in our minds always as we seek to live for Him every single day.