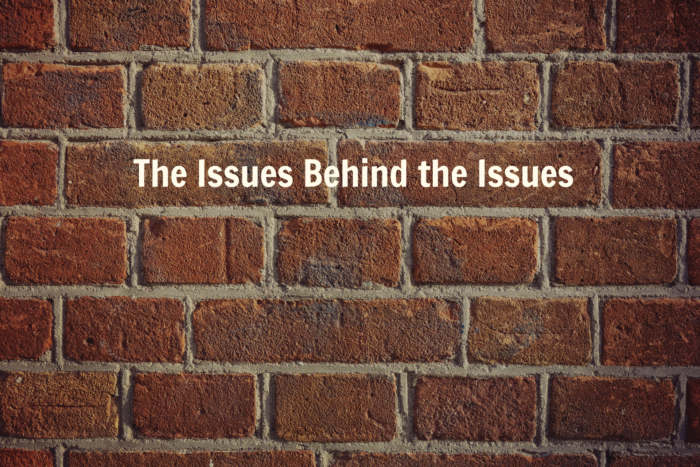 We have become a people that responds to issues. Whether it's our own emotional health (anxiety and depression) or our kids well-being (ADHD, anger issues, rebellion), our situations at work and church (relationship problems), or our marriages (struggles and strife) we work hard to find an escape hatch very quickly. We want to be free of the hassle, inconvenience, grief, and pain that these things bring. And so we quickly medicate, change jobs or churches, or leave our spouse.
Before I continue on, let me be clear about something. I am not judging you individually. I know that some people legitimately need medication, that sometimes we must change jobs or churches, and that there are even times that warrant leaving our spouse. So please know that this is not about any individual but rather about a trend I have been noticing.
It is easier to take the escape hatch than to wade through the unpleasant waters to fix the issue. It is easier to just fix something temporarily than to take the time to fix it for the long haul. Tape is easier to apply than digging and drilling and nailing.
So I do get it.
But there are almost always deeper, spiritual issues behind the issues we can see.
A hyperactive child may be crying out for discipline. Refusing to discipline in a biblical way leads to undisciplined, uncontrollable children.
An angry child may be frustrated by the lack of control he feels because mom and dad are always fighting or perhaps because something happened that they just don't want to tell you. Instead of parenting to the issue, it is critical that we get to the bottom of things.
An anxious woman has an issue with trusting God and submitting to His will for her life.
An angry man may be struggling with his loss of control over his circumstances.
A struggling relationship at church or work is driven by envy or jealousy.
And sometimes there is no big underlying issue but it's just a certain stage in our lives or our children's lives that we must walk through.
And on and on and on the list goes.
But as a culture we have been conditioned to simply fix problems without digging deeper. When we do dig deeper it is through the use of a humanistic psychologist and not through God and studying His Word or even by using a biblical counselor. (This is a tricky area because even a lot of "Christian" psychologists and counselors use a lot of human wisdom that is in complete opposition to what God's Word teaches. See here for more information.)
And there is nothing wrong with getting the right outside help. Sometimes our pastor or a good biblical counselor or even a friend can help us see things we can't see. But may I suggest that we first pray and ask the Lord to guide and direct us and start digging into His Word to see if there is something we are missing?
I know that as I have struggled with terrible bouts of anxiety and depression these past few years that it has been a sin issue for me. Yes, I have had a tremendous amount of change in my life over the past 5-7 years, some that I saw coming and some that I did not. And, yes, I have hormones that are wreaking havoc in my body. And, yes, owning a business and having a ministry that is not the most popular can be extremely stressful. But at the end of the day, it was a sin issue. I was not trusting God, I was self-centered and self-absorbed, and I was not in submission to God's Will for my life. Plain and simple.
I thank the Lord that He showed this to me. It was extremely painful (another reason we avoid digging beyond the issue) and it's not over yet. I still have days of great struggle and pain. I share this to hopefully encourage you because I know that I am not alone in this. Others have shared with me their struggles in this area.
But mostly I share this because I think it is so important that we do a little digging and wading through the gunk before we find that escape hatch. I believe that we must give some effort and prayer before we head to the pharmacy or walk away from a situation. Perhaps this is just the thing that God is using to teach us and/or our children an important lesson. Perhaps by lessening the pain, we are actually missing out on learning something very important. In our urgency to diminish the pain and grief and hassles, we may be missing out on something very glorious.
And so today I want to encourage you to spend some time in prayer and God's Word and to be patient as you work through issues in your life and the lives of your children before heading for that escape hatch. God is so faithful and He will meet your needs–sometimes in ways you could never even have imagined! But when we are so quick to fix our own problems, we miss out on seeing His provision.
And sometimes…
We can't fix the issue. And God doesn't fix the issue. That doesn't settle very well with our 21st century selves. We believe we should be able to fix everything. But sometimes God allows a situation in our lives that remains unresolved. Just like Paul's thorn in his flesh, we plead for it to be removed and God says no. But we know from 2 Corinthians 12:7-10, that we can rest in God's sovereignty even when this is the case. God has a reason and we can trust Him (Romans 8:28-30).
Life is not fun and we are burdened with all kinds of heartaches and frustrations living in this fallen world. But God is faithful and will meet our needs. But we are so often caught up in fixing and solving our own problems that we leave little opportunity for God to work in the way that only He can.
So let's take some time to figure out the issues behind the issues, praying and asking the Lord for guidance as we study the Word to find out what He has to say on the matter. And let's do this first rather than as a last resort.