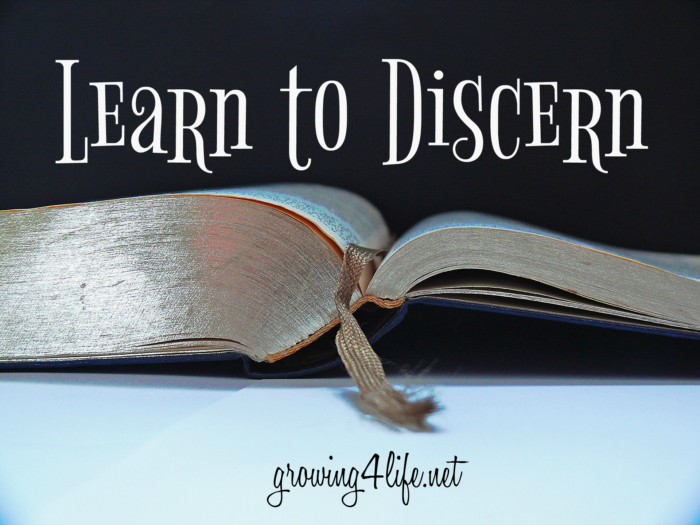 It is here on this page that you will find each post in the Learn to Discern series. I hope you find these helpful as you try to process what is going on in our world–and, even more importantly, in the church–and compare it all to what the Bible teaches us.
I believe Jude 3-4 gives us the perfect wisdom as we search for truth and light in the midst of these evil and dark days–
Beloved, while I was very diligent to write to you concerning our common salvation, I found it necessary to write to you exhorting you to contend earnestly for the faith which was once for all delivered to the saints. 4 For certain men have crept in unnoticed, who long ago were marked out for this condemnation, ungodly men, who turn the grace of our God into lewdness and deny the only Lord God[b] and our Lord Jesus Christ.
We are to contend for the faith. As ungodly men twist and pervert the Gospel we are to contend. This is a word that implies strong feeling and action. Synonyms include assert, claim, argue, insist, declare, and profess. How opposite this word contend is to words like ignore and overlook. And how opposite this is, too, to the compromise we see almost daily now in ministries of trusted pastors and authors, who concede key doctrines in the name of unity. Oh, this is not what the Bible teaches us to do! May we remember this–
A warped, perverted gospel is no gospel at all!
So let's keep fighting boldly and bravely–always relying on God's Word as our anchor and for our answers!
Read this post first: Before We Can Learn to Discern
Here are the posts available in this series (more will be added as they become available)–
Learn to Discern: Introduction
Read this first to understand the biblical call and importance of discernment. Here I also explore why so many of us choose not to discern.
Learn to Discern: What Is Biblical Christianity?
This post is an essay written by Pastor Dean on what Christianity is according to scripture. There is so much nonsense that is attributed to God these days, that I thought a good, solid foundation of what Christianity is according to God as written in His Word would be a great place to start.
Learn to Discern: The Corruption of Christianity
This is the second post written by Pastor Dean in this series. Here he shows six ways that Christianity has been corrupted. While these six things have always existed in one form or another since the inception of Christianity, they are all now working together to bring the church into the coming one-world religion. Read this to find out what you should be looking out for! 
Learn to Discern: What Is Your Paradigm?
Before we can do any discerning at all, we have to determine what we are going to use as our barometer for truth. This post looks at this question in light of the Word of God. As Christians, this is our gold standard and becomes the basis for our world view.
Learn to Discern: Who Do You Follow?
A curious phenomenon that has been taking place over the past 25-30 years is the obsession with celebrity. We often sacrifice our loyalty to the Word of God for the loyalty to a man (or woman). Read here to find out why this is a big problem and what we can do to make sure we personally do not fall for this trick of Satan's.
Learn to Discern: Acknowledging the War
It is impossible to discern if we do not acknowledge the war that is raging in the supernatural world. Scripture makes it clear that Satan is our enemy. Learn why it is critical that we understand this before we can discern properly.
Learn to Discern: Living in the Light
Discernment can be a lonely and discouraging road to take, as people tell us we are critical and ridiculous and talk about us behind our backs. As we become more and more informed of the darkness around us and that has infiltrated the church, we can start to feel hopeless and sad about the future of ourselves and our families. Read here to find out what encouragement God has for us in His Word as we learn to discern.
Learn to Discern: Preparing Your Heart and Mind
Six things we need to BE (or at least be working on) before we can effectively discern. Are these part of your life?
Learn to Discern: Philosophies in Opposition
In this post, I present ten specific philosophies purported by many in the mainstream church that are in direct opposition to what the Bible teaches. This is not an exhaustive list but merely a short list to encourage believers to open their eyes to what is going on around them.
Learn to Discern: Reawakening the Conscience
Does worldly entertainment affect our ability to discern? This post explores this question, while also providing testimonies that back up its premise. Don't miss this one!
Learn to Discern: How Do You Determine What Is True, Right, and Good?
Does the fact that something is helpful make it true or right or good? Read this to find out how pragmatism has invaded the church and how this deadly philosophy is changing the method that Christians use to determine truth.
Learn to Discern: Knowing When to Speak Up
How do we know when something is worth the confrontation? Here are a few guidelines that will help.
Learn to Discern: When You Need a Little Help
Some helpful resources along with some guidelines to help you find trusted sites.
Learn to Discern: How Do I Share What I Am Learning?
Some guiding principles that we should consider as we talk with others about discernment.
May God bless you as you seek to know the truth in God's Word. The book of Jude ends with these wonderful verses. May they be an encouragement to you as you learn and grow–
Now to Him who is able to keep you from stumbling,
And to present you faultless
Before the presence of His glory with exceeding joy,
To God our Savior,
Who alone is wise,
Be glory and majesty,
Dominion and power,
Both now and forever.
Amen.