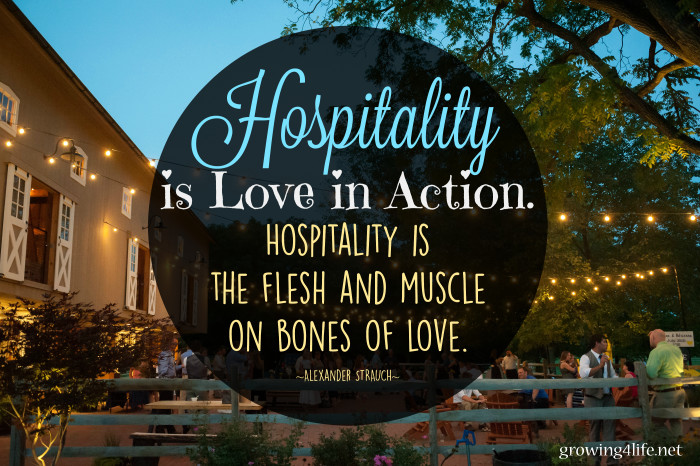 PLEASE NOTE (June 15, 2016): It saddens me to announce that I have decided to discontinue the Hospitality Challenge due to lack of interest. While I believe most Christians like the idea of hospitality, I think there are few of us left who actually are willing to make the sacrifice necessary to actually do anything about it. Plus I also realize that so many are already so busy working for the Lord–perhaps even in the area of hospitality–that they just cannot squeeze another thing in. And, so, I thank those of you who did give some effort to this challenge. I hope that it blessed at least a few people in the last six months.
______________________________________
When I was growing up, it was not unusual for us to go to someone's house for dinner. This continued on into my young-married years, where it would be quite normal for us to have a meal at someone's house or for us to have guests over for ice cream after Sunday night church. But, somehow, in the last twenty years, all that has changed.
Somehow life became too busy to entertain. Before we knew it, we were so wrapped up in activities we had no time to do something kind for someone else.
Somehow we become more concerned about impressing others than about practicing hospitality. And before we knew it, the worry about having a house that was clean enough, big enough, and stylish enough kept us from having guests over.
Somehow our privacy became all-important. And before we knew it, we were keeping our distance and not really knowing the people we go to church with. We stopped yearning for true fellowship with fellow believers and became content with a zillion acquaintances and few true friends.
So this year's challenge is for us to step outside of our own little world and to get to know some of the people you see every Sunday. It's a challenge to share the blessings of your home and your time with your co-workers, your extended family, and your acquaintances. It's a challenge to step out of your comfort zone and into the will of the Father in this area of hospitality.
Here is the definition for Hospitality: the friendly and generous reception and entertainment of guests, visitors, or strangers.
There are many ways we can show hospitality and it doesn't always have to take place in our homes. My oldest daughter helped me come up with a variety of ideas for the challenge and I am excited about trying them. I hope you are, too!
Each month I will present a specific challenge for you. I will do so via a post, but will also add it to this page, so that each month you can come back here for a complete list of the year's challenges. I will also be studying this idea of hospitality as presented in scripture and be sharing what I learn with you here on the blog. I am also hoping to have a few guest posts from a few different authors regarding this topic, as well.
The first challenge will be presented on January 4. Are you ready? Comment below if you are ready to join this new challenge!
Links for each month's challenge are below–
January Challenge— Prepare your home for company and schedule dinner with someone you'd like to get to know.
February Challenge— Host a game night for friends.
March Challenge— Invite an acquaintance or two from your church or workplace for coffee; focus on  those who may be single, widowed, or divorced.
April Challenge– Invite some old friends for a Pizza Night.
May Challenge– Invite some church friends for a BBQ