So glad you stopped by to check out the 2023 Bible Reading Challenge! It is my hope to offer you a plan for Bible Study that works for anyone!
Whether you have been a believer for years or are new in the faith, this plan will work for you. Whether you have never picked up a Bible before or have great knowledge of the Scripture, this will increase your knowledge of the scripture. Whether you are super busy or have lots of free time, this study will fit your schedule. As long as you desire to read and study God's Word with consistency and are looking for a plan to help you with this goal, then this plan may be a good fit for you! Read on to find out more.
In the past few years, we have been studying the Bible in these challenges by focusing our attention on just a few (four or five) chapters each month. Sometimes this means studying a shorter book of the Bible in its entirety. Other times, we break a larger book into sections. And last year for the first time we did an Old Testament character study. We learned so much from our study of Joseph last year and so I included another character study again this year.
And, while the New Testament has so very much by way of practical application for our Christian lives, we really limit our understanding of God and His Word if we focus on only the New Testament. With that in mind, this Bible Reading Challenge is designed to get us in the whole Bible, with the goal to know and understand God better and to learn what He would have us learn, as we faithfully study the gift of the entire Word that He has given us.
How you do this is up to you! This study has much flexibility and here are just a few options for you to consider as you think through how you want to complete the 2023 Bible Reading Challenge—
You can read the assigned book of the Bible (or section of the book) for that particular month every day. Or twice a week. Or more or less. It's up to you!
You can read just the weekly focus chapter every day or several times each week.
You can read or listen to the entire book of the Bible (or section of the book) assigned for the given month and then study the focus chapter more in-depth each week (this is my personal favorite thing to do!)
Just remember: The more often we read a passage, the more familiar it will become.
By the end of each month we will be fairly familiar with the content—even if we don't do anything further. I think you will be amazed at how much you learn if you commit yourself to this challenge.
Here is the basic schedule for 2023–
JANUARY through APRIL– Mark
MAY– Jonah
JUNE through JULY– Life of Elijah
AUGUST– Psalms 1-4
SEPTEMBER through OCTOBER– I & II Timothy
NOVEMBER– Psalms 5-8
DECEMBER– 3 John
You will find a printable, detailed schedule at this link.
If you'd like to deepen your study or it helps you to write down your thoughts as you study the Word, you might be interested in the corresponding workbook I created this year for the 2023 challenge. Last year I put one together very last minute and made it available to just a select few. However, this year (thanks to the suggestion and encouragement of a couple of dear friends of mine), I am making the workbook available to you on Amazon. And, because of this, I am glad to say that it should be available for purchase no matter where you live in the world. You can purchase the workbook here at this link. (Because of the type of book it is, it does not have the Look Inside Feature, so if you'd like to take a peek at a few of the pages, click here.)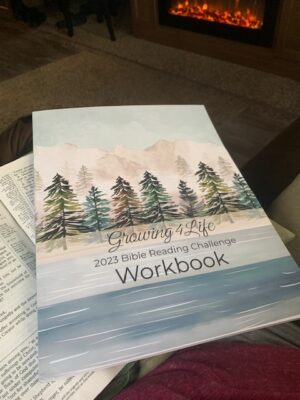 And, last but not least, I have created a 2023 Facebook group specifically for this challenge. There I will post a weekly reminder of what we are studying for that week, along with helps, biblical resources, and doctrinally-sound sermons that go with our study. You can find that group here. Just click on "JOIN GROUP". Hope to see you there!
It's hard to believe that this is seventh year for the Growing4Life Bible Reading Challenge. Through those years, I have come to understand the importance of studying the Bible with consistency. It is so key to the Christian life because God's Word is inerrant, inspired, and sufficient! It is the anchor He has given us to hold on to through successes and failures; sunshine and storms; smooth paths and rocky roadways. It is my hope and prayer that the 2023 challenge will be a blessing and encouragement to you as you seek to know God's precious Word in the upcoming year.