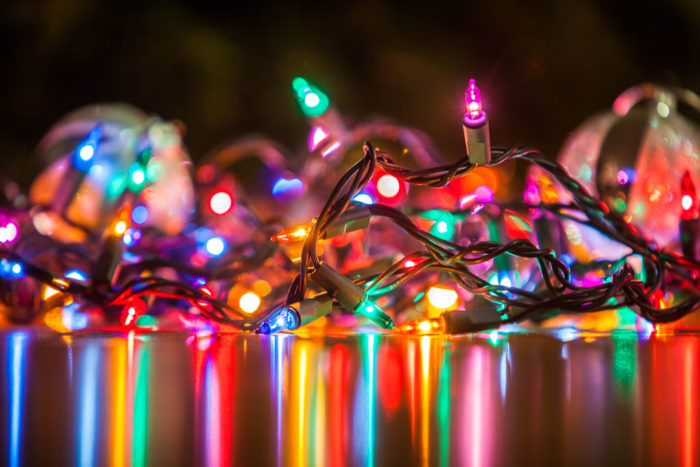 The other night we decided we would spend the evening looking at some Christmas lights. After paying $15 to drive through a display that was considerably short of impressive, we decided to drive across the county to check out another one that came highly recommended.
The thing I haven't told you is that there were seven of us so in order for us to all drive together in the same car, two people would have to sit in the rarely used backseat. I really thought we'd have more fun if we went together so I offered to sit there. After all, my car was made to "seat 7". My son-in-law offered to sit there, as well, and so we both climbed into the back. This was our first clue that it was going to be tight.
We weren't back there more than 30 seconds before we realized that the backseat was definitely not meant for adults. With the two of us sitting a bit sideways and with our knees to our chests, we all set off on our adventure.
The first part of the evening wasn't too bad. After about 15 minutes we stopped for dinner. And then another 15 minutes after that we drove through the first display. But the last ride–the one across the county– ended up taking over 30 minutes (maybe closer to 45). This is when it started to stretch my patience just a bit. We were going on a back country road and I started to feel a bit carsick. And then the other dynamic was that no one listened to us. We'd try to join the conversation but we were back so far, we were generally ignored because it was so hard to hear us.
About halfway through that drive I was starting to get annoyed. My bad knee was starting to hurt, I was extremely uncomfortable, and the carsickness was really starting to get to me. And it was around that time that it hit me: I can choose to focus on the negative or I can enjoy the ride. After all, here I was, with two of our kids and their families, having a good time together. What a blessing! I recognized that I had so much to be thankful for, even if I was temporarily squished into a seat that was meant for children. And, thankfully, our son-in-law has a good sense of humor and made the ride in the back much more enjoyable than if I would have been back there alone.
Ironically, when we finally arrived, we found out to our dismay that the display was in front of us. As we parked the car in preparation for the light show, we realized that we wouldn't even have a good view to watch. We just had to laugh.
And that was my Friday night.
But I couldn't help thinking about this in relation to all of life (of course!)
So often we are on a ride we don't enjoy and we can't get off. We can't change it, we can't fix it, we can't stop it. We just have to ride through it. But the one thing we can choose is what attitude we are going to have as we take our undesired ride. We can choose to be joyful or we can choose to complain. We can choose to rely and lean on the Lord or we can choose to focus on our own feelings and despair. Keep in mind that we are going to have to take the ride either way. It's non-negotiable. Having a negative attitude isn't going to change anything or make anything better (in fact, it will make it worse), while having a joyful attitude not only makes us more pleasant to be around, it is also a dramatic testimony of God's grace, mercy, and love that is provided to His children during the tough times.
This is a hard lesson for many of us to learn. I feel like I am writing to myself here, quite honestly. I struggle so with this. We have come to have certain expectations in life. We want life to be convenient and comfortable and easy. And so when the road turns a little bumpy and we are stuck in the backseat, we can tend to grow a little discontent and grumpy. But that isn't going to help anyone–especially ourselves. And, most importantly, it reveals that we don't really trust God's plan for our lives. It truly is an affront to God's Sovereignty, if you think about it.
Isn't it amazing what you can be reminded of on a ride through the country?
Romans 8:28-30
And we know that for those who love God all things work together for good,[h] for those who are called according to his purpose. 29 For those whom he foreknew he also predestined to be conformed to the image of his Son, in order that he might be the firstborn among many brothers. 30 And those whom he predestined he also called, and those whom he called he also justified, and those whom he justified he also glorified.
Isaiah 45:9
Woe to him who strives with him who formed him,
    a pot among earthen pots!
Does the clay say to him who forms it, 'What are you making?'
    or 'Your work has no handles'?
Daniel 4:34-35
At the end of the days I, Nebuchadnezzar, lifted my eyes to heaven, and my reason returned to me, and I blessed the Most High, and praised and honored him who lives forever,
for his dominion is an everlasting dominion,
    and his kingdom endures from generation to generation;
35 all the inhabitants of the earth are accounted as nothing,
    and he does according to his will among the host of heaven
    and among the inhabitants of the earth;
and none can stay his hand
    or say to him, "What have you done?"