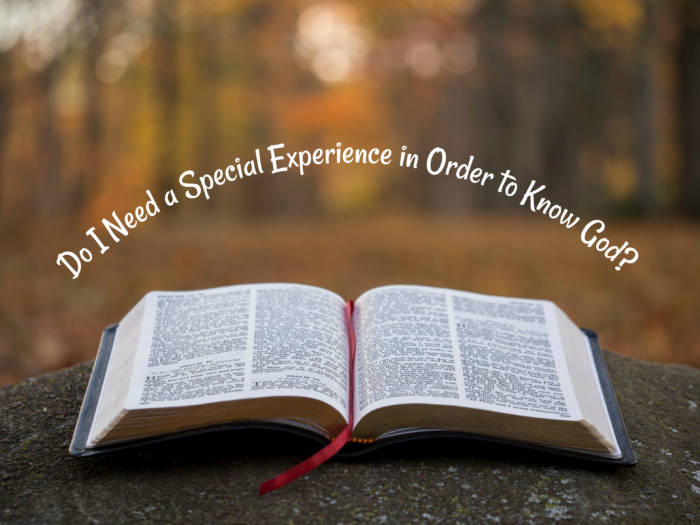 There is an atmosphere of mystery within the church these days. As if we must somehow reach a higher spiritual plane through a special experience in order to reach God in a deeper way and receive His special blessing. This is taught in Charismatic circles, where they teach that one must speak in tongues and receive a separate baptism of the Holy Spirit in order to be truly spiritual. It's taught in the New Apostolic Reformation, where they teach that apostles are God's especially "anointed". And it's taught in Keswick theology and ministries such as Eric Ludy's program at Ellerslie*, where mystical means are used to move us towards a sinless life here on earth (according to them). This is also the main premise of the contemplative prayer movement and the monastic teachings such as the "silence", lectio divina, and the labyrinth. All of these things supposedly take us to a place where we will truly experience God.
So this begs the question: Do I need some kind of special experience in order to know God?
Of course, we must go to scripture to answer this question. One of the best places to answer this is I John 2, verses 18-20–
Little children, it is the last hour; and as you have heard that the[c] Antichrist is coming, even now many antichrists have come, by which we know that it is the last hour. 19 They went out from us, but they were not of us; for if they had been of us, they would have continued with us; but they went out that they might be made manifest, that none of them were of us.
20 But you have an anointing from the Holy One, and you know all things.[d] 21 I have not written to you because you do not know the truth, but because you know it, and that no lie is of the truth.
According to this passage, we are assured of four very important things–
First, that there are going to be many antichrists before the actual Antichrist comes on the scene. Just because someone mentions the name of Jesus does not mean they are talking about the same Jesus you are. We Christians have gotten into a very lazy habit of assuming that any mention of God or Jesus or prayer means that someone is a genuine believer in Christianity but this just isn't the case. Paul tells us clearly that Satan will masquerade as an angel of light (2 Corinthians 11:14). We must remember this and test the spirits (I John 4:1).
Second, we have all been anointed by the Holy One. Under the New Covenant, all believers are anointed by the Holy Spirit. There is nothing in scripture that would lead us to believe that we need a second, special anointing.
Third, as believers, we know all things. There is no secret knowledge that we must somehow obtain by using contemplative prayer, listening for special messages from God, or receiving some special, extra dose of God's presence. In contrast, scripture says here that we already know all things. All we need to know is in God's Word. If it's not in His Word, then it we don't need to know it.
And, fourth, we know the truth. We know the truth by studying the Word. John 17:17 confirms this–
Sanctify them by Your truth. Your word is truth.
To understand the timelessness of this book, we need to look back at just why John was writing this epistle to an unknown group of people. John MacArthur writes this in his introduction of I John—
These false teachers advocated new ideas which eventually became known as "Gnosticism" (from the Gr. word "knowledge"). After the Pauline battle for freedom from the law, Gnosticism was the most dangerous heresy that threatened the early church during the first 3 centuries. Most likely, John was combating the beginnings of this virulent heresy that threatened to destroy the fundamentals of the faith and the churches.
Gnosticism, influenced by such philosophers as Plato, advocated a dualism asserting that matter was inherently evil and spirit was good. As a result of this presupposition, these false teachers, although attributing some form of deity to Christ, denied his true humanity to preserve Him from evil. It also claimed elevated knowledge, a higher truth known only to those in on the deep things. Only the initiated had the mystical knowledge of truth that was higher even than the Scripture.
What does this sound like? Sarah Young with her messages from God that are outside of scripture? Beth Moore's visions that yield special knowledge? Countless others claim to have special knowledge that comes from God to them personally. Secret knowledge that yields a special relationship.
If we go back to the garden, we can see that Satan used a similar ploy–
 Then the serpent said to the woman, "You will not surely die. 5 For God knows that in the day you eat of it your eyes will be opened, and you will be like God, knowing good and evil." (Genesis 3:4)
"Listen to me and I will give you special knowledge," he whispers. The only difference between then and now is that he wasn't masquerading as God back then. But it is the same message.
Gnosticism is dangerous because it takes the focus off of Christ's finished work on the cross and the Bible–which is our only trustworthy source for knowing the full story of God, who He is, and what He has done for us. And, instead, subjective experiences, feelings, and emotions become the focus.
From what John wrote in his epistle, we can see that this has been going on for ages. It ebbs and flows but it has always been a danger to Christianity. But perhaps never so much as in these last days when we can see it all working towards a one-world religion that must bypass Jesus Christ and His work on the cross.
At some point, we must move our eyes from our own personal experience, even as Bible-believing Christians, and get a glimpse of the bigger picture. History has so much to teach us.
John combated Gnosticism, just as we are combating it. There is nothing new under the sun. Let's heed the words of scripture and realize that God has given us all we need. There is no special knowledge out there that we need to somehow attain. No special experience that is going to make us closer to God. The cross did the work! Praise the Lord, it was finished there!
When we are saved, our response to this is simple. Jesus makes it clear: If you love Me, keep My commandments. (John 14:15).
Of course, simple isn't always pleasant and sometimes Jesus's commandments are burdensome to a heart that loves the world and wants to be loved by the world. So as those who claim Christ find following His commandments distasteful, a vacuum of desire for closeness without self-denial opens wide its mouth. And guess what enters in? Special experiences that deceive us into believing we can be close to God without submission and without obedience.
Look, we can't change the direction this is going. It's just not possible. But we can be informed, so that we can be on the look-out for ourselves, our families, and for those that God has placed in our path who genuinely want to know the truth. My prayer is that this post will lead a few of you to search for the truth as we read it in scripture. This view is certainly not popular (how's that for an understatement?!) but it is biblical. And that's why I write.
If this has disturbed you or you don't agree, may I encourage you to do your own digging? Do so with a humble spirit, open mind, and a heart that honestly desires to know the truth and is willing to obey that truth. Pray and ask God to show you His truth about these matters and He will. I have seen God answer this prayer on many occasions. He is so faithful. Our God is faithful. Praise His name!
Therefore know that the Lord your God, He is God, the faithful God who keeps covenant and mercy for a thousand generations with those who love Him and keep His commandments;
Deuteronomy 7:9
*Eric Ludy and Ellerslie carefully conceal their mystical leanings and rather bizarre teachings quite well. You will not find them in their marketing materials or on their website. My daughter experienced this firsthand and, after sitting under their teaching for just a few short weeks, made the choice to leave. This happened almost ten years ago now, so perhaps they have changed. If you are interested in his ministry, please do your homework. Here is a post that echoes our concerns with this place.