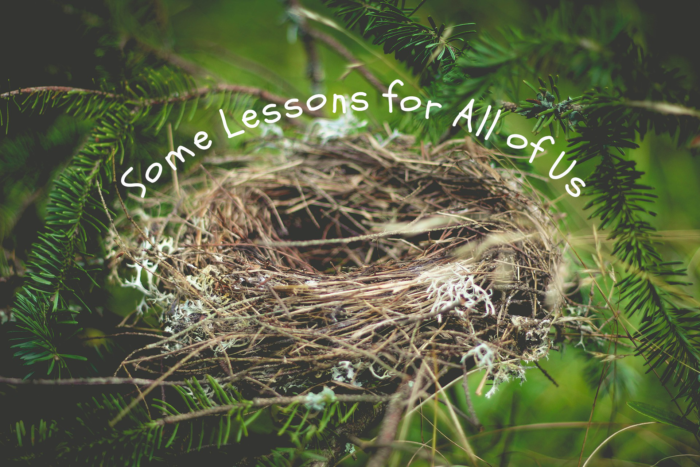 Some of you have been asking how I am doing with this new empty nest stage of my life. It has now been four weeks since I wrote the post We Will Be Fine and you are wondering if I am fine yet. From all outside appearances most people think I am doing fine. So I thought I'd share here how I'm really doing and what the Lord's been teaching me. If you aren't in the empty nest stage, I hope you will finish reading this, anyway, because these lessons truly do apply to all of us.
So, first, how I have really been doing…
Well, the truth of it is that many mornings I wake up with a sinking feeling in the pit of my tummy. Oh, yeah, I forgot…another day without any of the kids here. Somehow it feels like the brightness has left this house and we are just left with boring old us (This is how I feel –not what I believe is true). As the day goes on, it hits me once in awhile. Especially in the evenings, which is when we would normally be on the sidelines enthusiastically cheering on a soccer player.
Tears are my new companion and come easily and unexpectedly–whether I am talking with a friend or watching a touching TV commercial. While some women have sobbing episodes in their child's room after they leave for college, that isn't really my style. Instead, the empty and lost feelings sometimes just well up and spill over when I least expect it.
I have told the Lord on several occasions now that I just don't want to be here. I am not ready for this stage of life and this isn't where I want to be. But He has gently and lovingly been teaching me some pretty important lessons. I am still learning them and would not call myself victorious, by any stretch, but I am making progress. And, for that, I am grateful.
These lessons apply to any of us who are in a place we don't want to be. Some of you are in a bad marriage; or perhaps you are elderly and weak; you may have lost a loved one and life just isn't the same; or perhaps you are dealing with a chronic disease. You may be the caretaker for someone who is sick; or your family may be struggling financially; you may even be suffering persecution at work or school for standing up for what's right.
There are so many painful circumstances in life, I could never list them all. In fact, many of them–if not all of them–are far more painful than mine. What I am experiencing right now is just a normal stage of life. What some of you are experiencing is much, much worse than that. But whatever it is, if you have told God that you just don't want to be here–in these circumstances–right now, I hope you will find this post encouraging. Some of these might not apply to you, but I hope that you are encouraged just the least little bit as you live your life.
Here are the lessons the Lord has been teaching me for my whole life, but more intensely over the past few years and especially over the past month–
1. I cannot change my circumstances but I can change my attitude. This is probably the most important lesson, by far. If I complain and whine, it doesn't change my circumstances. However, it does change my relationships with others in a negative way (who wants to be around a complainer all of the time?). My sad and depressed feelings yield nothing good. I must choose joy and that takes work. The nitty-gritty, down-in-the-trenches work of denying our feelings, which is never easy under any circumstances.
2. I must learn to be content. Paul tells us in Philippians 4:11-13–
Not that I speak in regard to need, for I have learned in whatever state I am, to be content: 12 I know how to be abased, and I know how to abound. Everywhere and in all things I have learned both to be full and to be hungry, both to abound and to suffer need. 13 I can do all things through Christ[b] who strengthens me.
Paul says he has learned. We must learn to be content in whatever circumstances we are in. This means it does not come naturally. Just like we don't naturally know how to multiply or to read and must be taught, so, too, must we be taught contentment. Again, in this lazy world we live in, most of us do not want to have to learn anything. We just want to go with our feelings. Probably nothing could be more counter-productive than "going with our feelings" when we are in circumstances we don't like.
To take this a step further, perhaps God allows changes and hard times to teach us this lesson of contentment and finding our peace and joy in Him. Honestly, I have been humbled and rather dismayed these past few years to learn just how much purpose and joy I received from caring for my children. Perhaps sometimes too much.
The good news is that contentment is possible through Christ, who strengthens us!
3. I must take my thoughts captive. Oh, this can be a hard one. But when I am struggling it is because I am allowing my thoughts to take me places they ought not go. Thoughts of self-pity and woe is me dominate and spiral me downward into a pit quickly if I don't catch them early. I am learning how important it is to live out 2 Corinthians 10:5–
casting down arguments and every high thing that exalts itself against the knowledge of God, bringing every thought into captivity to the obedience of Christ,
When these selfish, negative thoughts assail me, I must choose to think about something else. Sometimes I succeed, but there have been a few days I have not. And when I do not, they are really, really hard days. Days of total self-absorption, full of darkness. They are totally unproductive in all ways. I am so glad that they are rare.
4. Be thankful. Gratitude makes all of the difference in the world. Finding things to be thankful for changes my focus and adjusts my perspective. And isn't there just so much to thank the Lord for today?
5. Comparison only leads to discontentment. One of the ways we learn contentment is by not comparing ourselves and our lives to others. We so naturally want to compare, don't we? We look at the lives of others and we think if only… Comparison doesn't change our situation but it certainly does foster discontentment. God has sovereignly allowed our circumstances in our lives for His reasons. Our job is to trust Him and to learn the lessons He has to teach us.
6. Each stage is a gift with its own blessings. This is for those of you who are in a specific stage you aren't enjoying. I know this doesn't apply to all of you. But for those of you who are frazzled moms of infants and toddlers to those of you who are elderly and unable to get around much anymore, each stage of life is truly a gift. I want to find the positives in each stage instead of focusing unceasingly on the negatives. Some stages are harder than others and this is more difficult to do. But there are some there, if only we search hard enough.
The thing is this– when I was so crazy busy, I just longed for some hours to read and relax. But now that I have them, I long for those busy days. We are never happy. And so we must choose to be happy and stop always longing for something different. A hard lesson to learn, for sure.
7. I must get outside myself and serve others. The temptation for those of us who are sad or struggling is to withdraw from much of life. Many of us desire to curl up inside ourselves and back away from relationships. It's often just easier. But thinking about and serving others helps pull us out of ourselves and gives us perspective. Someone always has it just as hard –and often harder–than we do.
And so these are some of the lessons God has been teaching me over not only this past month, but over the past few years, as each of my children has grown up and started their own life. I have to admit, though, that this past month has been especially challenging because it is just so final. Life has changed and it is never going back to the way it was. I know that you, too, have dealt with your own changes. This is life. It can be summarized by one of my favorite sayings: It is what it is.
As believers, it is important that we be full of hope and light, so that, even in the hard times, our lives are pointing to God and showing how He truly does transform us. And so that we are given opportunities to share the Gospel, explaining why we can still smile in spite of our circumstances.