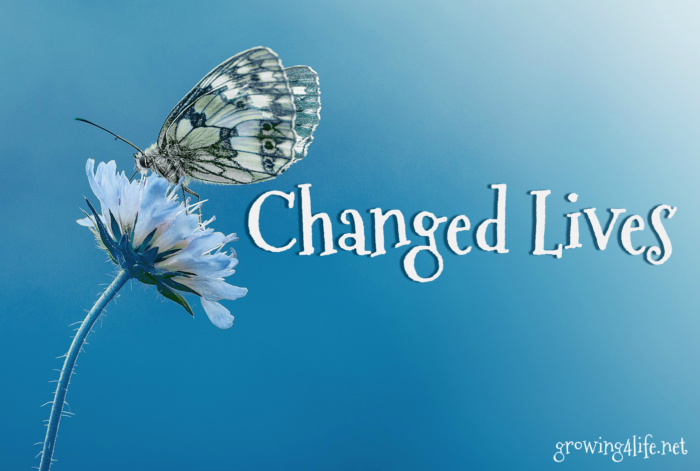 This testimony is quite a bit more personal than any I have shared before. That is because today I bring you my daughter's story. A few years ago, we started to see a remarkable change in the life of this child. A few months ago, I asked her if she would be willing to share what God has done in her life. She said she would and this is what I present today. But, first, I want to share a bit of my own testimony as background.
As you may already know, we have four children. Two were fairly easy to raise, as they were saved at a young age and quickly grew to be full of conviction regarding spiritual matters. While we certainly had our difficult moments with them, we were mostly encouraged as we watched these two grow in their faith during their childhoods and teen years. The other two, also supposedly "saved" as little children, actually probably weren't. Of course, only God knows the heart but if they had stood before a judge the evidence would have been against them, for they had rebellious hearts, a passion for worldly things, an apathy toward their sin, and ungodly lifestyles (I John 2:15; I Samuel 15:23; John 15:14; Galatians 5:16-24).
Acknowledging this was most definitely one of the hardest things my husband and I have ever had to do. Because in doing so, we had to also acknowledge our own failure in communicating our faith to them and we also had to face the devastating fact that should a tragedy suddenly take their lives, we were fairly certain about where they would spend eternity.
We felt disheartened and powerless as we watched these two kids during this time. And then we did the only two things we knew to do. First, we tried to let go of the battles that were not biblical, while holding firm and staying faithful to biblical boundaries, using the Word of God as our authority. This meant lots of communication and discussion and, yes, some punishments, as well, all taking place beneath the umbrella of our unwavering and unconditional love for them. And, second, we prayed A LOT. Many others prayed with us. Grandparents. Aunts and Uncles. Friends. And one lady–a dear lady from our church–prayed so faithfully for us all. It was so encouraging! I specifically prayed for three things—1) That these children would come to love God with all of their hearts, souls, strength, and minds (Mark 12:30) and 2) That God would protect and keep them from making any wrong choices that would yield burdensome, lifelong consequences and 3) That He would spare their lives at least until such a time that they would come to know Him.
These were dark days for our family. We felt so helpless as we watched our precious children make wrong choices. I would like to add here that, thankfully, neither child did anything super bad. So, in that sense, maybe we had it good. But we recognized that the root of rebellion that is within any child who rebels is EVIL—no matter how it exhibits itself.
We traveled those days one step at a time, supported by our ever-present faithful God and by the prayers of those who lovingly and faithfully prayed for us. We found hope in the little things and God–in the way He often does–would give us just the tiniest bit of encouragement just at the moment we would need it. And, looking back now, we can see God's kind hand of protection upon both of them throughout this time and we are both humbled and amazed.
This difficult time lasted for several years and then it started gradually to improve when first one and then both of these kids came to know the Lord personally. We are so humbled and incredibly grateful that, all due to God's amazing grace and His generous mercy, He saw fit to bring both of these children to Himself in their late teens.
But even as I write these words, I do feel compelled to remind you that my family and I are wicked sinners just like everybody else (Romans 3:10). Life didn't suddenly become perfect when these kids turned a corner. And this isn't about perfection (or anything close to it!) but rather it is about how God continues to work in and through this imperfect family, daily shaping us into His image through the Holy Spirit working in our lives.
I also wanted to make a note here that salvation is not simply a prayer or a moment. Some of us can look back on a moment when we surrendered all to Jesus and some of us can't, instead experiencing a growing love for– and submission and obedience to –God's Word, giving evidence of a changed heart. I say this because we have been taught to look for a "moment". But sometimes, as you can see from this testimony, that moment is not genuine. We parents dare not hang on to assurance of salvation simply because a child (or anyone) said a prayer. Scripture makes it very clear: True belief yields a changed life (Matthew 7:16).
And so, now that I have shared a bit of my own testimony in seeing God work, I want to share the testimony of my daughter. I stand amazed—in complete awe– at how the Lord has answered my prayers regarding her life. Adrienne has become passionate for God and His Word. And she and I have rebuilt our relationship and it is stronger and closer than I ever dreamed possible! It is unbelievable that this is the same child that I had sadly resigned myself to the probable fact that we would never be close. This goes to show that we should never underestimate God!
I hope that Adrienne's story will encourage any parent (or grandparent) of a rebel. The sentences she writes here hold so much emotion that cannot really be expressed with mere words. She writes in one simple sentence some of the struggles she faced, but what the reader cannot see or comprehend are the depths of sorrow and the utter hopelessness that undergird her words. Life is not easy. We all have our burdens to bear. But may we never forget that God, through His grace, His mercy, and His Word can change a life. And we know this because we have seen it in our own family!
ADRIENNE'S TESTIMONY
I grew up in a Christian home and would have told people for most of my life that I got saved when I was 6. Looking back on it now, I recognize that I didn't really get it. Salvation is understanding that I am a hopeless sinner and that God sent His son Jesus to die on the cross to save me from my sins (John 3:16). At age 6, did I truly understand what that meant? Did I realize that I needed to change my lifestyle and try to do all things to glorify God? I can't say that I did.
Now at 6 years old I had heard all about Jesus and how He died on the cross to save me from my sins so, of course, I had somewhat of a grasp of what it meant to be a Christian. But reflecting on it now, I can see that my life at that age revolved around staying out of trouble and doing the right things to please my parents and I wasn't necessarily interested in pleasing God. And, while there are definitely some circumstances where kids grasp salvation at a young age and continue to show fruit in their lives as they continue to grow in the Lord, I can see now that I was not one of them.
Around age 13 I started to really struggle with wanting what the world had to offer me. When I compared it with what I wrongly thought the Lord had to offer (rules and boredom), the world looked much more appealing. I became disrespectful to my parents and elders around me, I struggled with an eating disorder–always trying to be pretty enough, and I desired secular music and movies.
I would say at this point I knew what was right and wrong because of what I had been taught but I was simply not willing to give 100% to the Lord. And, so, overall I would say I was in a pretty rough spot in life. Thankfully by the grace of God, the love of my parents, and lots of prayers for me by my parents, grandparents, and others who loved me, I never got myself into too much trouble!
During this time my parents never gave up on trying to direct me in a Godly path and pull me from the worldly path I was on. 1 John 2:15-16 says "Do not love the world or anything in the world. If anyone loves the world, love for the Father is not in them. 16 For everything in the world—the lust of the flesh, the lust of the eyes, and the pride of life—comes not from the Father but from the world." My parents were consistent with discipline and did all they could to protect me and I am beyond thankful for that. I had good times and bad times all throughout high school. I would say I really battled a lot with truly wanting to please God but I just wasn't ready to give up worldly things.
I went off to college and there I became involved in the wrong group of friends. Nothing super-terrible but I still found myself longing for what the world had to offer and, therefore, was failing to give 100% to God. This kept me half-hearted in my faith and also made me very ineffective for Christ and the Gospel. I did feel conviction, so I do believe I was saved at this time. I just didn't really care about growing in the Lord for the most part. I seemed to be at a standstill.
One specific night in college I was with all my friends and I remember sitting there thinking, "Nothing about this conversation is honoring to the Lord. I know there is a God, I know God sent His Son, Jesus, to die on the cross to save me from my sins, and I know for a fact that I am not living a life that is pleasing to the Lord." From that moment forward I would say I really started to change who I was and started to really strive to please the Lord.
Since that time, I have grown a lot closer to the Lord for two reasons: First, I have moved 3 times since I've been married, all of them being far away from my family which has been hard–to say the least. During those hard times, though, I have truly had to rely on God and He has always shown Himself even in the smallest circumstances. This time of my life has also provided me with the opportunity and time to study the Word more than ever before. This has been life-changing for my spiritual growth.
Second, I have finally fought my temptation– with the Lord's help—of listening to worldly music and I also have changed the kind of TV and movies I watch. Let me encourage you to do the same, as this has changed my life completely. I feel closer to the Lord and, the less I partake in the worldy things and focus on The Word, the less is my desire for them and I find I can't even stand the evil that is in most secular music, shows, and movies.
I am grateful for the way God has changed my heart in this area of life. Don't get me wrong– there are many things I still struggle with but worldly entertainment seems to be a sin among many Christians that gets ignored. I promise you: Practicing discernment in this area of your life will make a difference in your walk with God—just like it has in mine.
Looking back I am so grateful for all the prayer and Godly examples I have had throughout my life and continue to have. One thing I cannot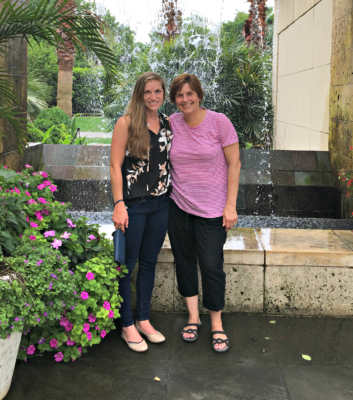 express enough is how grateful I am for my mom and dad and the fact that they never took the easy way out and just gave in to what I wanted. They never gave in to me and I wouldn't be where I am without either of them. Also–a little side note–my mom was a parent growing up but not always a friend. I say this because I am sure my mom wanted to just be a friend and give in to what I wanted, especially on those days where I wouldn't even talk to her because I was so upset with her. But she never caved into that desire and continued to push me to do what was right. As I write this I can truly say my mom is my best friend. So all the moms out there going through a tough time with their daughters, I want to encourage you to not give up or give in– because your daughter will one day be so grateful that you didn't!
I would also like to encourage parents to not just assume that, when your daughter or son says the salvation prayer at a young age, this necessarily means that they personally know the Lord. Continue to look for fruit and growth in their walk with the Lord, as that will show if they are truly liv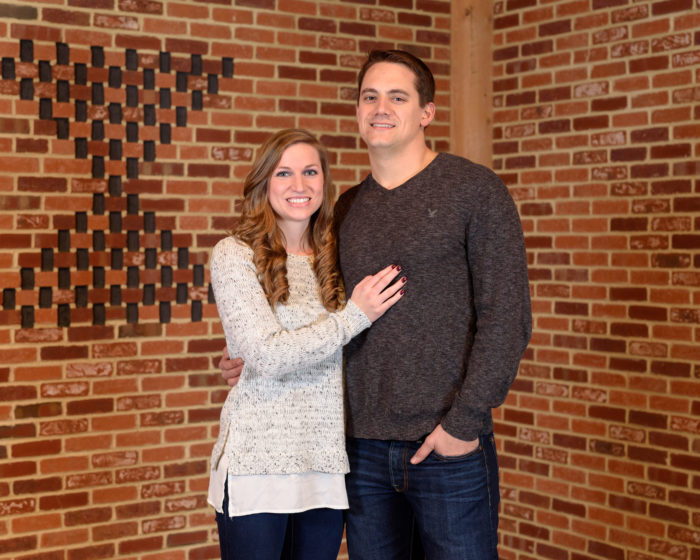 ing for the Lord. Personally, I can see now that I wasn't truly saved until my late teens, as God started to work on my heart.
Looking back through my 22 years of life, I can see how God protected me and continued to lead me toward Him. I am truly blessed to be a part of God's family.