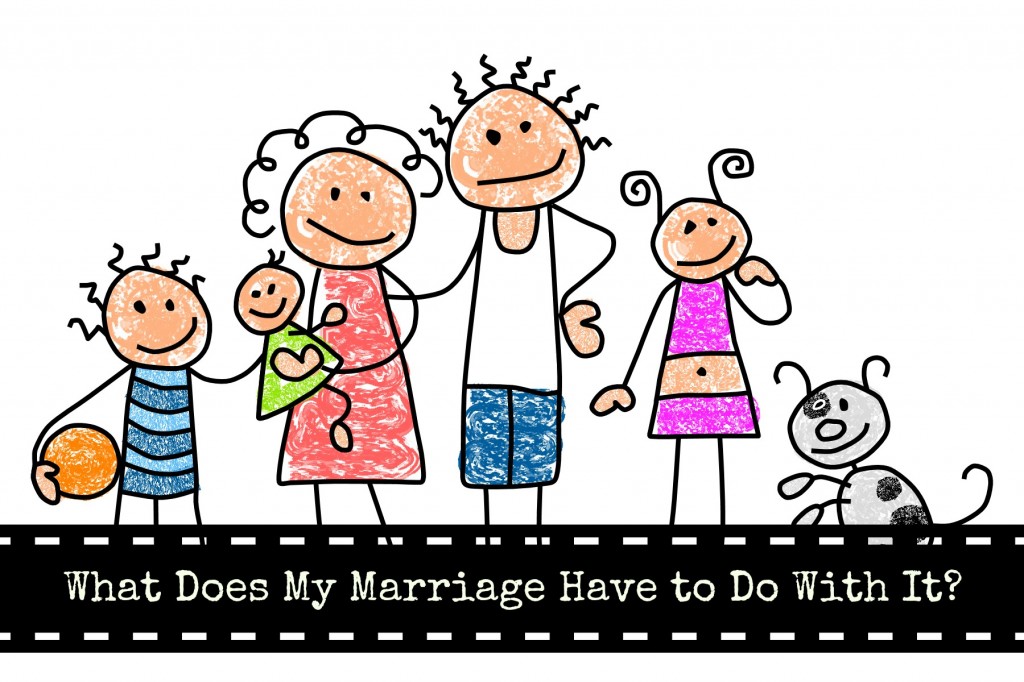 The little girl stared wide-eyed at her parents. The family was eating a dinner like any normal night. The mom had cooked a meal and when the dad had come home from work the family all took a seat at the table. But somewhere during the course of conversation that night, the mom and dad had started to argue. The argument had become quite heated and the little girl was scared. The big "D" word played over and over in her mind. She thought of some of her friends who lived with just their moms.
After dinner, she quietly left the table and hurried upstairs where she grabbed a small suitcase and started packing. She didn't know what was going to happen but she knew she didn't want to be around to watch it.
She didn't get very far. Her parents found her and they all had a good talk.
That little girl was me. I do not remember much about my childhood but I do remember that evening. I was only a small girl — maybe six or seven. But seeing my mom and dad fight scared me to death. Thankfully, I was in a home where that was not a daily occurrence and when it was over, it was over. Genuine apologies were made and life moved on.
I tell you that story because I think it shows just a bit what our children think when we are struggling to get along as a couple. I can also remember when Eric and I went through a very difficult period for about a year early on in our marriage. No cause showed itself and eventually it just got better but, for whatever reason, we just couldn't get along during that time. While we struggled, one of our children would get up every night with a bellyache. It wasn't until later that we put two and two together and realized that the poor child's fear of an impending divorce was showing up in her belly. Now, we knew we weren't getting divorced– just as my parents knew they weren't getting divorced when I heard them fighting– but she didn't know that.
Can you see how critical it is that we make sure our kids know how much we love each other? That they understand that we will never, ever get divorced? But only if it's true. Don't lie to them. That will make things worse.
And, I might add here before moving on– I understand that some of you are married to uncooperative and ungodly spouses. I grieve with you over that. Keep praying. And may that motivate you to pray that your children would choose godly spouses as they grow up.
But for those of you who are married to a Christian spouse and really want a strong family with well-adjusted kids, be sure to keep your marriage a strong priority.  I can think of three specific reasons–
1.  It provides a security like no other for a child. The world can be in utter chaos, but if home is a safe and happy place, our children feel secure.
2. It provides consistency between mom and dad that is comforting and helpful to growing kids.  Kids are smart and if they can play mom and dad against each other to get their own way, they will do it. Healthy marriages keep these games to a minimum.
3. It gives them a godly example of marriage to emulate in their own lives when that time comes. Children in homes with healthy marriages are much more likely to have their own healthy marriages. Whether we like it or not, most of us end up being just like our parents. We end up arguing like them, serving (or not serving) like them, going to church as often as them, and parenting like them. Oh, many of us make changes because we see the need, but our natural inclination is to be like our parents. With that in mind, it is important that we have a healthy marriage now so that our kids have a much better opportunity to have healthy homes of their own one day.
So, now that we understand how important it is, how do we go about doing that?
Most of us are familiar with the Ephesians 5:22-29 passage about a woman submitting to her husband and a man loving his wife. We women get very "up in arms" over that word submit. But should we? Of course, over the centuries, many misguided men have twisted that word to be synonymous with the word doormat. But is that what the Lord meant? I think not, given the exhortation for men to cherish their wives. Men who cherish their wives do not treat them like doormats.
Very simply, a healthy marriage consists of two people giving up their own selfish desires for the other person. Of course, as a believer, we should desire to think less of self in all relationships (Philippians 2:3-5), but this fruit of selflessness is never so sorely tried as in marriage. For in marriage, we cannot hide our selfish motives and unkind hearts. We can't hide our sinful habits and our big mouths.
And, interestingly enough, I found out rather recently in my own marriage that when one of the marriage partners makes an effort in being kind and loving and unselfish instead of snappy and critical, oftentimes the other person will rise to meet them in that effort.  And– just to be clear– it was my sweet husband who reminded me of what marriage can be by going above and beyond. His actions motivated me to meet him half-way in making our relationship so much healthier.
All marriages go through good times and difficult times. Meanwhile our kids are watching. And they sit back and wonder: Are they going to work it out or give up? Are they going to keep talking or ignore each other for days on end? Will they stay together or will they get divorced?
We need to live each marriage moment in light of being the husband or wife that God has called us to be. We need to be the same person at home that we are in public. We need to keep working and trying and giving up our rights and desires for the betterment of our spouse.  And, while this is not easy to do as naturally selfish people, I try to remember when I'm frustrated that it's really no picnic being married to me, either! Marriage is two imperfect people living together in an imperfect world. There are bound to be some rocky patches.
One final very important thing to remember is that love is not a feeling. Love is action. And when we choose to love by our actions,  it is incredibly surprising and quite amazing how the feelings of love return. So choose to love and be amazed at God's grace in this area. But I will warn you — this takes work. Work that is well worth it in the end, but it is work.
A healthy marriage is critical for a healthy family. That doesn't mean there won't be disagreements, but that we work through them in a way that honors our heavenly Father.
Thanks for reading! Hope you come back for the next post in this series which I've entitled Who's the Boss? And if you liked this post, would you consider sharing it? Thank you! :)