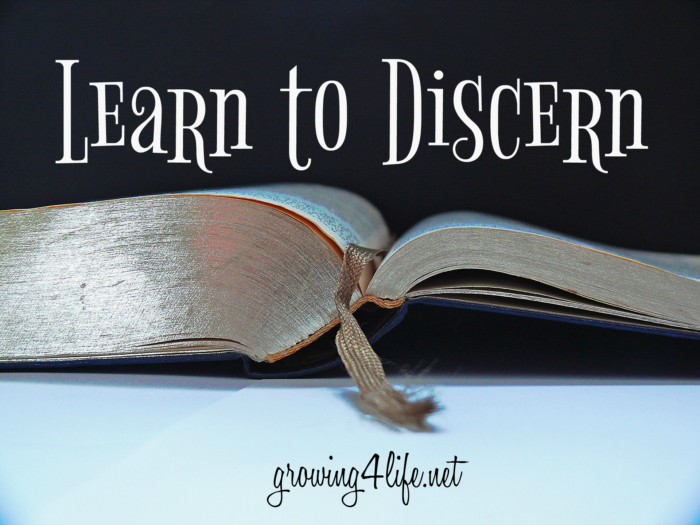 What in the world is going on in the church today? It is a question many believers are asking. In fact it has changed so much in the past fifty years or so that it has become almost unrecognizable when compared to the church of old. Of course, we need to remember that old is not necessarily better and so it is critical that we compare all that is going on around us, both in the world and in the church, to what scripture teaches.
In this third installment of the Learn to Discern series, Pastor Dean gives a great biblical overview of six transitions that are leading the church into apostasy at an alarming rate. These things have corrupted Christianity until it is almost beyond recognition when compared to the Word of God. While all of these have probably been around in one form or another since Christianity began, there is now a fierce, all-out onslaught of all six going on. In fact, you are going to recognize many of these. They are found in your churches; in Christian books, music, and movies; and in many of the Bible Studies you have done. You will hear fellow believers discuss these things as if they are biblical and you will hear of them on the mission field. Many sincere pastors, authors, and others have been deceived into believing these things are true and good. However, when we look at what scripture teaches, we can see that they aren't from God at all. Instead, they are man's wisdom, often cloaked in biblical terminology, and originating from Satan himself.
And let's not forget one very important thing: A one-world religion is coming. Everything that is going on is leading the "church" to join this religion. It is like we can see this taking place right before our very eyes.
So without any further words from me, may I offer Pastor Dean's thoughts on this matter–
THE CORRUPTION OF CHRISTIANITY
The Bible warns a great deal of false prophets, false teachers, false Christs, false brethren, false teaching and false gospels. In fact, we are told that there will be, at the end of the age, a false church, that is an apostate church. One that has a form of godliness, one that has all the trappings of Christianity, one that speaks of Christ, calls Him Lord, uses all the Biblical lingo, claims powerful spiritual experiences, and yet is utterly deceived and lost. This apostate church will help to unify the world around the Antichrist (2 Thess. 2:3-12). It will be defined as a church that has fundamentally rejected the truth.
The evangelical church of today is very quickly descending into an apostate condition. This descent runs across all denominational and theological lines. In some ways it is difficult to quantify this plunge because it involves so many facets. There is a complexity to its development, because its roots are traced to New Testament times (2 Thess. 2:7) and, before that, to ancient Babylon, and all the way back to the Garden of Eden. But various movements of the 20th and early 21st centuries have converged into a perfect storm hurling the professing church into an utterly worldly, confused, degenerate state. There are at least six transitions that have taken place in this gradual, yet rapid corruption of the church. In this brief essay they can only be introduced.
(1)  THE CORRUPTION OF WORSHIP:  From Preaching to Entertainment – True worship according to Scripture is hearing God's Word. What does it mean to hear God's Word? It means to believe it, receive it in meekness, meditate on it, tremble at it, obey it, trust it, submit to it, delight in it, and proclaim it (cf. Prov. 28:9; Is. 66:1-3). Since this is true, the highest form of public worship is the preaching of the Word (2 Tim. 4:1-2). But serious, reverent, God-fearing preachers have been replaced by motivational speakers, rock bands, comedians, puppets, dancers, and drama teams. This transition from the simple and consistent preaching of the Word to a highly choreographed production took place over many decades, but has now reached the point of absurdity. But Paul warned us of such a day (2 Tim. 4:3-4).
(2)  THE CORRUPTION OF THE MESSAGE:  From the Cross to Self-Actualization – The central message of the church is the cross. There are two aspects to this message:  (1) Christ died on the cross to make an atonement for our sins to deliver us from death and Hell (1 Pet. 1:18-19); and (2) when we believe on Christ we are united with Him in His death and resurrection (Rom. 6:3-4) and are called to follow Christ in the way of the cross (Matt. 16:24-26). As Christians who have been born again, we are dead to sin and alive to God and are called to die daily to our lusts through the renewing of our minds. This is summarized in Paul's statement in Gal. 2:20 – I am crucified with Christ: nevertheless I live; yet not I, but Christ lives in me: and the life which I now live in the flesh I live by the faith of the Son of God, who loved me, and gave himself for me. This central message has been subtly replaced by the psychologized message of self-actualization. Christ has become our divine psychologist who wants to heal our hurts and pain, fix our broken and dysfunctional relationships, and give us a positive feeling about ourselves so that we can live fulfilled lives. This psychobabble, largely borrowed from Rogers, Maslow, and Peale, has resulted in a self-centered, self-loving, self-pitying, non-serving generation of churchgoers who see themselves as victims of psychological disorders and diseases rather than offenders of God's Law, fundamentally needing healing and purpose rather than mercy and forgiveness.
(3)  THE CORRUPTION OF SPIRITUALITY:  From Faith to Mysticism – Biblical faith is simply belief in the Word of God that results in trust and obedience. Abraham is the great example of faith.  God gave him a promise and a command (Gen. 12:1-3) and because he believed God's promise, he obeyed God's command (Heb. 11:8). The whole Christian life operates on the principle of Biblical faith (Col. 2:5-7), which is dependent on a rational understanding and growing knowledge of Scripture (Rom. 12:1-2; 2 Pet. 3:18). But the new paradigm has replaced faith with mysticism. Mysticism is direct communion with God apart from the rational. The Christian life is now founded on, defined by, measured by, and consumed with subjective, sensual, tangible, palpable, sentimental emotions, feelings, and experiences. Personal visions, revelations, signs from heaven, impressions from the Spirit, messages from God, and heart-warming encounters are the new standard. These are the measure of truth, the means of spiritual growth, and the source of assurance of God's presence. All of these experiences are, of course, justified with an attached Bible verse. Serious, analytical Bible study and sound theology are deemed cold rationalism, dead orthodoxy, and the quenching of the Spirit, all the Scriptural warnings notwithstanding. This transition has opened the doors of the church to almost any false teaching in vogue at any given time. Like a body without an immune system, the church has been overrun by every theological virus known to mankind. Yet the patient has no sense of his condition.
(4)  THE CORRUPTION OF LEADERSHIP:  From Shepherd to CEO – The leaders of the church, according to Scripture, are shepherds (1 Peter 5:1-4). They are to humbly feed and lead the flock of God by the patient and prayerful preaching, teaching, and administering of the Word of God.  Leading by example, they are to be men of godly character who demonstrate a father-like concern and mother-like gentleness in caring for the local church (1 Thess. 2:1-12). This Biblical model of leadership has been replaced by the worldly model of the corporate CEO. With the advent of the Church Growth Movement and the Purpose Driven Movement, pastors have taken on a thoroughly pragmatic view of leadership.  Creating top-down organizational structures, and wielding management, psychological, and marketing techniques, they have manipulated the sheep to accomplish their self-promoting agendas. The prophet Ezekiel gave us a poignant portrait of these modern shepherds (Ez. 34:1-10). This corruption of church leadership has resulted in a massive increase in numbers and a correspondingly comprehensive death of Biblical spirituality. Indeed the sheep have been scattered and devoured because they have no shepherds (Ez. 34:5-6).
(5)  THE CORRUPTION OF MISSION:  From the Gospel to the Social Gospel – The church has only one mission to the world:  to preach the gospel (Matt. 28:19-20). We are calling the world to repent of their sins and believe on the Lord Jesus Christ. We are calling them to flee the wrath to come and find refuge in the Savior. You will search the Scriptures in vain to find any call to social action or social reform.  But the evangelical church today is consumed with transforming the world, fighting poverty, bringing racial harmony, working toward world peace, saving the environment, and all other forms of social justice.  Instead of seeking the salvation from sin of individual souls through faith in the gospel, the church is seeking the salvation of the society from social ills through community action and government intervention. This is a revival of the Liberal Theology of the late 19th and early 20th centuries and has resulted in the death of the gospel. Many who are promoting social justice give lip service to the gospel, but where the social gospel takes hold, the gospel of Jesus Christ will always eventually be choked out. They are incompatible.
(6)  THE CORRUPTION OF FELLOWSHIP:  From Separation to Ecumenism – The Bible calls us to love the brethren and preserve the unity of the Spirit, but to separate ourselves from the world (2 Cor. 6:14-18) and from apostates (2 Thess. 3:14). True Biblical unity is the work of the Holy Spirit and cannot be accomplished by politics, networking, and ecumenical declarations. The dual unity (with believers) and separation (from unbelievers) commanded in Scripture is accomplished through clear, consistent, thorough teaching of Biblical truth (Eph. 4:11-16). This does not mean that we are to be unkind or ungracious toward unbelievers or that we can have no interaction with the world (1 Cor. 6:9-10), but rather that we must acknowledge we have no spiritual union or fellowship with them and should separate ourselves from all ungodly and foolish lusts (1 Pet. 4:2-4) and all manner of heresies (Titus 3:10). But the church has increasingly embraced every manner of worldliness and foolishness in the name of evangelism, and has welcomed heretics, false teachers, shysters, and rogues of every kind, in the name of Biblical unity. The evangelical church is linking arms with Liberals, Roman Catholics, Mormons, Eastern Orthodox, and even Muslims and Atheists in the name of unity and social change, even though all these groups reject justification by grace alone through faith alone in Christ alone and according to the Apostle Paul are accursed (Gal. 1:6-9). We do not say this out of hate, but out of love, knowing that no man will ever enter heaven apart from faith and repentance, and the acknowledging of the truth in Jesus Christ.
There is a sense in which the first five transitions, in their cumulative effect, have brought about the sixth transition of ecumenical unity. The Ecumenical Movement is like a funnel almost irresistibly drawing everyone toward the euphoric and blind Satanic unity of the last days apostate church. Let us put on the full armor of God (Eph. 6:10-18) through the diligent study of, and obedience to, the Word of God. Let us separate from all that is false and ungodly. Let us keep ourselves in the love of God (Jude 20-21) always remembering that it is God who keeps us from falling and will present us faultless before the presence of His glory with exceeding joy (Jude 24).
Dean Good is pastor of a congregation in Ohio, where he lives with his wife and teen-aged daughter. I have known Pastor Dean his whole life, being his older sister (by just 17 months!) Aside from a few rough junior high years, he has been one of my best friends for my whole life. But the thing that sets Pastor Dean aside from almost anyone I know is his love for the Word of God. Even as a boy, he demonstrated a love and loyalty to the Word that was remarkable. Since that time, his knowledge and love have only grown greater. He is not perfect–he would be the first to tell you so–but he is very dedicated to the preaching of the Word. I am so thankful for his willingness to help with this series. If you would like to listen to any of his sermons you can find them here.
You can find all the Learn to Discern posts here on this page.