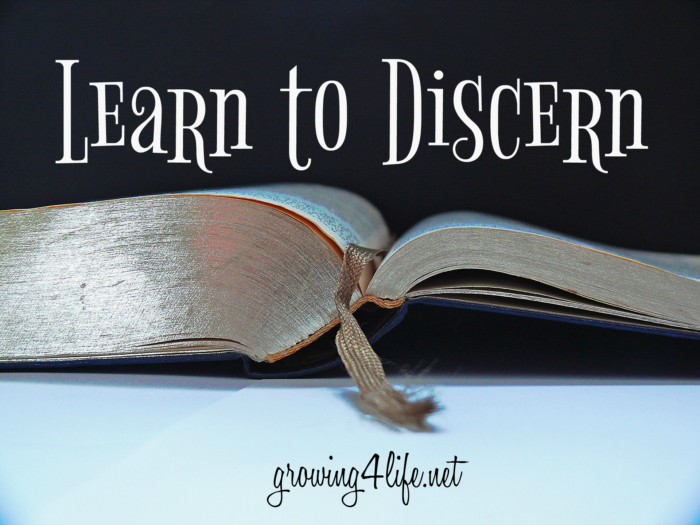 I was mindlessly moving a load of laundry from the washer to the dryer. My mind was on other things and I wasn't really paying attention to what I was doing. Without thinking, I grabbed a dime that was laying near the dryer's lint trap and tossed it in the trash.
Oops!
I looked at the trash and I pondered the worth of the dime. And then I turned back to my task. I simply did not find the dime to be valuable enough to warrant digging through the trashcan. This made me wonder about what amount of money I would consider worth digging in the trash? A quarter? A dollar? At what point would I deem the amount valuable enough that it would propel me to work to get it back?
I think we need to consider this same principle when we are looking at discernment. Recently, there was a huge "to-do" in the discernment world (if you aren't familiar with what's going on, I am not going to fill you in. I have no desire to give it any more attention than it has already received). But what I saw happening there was someone who was making a huge deal over a "dime". While I did agree with this person's point of view on the subject matter at hand, I did not see that it was worth a fight. A few other Christian leaders had the same opinion as me and ended up being maligned by this other man who thought everyone else should be making as big a deal over this "dime" as he was!
One of the hardest things we must learn to do as we grow in discernment is know when something is worth a confrontation. Romans 12:18 teaches us that we are to be at peace with all men, as much as it is up to us. This is an important verse, giving us a framework in which we are to live all of life. Unfortunately, this is not going to always be possible. We know from scripture that we are going to be hated by the world and that there will be many false teachers. This naturally means that we will have some run-ins, as we try to stand for the truth.
So, how exactly do we know if something is important enough to speak up about in our families, churches, or anywhere else?
Here are a few guidelines to follow–
1. The situation at hand is about God, His Word, and His reputation. This is by far the most important key to discerning when something is important enough to stand up for. It should never be about our pride, our reputation, our importance, our need to prove ourselves. Something that is worth standing up for will always be about God's glory and about protecting the truth of God's Word.
It is never about ME. 
But this is oh, so tempting, isn't it? Sometimes it is hard to discern if we are standing for God or for our own pride. We have this need to prove ourselves or to be "right" and we can get all entangled in our own selfish agenda–sometimes even when are standing up for the true and right thing! We must have humble hearts that are on the constant look-out for sins like pride, selfishness, and anger. And let's regularly ask the Lord for a right heart and attitude and that He will fill us with His love and grace as we fight the good fight.
2. It is morally wrong. There are an abundance of verses expounding on the things that are an offense to our Holy God. We know that sexual sins, lying, sorcery, anger, pride etc. are always wrong and therefore should be something that those who claim to be Christians should avoid. (Check out these passages for more clarity and detail on the sins that God hates: Exodus 20:1-17; Colossians 3:5-6; Galatians 5:19-21; 2 Timothy 3:1-7.)
If we know God hates these things, then this should be our guideline of things we want to avoid in all aspects of our lives. This would include our entertainment, which is something that believers mostly ignore now and, for some reason, practice a strange "disconnect"–as if somehow this is irrelevant from the rest of their spiritual health.
We should–we must–stand for pure and holy living. God's Word clearly teaches that, as regenerated souls, we are to live pure and holy lives that are clearly different and separated from the world (I Peter 1:15-16; Jude 1:20; Philippians 1:9-10; 2 Timothy 2:22; Romans 12:1-2; I Peter 2:9; Romans 13:13-14; Colossians 3:10).
This is not a wildly popular thing to stand for. In fact, it is not even marginally popular. But we need to speak up because God's glory and reputation are damaged by those who live worldly, sinful lives while claiming to belong to Him.
3. Scripture is misinterpreted and twisted. 2 Thessalonians 2:15 tells us this: So then, brothers, stand firm and hold to the traditions that you were taught by us, either by our spoken word or by our letter. Since scripture was written there has been an accepted interpretation. Oh, there have been councils and meetings to discuss things, but God has miraculously protected the integrity of scripture throughout the years. However, Satan is always trying to mess with it just enough that he will mislead people. He has done this through the ages, but I highly doubt it has ever been so much as right now.
When someone gives some wild, out-of-context interpretation of scripture it is time to stand up! When someone tries to rationalize worldliness, homosexuality, evolution, or any other ungodly sin or philosophy, it is time to stand for the truth of God's Word. We cannot let our enemy win this battle –for this is the battle's core. Is scripture 100% true, inerrant, and inspired, or isn't it? Because we know it is, we must speak up when it's maligned.
Of course, the problem with this is that most of us do not have enough biblical knowledge to really provide a biblical defense. This is really why I write. I want to encourage you to know the Word so that you can live godly lives and contend for the faith.
Josh Buice writes this: The absolute best method of testing a theology or a popular catch phrase is by Scripture. If any teaching will stand the intense scrutiny of Scripture, it proves itself to be a trustworthy doctrine. This is true on all matters of theology—from bumper stickers to historic creeds and confessions. The question that we must be asking ourselves as we build our positions is, "What does the Bible say?"
Yes, yes, yes! This is exactly right. You see, the Bible isn't all that hard to understand. If we accept the Bible as it is written, literally, it all makes so much sense. And, even more amazing, the facts presented in science (I am talking about facts and not theories) and the historical record supports it all! You will find it incredible and even miraculous when you give yourself to serious study of this amazing book. But we don't know because we don't study. And– if I may be so bold–we don't study because we don't care. Oh, if this blog accomplishes one things –I hope it is that you would start to care about growing in your knowledge of the Word of God!
4. Christ's role is diminished. Oh, how many false teachers diminish the role of Christ. If you are deciding whether something is worth the fight, ask yourself this: How do they treat Christ? Do they turn His sacrifice on the cross into a mere event? Do they teach that Christ is one of many ways to be reconciled to God? Do they teach that man is basically good and that Jesus is just a good example to follow? Do they teach that Christ is there to do one's bidding? Do they teach that Christ is simply a good teacher? You will be surprised how even the most mainstream teachers and authors are teaching error in regards to Christ. And this is worth the fight! While Jesus Christ is the theme of the whole Bible (yes, even the Old Testament!), you can start by reading the Gospels. This is a great place to get started in knowing your Savior and will help you to defend Him!
5. Primary Christian Doctrines are compromised. As believers, we do need to know doctrine (contrary to what you have probably been told). Being unfamiliar with words like justification, sanctification, and glorification leaves you vulnerable to false teachers. Having at least a basic understanding of what the Bible teaches about (to name a few) the Trinity, God's Sovereignty, salvation, God the Father, Jesus Christ, the Holy Spirit, and about the Church strengthen and prepare you for the vicious and unrelenting attacks that Satan wages against these doctrines. (Understanding what the Bible teaches us about the the last days and about Israel are secondary issues but are still beneficial–and interesting!– to study.) Find a good resource, such as Biblical Doctrine by John MacArthur and Richard Mayhue and start increasing your knowledge. If you'd rather have something a little less intimidating and not quite as deep, try Fundamentals of the Faith by MacArthur, which is a 13-week guided study of basic Christian doctrines.
6. Be socially wise. Now, with the final two items on this list, we are moving from biblical compromise to having social discernment. If someone you barely knows starts sharing about how much they love The Shack or Jesus Calling, don't start off on a long monologue on why they are not doctrinally sound books. Go ahead and say something casually and if they express interest, then, by all means, have a conversation. But don't confront acquaintances and strangers. They have absolutely no reason to listen to you. Gauge their interest and be wise. And, most importantly, pray for them.
7. Consider the spirit of the person you are confronting.  We must evaluate the person we are speaking to and ask ourselves: Is this person humble or proud? You see, if you are dealing with someone who thinks they know everything, who won't bend, who doesn't listen, then feel free to bring up your concern, but don't argue or debate with them. Only the Holy Spirit can remove that blind pride. You could talk for forever and not move them an inch. So allow the Lord to use you to plant His seeds and to challenge them with some thoughts but do not become a thorn in their side that pricks at every opportunity. This is not how we practice discernment.
This is not an exhaustive list. Practicing biblical discernment is no picnic and I can honestly tell you that there is little personal reward for speaking up. I have mentioned this before and I will mention it again–most people do not want to hear. And because they do not want to hear, they will view you as (and call you) all kinds of negative things. But don't let this stop you because we know that the truth of the Bible has the power to save! We know that the souls of those who are deceived and lost are going to hell! We know how this all ends! We know what is coming in the future! Let's keep our eyes focused on what is important and not get embroiled in our hurt feelings and relational skirmishes here on earth. Study the Word and don't be afraid to speak up when you must!
Fight the good fight of the faith. Take hold of the eternal life to which you were called and about which you made the good confession in the presence of many witnesses.
1 Timothy 6:12