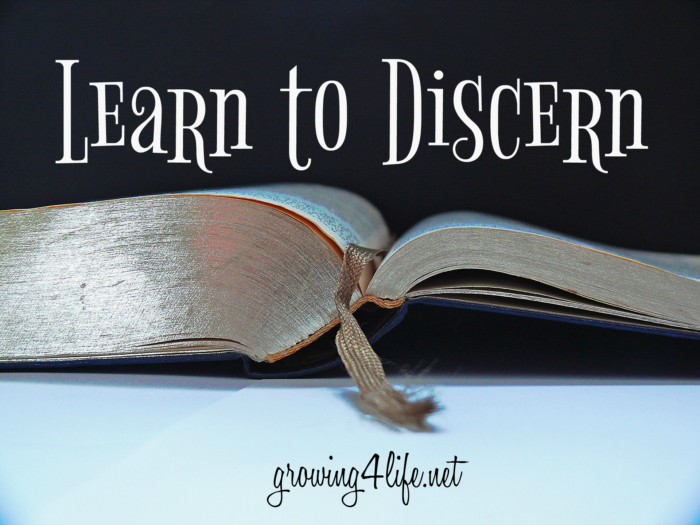 Has anyone caught the very real differences between mainstream Christianity and biblical Christianity? They aren't just different–they are in complete opposition to one another. This has happened so subtly and so gradually that many of us haven't picked up on it.
For example, many years ago I read a novel. When I was through with it, I read the whole series. I loved every single book in that series! Since then, I have grown stronger in learning to discern. When I picked up this same book a year or two ago, I saw it for what it was–an engaging story that encouraged nice Christian ladies right on into mysticism.
But I didn't see it the first time. I didn't see it because I didn't know the Word of God like I should and also because I had no idea how subtle and crafty Satan is in his all-out invasion of all things Christian.
As I have mentioned, I have learned a lot over the past twenty years or so. What I have learned is what I am trying to share here in this series. In a future post, I hope to provide definitions for some of the big words that are really changing the landscape of the church. But in today's Learn to Discern installment, I'd like to take a look at the everyday philosophies that Mainstream Christianity is purporting and compare it to what the Bible teaches. If we can understand some of these basic things, we will be that much further along in our efforts to discern.
So here are some of the lies that are being taught by many in the mainstream church. Keep in mind that not all are teaching these and that it varies in churches. But these are things to look out for!
1. Mainstream says Find Your Purpose and Fulfill Your Dreams.
The Bible says to surrender everything to Jesus and live only for Him.
Matthew 10:28-29; Matthew 16:25; John 12:24-25; Philippians 3:7-10
2. Mainstream says that Unity is the Ultimate Goal.
The Bible says that truth is more important.
Matthew 10:34-35; Romans 16:17-18; I John 4:1-3; Galatians 1:8
3. Mainstream says that The Church's Purpose is to Help the Poor.
The Bible tells us the church's purpose is to teach the Word and share the Gospel.
Matthew 28:18-20; Acts 2:42; Titus 1:7-10
4. Mainstream says that We Need to Make the World a Better Place.
The Bible makes it clear that this world will never be a better place.
Matthew 24; 2 Thessalonians 2:1-12; 2 Timothy 3:1-9
5. Mainstream says that We Need to Experience God in Order to Be Close to Him.
The Bible tells us that we grow closer to God by submitting to Him and obeying His Word.
John 14:15; John 15:10; Romans 6:16; James 4:7 ; I Peter 5:6; I John 2:3-6
6. Mainstream says that We Should Expect Special Revelation from God.
But the Bible teaches that it alone is sufficient for all we need.
Psalm 19:7-14; 2 Timothy 3:15-17; Jude 1:3
7. Mainstream says to Be Like the World.
The Bible tells us we are to separate ourselves from the world.
John 15:18-21; Romans 12:2; James 4:4; I John 2:15-17
8. Mainstream says We Must Learn to Love Ourselves.
The Bible tells us, as we already do love ourselves, we must learn to love others.

Matthew 22:39; Mark 12:31; Ephesians 5:29
9. Mainstream says that Christ's Sacrifice Covers Everyone In the Whole World, No Matter Their Religion.
The Bible tells us that we must believe on Jesus to be saved.
John 3:16; John 3:36; John 14:6; Romans 10:9
10. Mainstream says YOU Are the Center of Your Religion.
The Bible teaches that it is God who is to be glorified.
Romans 11:36; I Corinthians 10:31; Philippians 2:9-11
Ten major philosophies in opposition. And this is not an exhaustive list. Now, of course, most pastors, authors, and song-writers are not coming right out and saying these things. Instead, they are carefully and cunningly using out-of-context Bible verses to craft these philosophies. They are preying on a people who do not know their Bibles and are even less informed about church history. The lack of understanding of these two things has left the church defenseless. Utterly defenseless.
And if we don't know our Bibles, we can most certainly understand how easily it would be to be swayed. What they teach sounds great! Who wouldn't want a religion that is all about them? That feeds their own lusts and desires and dreams, while still giving lip service to a Holy God and a fire insurance policy from eternal damnation?
The humanistic appeal of these philosophies–combined with the fact that there has been a major push to make these a part of the mainstream, evangelical church–is making them hard to resist. The popularity of these philosophies is due in much part to three powerful men (I can't even bare to call them pastors): Rick Warren, Bill Hybels, and Andy Stanley. These three, more than any others, have totally changed the church from the inside out. So much so that now, when we turn our backs on these philosophies that are in opposition to God's Word, we are viewed as divisive and narrow-minded and irrelevant.
But be not deceived! Truth and popularity are rarely used in the same sentence. I know that it is so much easier to follow the crowd. But this church situation–perhaps more than any I have ever seen before–is where the crowd is going to lead us right off a cliff. The church is moving closer and closer to being swallowed up by the coming one-world religion and the subtle, appealing, and extreme differences in philosophies are paving the way.
While we can't control the crowd, we can keep ourselves informed. We can understand some of these basic philosophy differences (and as we learn what to look for, these things will start to show themselves everywhere you turn). And we can work to keep these philosophies from entering our own families and churches.
The level of deception is so great now that I can hardly believe it. In some form or another, many of these philosophies–under the leadership of unsuspecting pastors who truly want to do what's right–have entered the doors of even the most conservative of churches. And they have entered many homes– under the watchful, albeit naive, eyes of parents who think they are helping and guiding their kids.
I'd like to conclude with a short and profound portion from John MacArthur's commentary on the book of Titus regarding the dangers of false teaching–
One of the purposes for silencing false teachers was to remove the poison of their corrupt ideas and corrupt living, which threatened not only the spiritual life of believers themselves but also the very salvation of those to whom they witnessed.
Not only does the spiritual health of a believer hang in the balance with these false teachings running rampant, but the very salvation of those who would believe may also hang in the balance. While we recognize that it is God who draws and saves, it is also of value to consider how false teaching blinds the eyes and deafens the ears of so many.
It is my hope and prayer that, through these posts, at least a few will be awakened to the dangers and deception going on in the modern day church and that it will embolden us to teach our families and impassion our zeal to witness to the unsaved.
You can find all the Learn to Discern posts here on this page.