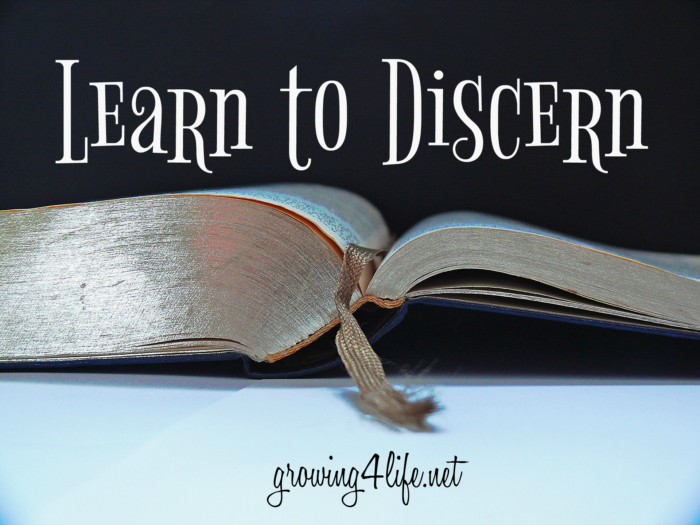 Sometimes we know that something is off with an author but we just can't put our finger on it. Something is most definitely wrong…but what is it? What do we do?
I have been saying for years now–and not just in this series–that we must judge all we come across by the Word of God. Acts 17:11, I Thessalonians 5:20-21, and I John 4:1 make it clear that God expects us to do this. But often we don't know the Word of God well enough ourselves and we need a little help to discern if that new teacher is someone we can trust or that latest trend is something we can join.
Someone asked me recently if I could share some of the trusted sites I use to help me to discern. As I prepared to reply, I realized that perhaps she isn't the only one who would like to know where to go for help.
And so I'd like to list a few trusted sites and authors. But before I do this please keep these things in mind, even as you do your own research and come across others discernment sites–
Continue to be a Berean, even with a trusted site or author. As we have seen over the past few years, teachers, authors, and websites are falling for false doctrine and joining with false teachers at record speed. It's a little surreal, actually. All that to say: While the sites I have listed here have a great track record and I have been using them for years, keep your eyes and ears open and don't trust blindly. The days of blind trust are over. (But perhaps there never really were any…? That's probably how Christianity got to this place to begin with!)
Some discernment sites can be rather unkind and harsh. While I don't condone this kind of attitude and I generally try to avoid these sites, the tone of a post or article does not change whether something is true or not. Always look for truth. Whether it is cloaked in love or not doesn't change whether or not it is true. I have tried not to recommend this kind of site, but as you do your own research you may find this kind of site. Let your guiding principle for a site be its clear examination of a teaching as compared to scripture.
Avoid sites that are "witch hunts" or centered around personal attacks. While naming names is not a sin (we see Paul do this several times in scripture), it should not be done lightly. We are called to compare a teacher's doctrine to scripture and to examine their lifestyle in the light of the Word. We are not called to tear them apart with abundant criticism and to create our own personal vendetta against them. Watch out for sites and authors that do this and avoid them completely.
Keep learning the Bible more and more, so that it becomes natural to discern on your own. You will find out that as you do this, you will need these sites less and less. When you study the Bible with a spirit of submission and obedience to all it says (even the parts you don't like!), you will find that you will be able to more quickly spot the deadly philosophies that are slithering into our homes and churches.
Don't let discernment become your main thing. As my pastor says, "Keep the main thing the main thing." All too often, people get so caught up in research that they let their Bible study dwindle. Our power for the Christian life lies in knowing the Word. Discernment is not a bad thing, but if it overtakes your life and that becomes all you focus on, it has been used by Satan to distract you from what is most important. Be careful not to let that happen.
Okay, now that we have those guidelines in place, here are a few sites and authors that I have come to know and trust as I have learned to discern. Please do not take my word for it. Speakers and authors change constantly. So much so that I can't possibly keep track. I will try to make changes here, as things come to my attention but if something looks like a red flag, I encourage you to follow it up–
WEBSITES–
Growing4Life Biblical Evaluations of Popular Teachers and Movements— I started this page in 2021 to aid my readers in discernment and have been continually adding to it. I hope it is a blessing to you!
Berean Research — This is a well-rounded site that has frequently help me to discern or confirm whether or not someone or something is false.
Herescope — This site has excellent articles. They are generally very long, but they are very well-written comparisons of modern day teachings to God's Word. The site itself is very difficult to navigate and they don't have a "search" button, but if you come across anything written by this site, be sure to read it.
Discernment Ministries, Inc. — This site, the parent site of Herescope, has some great resources, along with a monthly newsletter. It includes books and articles by Larry DeBruyn (mentioned up above with Lighthouse Trails) and Sarah Leslie (someone I have come to deeply respect).
Apprising Ministries — This site is made up of the archives of a man named Ken Silva, who did much helpful research before he died. You will find a lot of biblically grounded posts here regarding a lot of different topics.
CARM (Christian Apologetics and Research Ministry) — I have, thus far, found this site a safe place to go to for help in understanding doctrine, determining what false religions teach and why they are false, and factual examinations of false teachers.
The New Calvinists— This site is put out by E.S. Williams, who helps us see the grave biblical heresies in the teachings of the "New Calvinists" with a particular focus ono Piper, Keller, and Driscoll
Lighthouse Trails — This site is my first go-to. I appreciate their dedication to scripture and the kind tone with which they write. They have articles and books by several authors that I have come to deeply appreciate and trust, including Ray Yungen, Roger Oakland, Warren Smith, and Larry DeBruyn. These men have sacrificed their reputations to share some hard truths. I recommend reading any of their books. (2/28/18 author's note: It has come to my attention that this ministry has determined to put out a book claiming that to believe in Calvinism is to believe in a false Gospel. I am deeply grieved by this for two reasons. First, scripture clearly teaches the doctrine of election. To deny it, is to deny God's Word in its entirety. Election and free will work together in a way we can't understand. Let's just be humble enough to admit that. And, second, while they assure their readers that they are doing what "God wants them to do, after much prayer", I would submit to you that Satan is using them to divide the body by their assertions that this is a false Gospel. It is one thing to argue from a viewpoint, acknowledging that we are all brothers and sisters in the Lord, and agree to disagree on this issue that no one can understand. It is quite another to claim from your soapbox that you have it all figured out and the other person is not only wrong, but heretical in believing as they do. I will keep them on this list for the time being, as their work has been absolutely invaluable in the field of discernment, but please do not use Lighthouse Trails for your doctrinal education. Their error in this issue proves them to be quite untrustworthy in the field of theology.)
(A note as of February 17, 2023: I have updated this page today and have removed several links that have been on here for many years. I have been dismayed to watch some of the sites and blogs I formerly recommended show signs of compromise or a proud, unloving spirit (and sometimes both!) and I can no longer recommend them. Please feel free to contact me if you have any particular question and I will do my best to try and find a trustworthy resource for you.)
If I think of any others, I will add them, but this should give you some helpful resources to get you started as you learn to discern! I hope that this list is a blessing to you as you strive to discern in this age of abundant heresies and unprecedented apostasy. I leave you with these words from 2 Timothy 3:13-15–
But evil men and impostors will grow worse and worse, deceiving and being deceived. 14 But you must continue in the things which you have learned and been assured of, knowing from whom you have learned them, 15 and that from childhood you have known the Holy Scriptures, which are able to make you wise for salvation through faith which is in Christ Jesus.
________________________