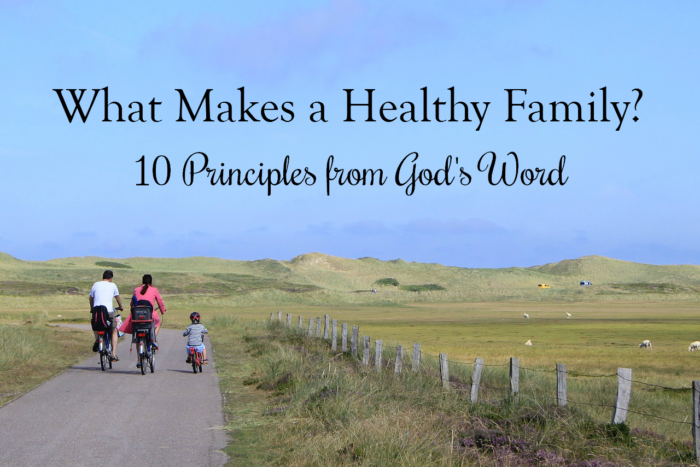 Have you ever wondered why some families are so close and some seem so distant? Why some seem so full of love and some are so full of anger? And why some seem so happy and some seem so sad?
All families are imperfect. In fact, all families are dysfunctional in one way or another. The degrees differ, but they all are!
So what makes for a healthy family? One that, even through life's hard struggles, remains generally close, loving, and happy?
We can find the answer to this question from the Word of God, where we see principles we can practice for healthy relationships and close families. I want to look at two passages and pull a few principles from them that we can practice in order to have healthy families–
But the fruit of the Spirit is love, joy, peace, longsuffering, kindness, goodness, faithfulness, 23 gentleness, self-control. Against such there is no law. (Galatians 5:22-23)
Love suffers long and is kind; love does not envy; love does not parade itself, is not puffed up; 5 does not behave rudely, does not seek its own, is not provoked, thinks no evil; 6 does not rejoice in iniquity, but rejoices in the truth; 7 bears all things, believes all things, hopes all things, endures all things.  (I Corinthians 13:4-7)

1. They are loving and kind. It is no secret that the Bible teaches us to be loving and kind. Many of us manage this outside of our homes but when we get home we throw off our good behavior and become who we really are inside–selfish and rude individuals who want our own way. But having a healthy family requires lots of love and kindness. And it starts with you and with me. We can't expect our kids to be kind if we can't manage it ourselves.
2 They are joyful. This word can haunt those of us who really struggle with being melancholy or with a flaring temper. But families overshadowed by sadness and anger make for kids who just want to leave and never come back. We cannot let the trials and struggles of life steal all of our joy. We will all have bad days–even bad months– but healthy families still find joy. And while laughter isn't required, it is certainly good medicine for any family (Proverbs 17:22). Families that laugh together are happier. You have heard it said that families that "play together, stay together." How important it is that we intentionally spend time together with our families, enjoying one another and practicing joy. We must ask ourselves: Do we bring joy to our family?
3. They are faithful. "Faithful" means loyal; reliable; steady in allegiance and affection; trusted; true to one's word. As we read these adjectives, we can see how this would be invaluable to the health of a family. When we can't trust each other, walls go up quickly. Let's consider if we are true to our word? If we can be trusted to do what we said we are going to do? Whether it is making a promise to our spouse and then not doing it or threatening to discipline our kids and yet never following through, we must understand that this principle has a lot more facets than we would first think.
4. They are self-controlled. Ohhhhh, this is a tough one, isn't it? This means that we practice self-control not only on the obvious things (such as our tempers) but also on the not-so-obvious–like our finances, our eating habits, and how we spend our time. Healthy families are balanced in how much they spend. They aren't encumbered by debts they can't pay and their houses aren't full of things they can't afford. Healthy families don't drink soda and eat fried foods at every meal (or they will be unhealthy in more ways than one!).  And healthy families don't spend all of their time in front of the TV or allow their kids to play video games or be on their phones without boundaries. Healthy families are self-controlled. Do we understand how important it is to set up boundaries for ourselves and for our kids that lead us to practice self-control?
5. They are patient and not easily angered. Oh, dear. Another really tough one. At least for me. But there it is in I Corinthians 13 (and many other places in scripture, as well!) Healthy families do not have members that are easily angered but instead practice patience with each other. Have you noticed how those members of the family that don't practice this bring such strife to the family? This one can really add dissension to the family quickly–particularly if the other members of the family don't practice principle #9!
6. They are gentle. What does gentle mean exactly? The dictionary tells us this–moderate in action, effect, or degree; not harsh or severe. Does this describe you? This is easier for some of us than for others, isn't it? Sometimes I will say something and my family will tell me I sounded harsh–and I didn't even realize it! I just told my daughter the other day that I just can't seem to gain victory over the tone of my voice. It can be rather discouraging for me–but I keep working at it! I don't want to sound harsh or severe. When we do this, we tempt our family members to be defensive and angry. Think about the last time you were unhappy about something and then ask yourself: Did you express your concerns gently?
7. They rejoice with one another instead of envying each other. Oh, another really big one. How much grief and strife come from brothers and sisters envying one another? We only need to look at Joseph and his brothers (Genesis 37) to see what comes of envy in a family. And this story has played itself out over and over and over again throughout the centuries. (Note to parents: Favoritism has no place in a healthy family! We parents have to take this so seriously, lest we destroy our families). When we are jealous instead of happy for family members that get a break or who succeed, this leads quickly to an unhealthy, unhappy family. Do you envy a sibling when they get something you wanted or are you able to rejoice with them? And another important question: Do you show favoritism with your own kids? (How would they answer that question?)
8. They value the truth. Families that are close communicate truth. There are few secrets between mom and dad (if any!). Communication is clear and truthful–not sarcastic and "beaten around the bush". Healthy families talk about the important things and the big questions in life. Christian families use these discussions to grow their kids' knowledge of the Word of God and the ultimate truth that is found there. Do you love truth? Do you share truth with your family?
9. They practice repentance and forgiveness. This one is talked about a lot and cannot be overestimated. Families that don't keep forgiving, soon have walls so high, no one can break through. Unforgiveness leads to bitterness and bitterness is a destructive root that weaves its tentacles through almost all parts of life, but particularly through a family's well-being. Of course, forgiveness is much easier to give when the party who has offended practices true repentance over their sin. Oh, how important it is that we give genuine apologies that do not have any "buts" after them. You know what I mean–the ones that go something like this–"I shouldn't have done that but you…" Those aren't apologies, they are excuses. Do you give genuine apologies? Do you practice forgiveness "seventy times seven" in your own family?
10. They keep loving unconditionally–lots of grace and no grudges. All of these can be wrapped up with this final principle. Healthy families offer lots of grace to each other. They don't sweat the small stuff. They keep on loving each other despite all of the imperfections and failures and sins. They don't hold grudges when one member doesn't live up to the expectations of another. Healthy families overlook small offenses. Do you give lots of grace? Or is your love conditional on your family members meeting your expectations?
And there you have it! Ten principles for a healthier and happier family. Of course, we live in a fallen world, so none of us can practice these perfectly. As I wrote, I was challenged on several of these that need much improvement in my own life.
I know that this list looks impossible to some of you. Some of you have a spouse or grown kids who aren't practicing many –if any– of these. They may be selfish or angry or distant and they have no interest in changing or in working at building a healthier family. What to do?
I just want to encourage you to build a healthier family as best you can by incorporating these things into your own life. The tone of your family will change as you put these into practice. It won't be easy and it won't–most likely–be miraculous. But a few years from now you will look back and see how your obedience to the Word of God and the principles found there has changed your family. Just start with one principle today. Look at this list and determine which one of these you most need to work on.
While this list of ten principles is certainly not exhaustive, I do hope that I have encouraged you today to build a healthier and happier family! This is a never-ending endeavor and we can never be satisfied with status quo when it comes to our families, for we are investing for eternity!
{Please note: I am taking a break from Learn to Discern this week; more posts are coming.}