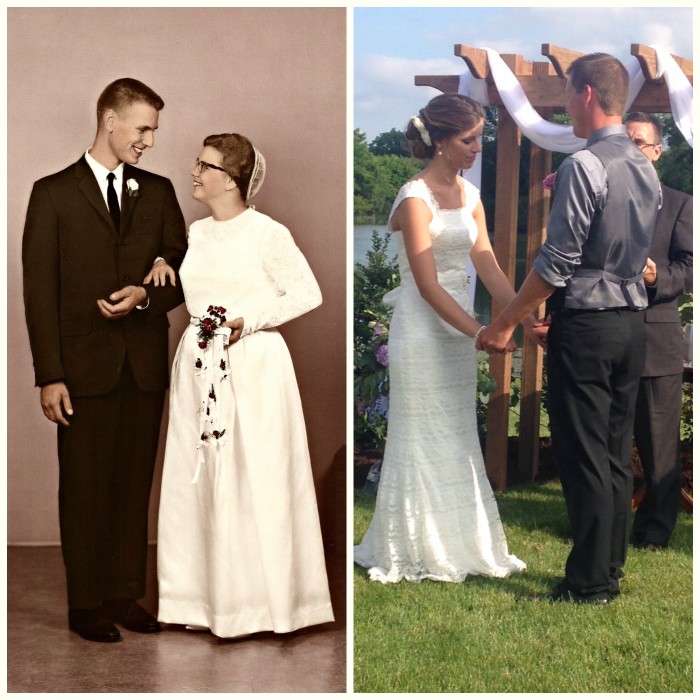 Today's post is not typical and there really isn't going to be any spiritual lesson. Instead, I am going to try to encapsulate my emotions from this past weekend just a bit. We had my son's wedding on Saturday (which you already know) and then we had my parents' 50th Wedding Anniversary party on Sunday. S0, before we go any further, I will answer the question I know you are thinking– yes, I am a bit crazy to do that. That has already been established.
However, just so you know, my brother is from out-of-town and this just made the most sense. Plus we were able to use the wedding venue and the wedding centerpieces, so it came together pretty easily–especially when you have a sister-in-law and a daughter who should really go into party-planning as a business…
Now that we have my sanity (or lack thereof) established, we can move on to some of my impressions from the weekend.  As mentioned above already, this is certainly not my normal kind of post but I thought I would share this here because so many of us share the same emotions when it comes to our children and our parents. I'll get back to my normal style on Thursday.
So, first, my impressions of Saturday–
I guess if you read my blog, you are already familiar with the fact that I have been on an emotional roller coaster regarding this wedding. Let me say first and very clearly, this roller coaster had nothing to do with my son's choice of a bride. She is the perfect choice for him and we couldn't be more thankful. The fact that her parents are some of our closest friends is a very special bonus. It's the stuff in life you could never plan! I think, rather, that it was partly because it was my only son's wedding and I knew he now would officially have another woman as his priority in life. Some of you will get what I'm saying and some of  you won't. I also think it was because the reality of the empty nest is starting to set in now.
But, last Monday, I started to feel so much better. Over the course of the next few days, I had three or four dear, dear friends text or tell me in person that they were praying for me. I could feel their prayers holding me up and I had a great week last week. Prayer is an amazing thing.
And, this morning, I am okay. I am really exhausted but I'm okay. Although, I cannot lie–there is a big empty sadness that fills me when I think about my son's room never being occupied by him again. It's just so…strange.  No one ever tells you when your babies are little what it feels like to watch your birdies try their wings and fly off away into their own lives. I find myself wishing I didn't feel so deeply. It makes it so much harder.
But we are so excited for our son–and for our two daughters– and their future lives. They have all grown up to be responsible adults who want to follow Jesus and have found spouses who want to do the same. What more could you ask as parents? While there may be some mourning over what was, I stand amazed (and also filled with a bit of relief if I think back to the question marks of the teen years!) when I look at my adult kids. They are not perfect kids and we are far-from-perfect parents. We take no credit. God is so good. And He is so faithful.
Which leads me to my impressions of Sunday–
As people started to file in to my parents' party I saw many dear friends that I hadn't seen for so many years. Memories of yesteryear filled my mind. And I had to think of how God uses certain people in our lives at certain times and then they leave the stage of our lives and we move on. It's the nature of life. We move, we change jobs, we change churches, and we become disconnected. And it makes me thankful for two things–first, that we are graced with the presence of so many dear friends throughout our lives. People who have supported us and encouraged us just when we needed it. What an incredible blessing from God! And, second, for the really special friends that God gives us that hang around our entire lives. At the party were a few friends that my parents have remained close to through all of the changes in their lives. They have a special connection (I call it a "kindred spirit") with my parents and have been with them through thick and thin. If we are fortunate enough to have just a few "kindred spirit" friends, we are beyond blessed. True friends are hard to come by. They are a treasure and should never be taken for granted.
And as we celebrated, the absence of several relatives was felt. But, for me it was the absence of my mother's brother, Larry, that was felt most deeply. He has gone on to be with the Lord and life on earth–at least for this family–will never be the same. He is still so sorely missed. I know that all people are missed, but Larry was special. He was one of those uncles that you knew cared about you. That you could go to if you ever needed anything. And he made us laugh–oh, how he made us laugh. I know that life will never be the same without him.
I was also filled with such thankfulness as I thought about God's sovereignty in putting me in this particular family as a tiny baby. Why me? Why was I so blessed to be put there? I have no answer for that. But I do have a very grateful heart.
And so this weekend was filled with emotion for me– the hope of the future and looking back to the past. It was a lot to take in. To say the least.
But I guess if there is any lesson to be had here, I would leave you with something my dad said when he shared a few words yesterday.  He said that before any children joined the family, he and mom had talked about the fact that nothing would ever be more important to them than that their children would come to know the Lord. That would always be the priority. My parents were not perfect, but that was always the priority. They held to their word.
They now have a son who is a preacher (and an amazing one at that!) and a daughter who writes about biblical principles. But their decision has also affected the lives of their grandchildren. For we, their children, have also made that the priority with our own children. And it is our prayer that our children will do the same.
If you have young children– or even if your kids are older– I encourage you to make the same priority in raising your kids. Nothing is more important. No sports trophies or academic accolades compare. No stage or glory or awards matter more than this one thing–that our kids love and serve Jesus.
Weaknesses and unkind words and unloving actions have abounded in my families. They were part of my life growing up and they are part of my life now. But if we keep the Lord our priority, he is so faithful. He is so faithful. He fills in the gaps of our weaknesses and honors our commitment to Him. It is truly hard to explain the joy and peace that fills a heart that lives for Him. Life isn't perfect and there are hard times. But, through it all, it is well with my soul.
I know so many of you have experienced the same faithfulness. You have experienced God's great love and grace for you. We don't base our Christian walk on that experience (as is so common today) but, the experiences confirm what we know to be true from scripture. They confirm the promises we read in God's Word. I leave you with just one of those promises–
Oh, taste and see that the Lord is good; Blessed is the man who trusts in Him! (Psalm 34:8)