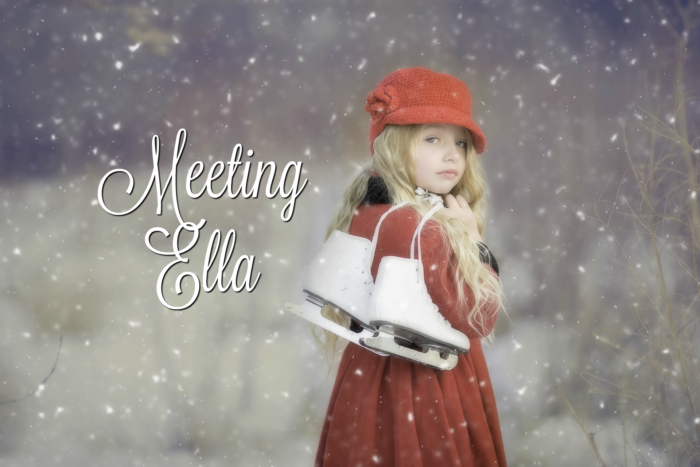 One of my favorite things to do is to write fiction, which doesn't fit very well with the purpose of this blog. However, at Christmastime last year, I broke away from my typical posts and presented the story A Candle in the Window. I decided to do the same thing again this year. And so I hope you enjoy this year's story, which will be presented on Mondays throughout this December. It is called Meeting Ella and here is Part 1, "Moving into the Farmhouse"—
I approached the front door with a combination of fear and nostalgia, the wind whipping my hair into my eyes. The front of the big farm house looked so forlorn. The last time I was here it was Christmastime. Garland with twinkling white lights had hung over the door. Big red pots that held miniature Christmas trees had sat like guards on each side of the steps. And out in the lawn had been the wooden nativity made by my Uncle Gus.
I sighed with sadness as I pulled the key out of my coat pocket and placed it into the deadbolt on the door. What a difference a year can make.
Had it only been six months since Gram had died? It felt so much longer than that…and so much shorter. My parents had died in a car accident when I was just a baby. My grandparents had raised me. Grandpa had died two years ago and Uncle Gus a year before that. I was truly alone now.
I pushed in the big wooden door and hesitantly stepped inside to the entry way. The stale smell of an unlived-in house assaulted my nose. I walked through the familiar rooms downstairs, pulling sheets off the furniture amidst clouds of dust.
I had called the utility companies last week to assure I would have electric and water when I arrived. Tomorrow I'd call about setting up wifi.
I ended up in the kitchen, where I plugged in the refrigerator and stove and pushed them back to the wall, relieved to hear the hum of the refrigerator as it started up.
The magnitude of what I was doing suddenly hit me. Did I know what I had gotten myself into?
As Gram's only living relative, I had inherited the house. My first thought had been to put it on the market immediately. But there was something that held me back. Maybe it was the memories. After all, it was the only home I had ever known.
I decided to give myself a few months to think about it and during that time I had lost my graphic design job when my company was bought out. I remembered the conversation well. We are sorry, Libby. We treasure your talent and wish we could keep you but the other company already has a designer on staff and we don't need two. Please feel free to ask us for a recommendation. We wish you the best. And that was that. I had worked two more weeks and then took my small severance package, packed up my office, and walked out the door.
But what had seemed devastating at the time started to look like the purpose of God leading me back to this house. My job was the main thing holding me back from moving. Now I didn't have any excuses left.
And so I had sold my furniture, packed up what was left in my Jeep Cherokee, and traveled across the state to my hometown. And here I was on a cold, windy night in December.
I shouldn't have come back at Christmastime. I realized that now. Anytime would have been difficult but December was by far the worst. Gram had loved Christmas. It had been the most special time of the year. Even last year, when she was really slowing down due to her heart failure, I had hauled the boxes out of the attic and she had sat, her knees covered with a bright red afghan, and directed me with her smiley face and twinkly eyes.
I sat down on a kitchen chair and laid my head on my arms. My shoulders started to shake. Christmas would never be the same again. Never.
I must have sat there for fifteen minutes, sobbing, when suddenly I got the distinct impression that someone was watching me. My eyes scanned the nearby doorway and then moved around the room. I didn't see anyone. I wiped my face on my sleeve, stood up, and looked around a bit before chalking it up to my imagination.
I shrugged and decided to head upstairs, eager to see my old bedroom. As I walked up the creaky stairs, the strangeness and unfamiliarity of being in this big old house by myself assailed me. It was not a pleasant feeling. But I had sold everything now and didn't have much of a choice but to stay here. At least for a little while, as I decided what to do next.
I found my bedroom very much like I had left it, which was incredibly comforting to me. I sat down on the edge of my bed and sighed. I was home. Even without Gram, it felt like home. This feeling renewed my energy and I jumped from the bed to go get my stuff. I glanced in some of the other bedrooms on the way, just for old times' sake. Uncle Gus's room still had the plaid bedspread and dark oak furniture. And there was Gram's room with the delicate floral wallpaper. I checked out the guest room, made up with one of Gram's lavender quilts. And then, finally, headed down to the last tiny room on the right. I remembered that this room held a twin bed and Gram's sewing machine. It was one of my favorite rooms in the house and I remembered many hours playing on the floor with my puzzles and dolls while she sewed and quilted there.
However, I was not prepared for what I found in that room. The bed looked like it had been slept in the night before, unmade and unkempt. There was a small cup of water by the bedside, along with a girl's sweater. I picked up the purple sweater and stared at it. It was a size 10, faded, with a tear at the elbow. Questions came to me in rapid succession. Had Gram had a young visitor here when she died? And who in the world had it been? And where was she now? And why hadn't Gram bought her a new sweater?
Oh, well. Those were questions for another day. For now, I needed to go get my stuff and move in. I ran lightly down the stairs and out to my car, ready to unload my things. Tomorrow I would get out the Christmas decorations. It was a good day.
I was home.
Continue to PART 2