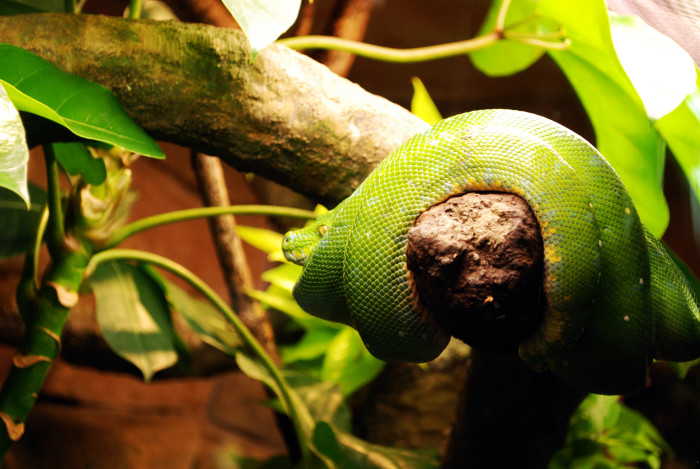 Once upon a time there was a young husband. His wife hated snakes with a passion. Deeply. And fully. This young man told his family just how much he loved his wife. He told his friends how much he loved his young wife. And he told his wife how much he loved her.
But one day the young wife came home to find a small snake statue sitting on her coffee table.
"What is this?" she demanded.
"Oh, I know you don't like snakes but honey this is just a tiny, little statue. It's not a big deal," He rubbed her shoulders as he spoke, whispering the words soothingly.
The young wife relaxed a bit, still eyeing the statue doubtfully. She spent the next few days trying to ignore it. But every time she walked by she saw it's beady marble eyes staring at her and she shivered. And that was when she started to doubt her husband's love just a little.
Over the course of the next year, the husband brought more and more snakes into the house, rationalizing and explaining them away to his young wife, until one day he wall-papered their bedroom with photos of them.
The young women, unsuspecting, walked into the room after a long day and gave a little scream of shock. Her husband's argument had always been that he doesn't have any live snakes in their house. But no matter how he rationalized with her, she now realized that he didn't really love her at all, but only said he did. The snakes covering their bedroom walls made that perfectly clear. For no man who truly loved her would make her live immersed in and surrounded by something that she abhorred.
That wasn't love.
The end.
My brother, Pastor Dean, gives this illustration to explain the inconsistency of saying with our mouths that we love the Lord and yet then filling our hearts and minds with the things He hates.
My dear readers, I have a heavy, heavy burden over the entertainment blindness that is in the church. As if somehow entertainment is excluded from our call to purity and holiness. How has Satan so tricked us into believing that we can say we love the Lord and yet fill our eyes, ears, brains, and hearts with the things God abhors?
We find these things in Galatians 5:19-21–
19 Now the works of the flesh are evident, which are: adultery,[c] fornication, uncleanness, lewdness, 20 idolatry, sorcery, hatred, contentions, jealousies, outbursts of wrath, selfish ambitions, dissensions, heresies, 21 envy, murders,[d] drunkenness, revelries, and the like; of which I tell you beforehand, just as I also told you in time past, that those who practice such things will not inherit the kingdom of God.
And Colossians 3:5-8–
Therefore put to death your members which are on the earth: fornication, uncleanness, passion, evil desire, and covetousness, which is idolatry. 6 Because of these things the wrath of God is coming upon the sons of disobedience, 7 in which you yourselves once walked when you lived in them. 8 But now you yourselves are to put off all these: anger, wrath, malice, blasphemy, filthy language out of your mouth.
There are many more places in scripture that show us the things we are to eradicate when we become saved. We have left the darkness and walked into the light. So why do we think it's just fine to bring the darkness into our homes and cars and lives, as if not doing the actual sin ourselves somehow makes it all okay? Why do we want to?
Sorcery
Sexual Immorality
Violence
Crude Language
Funny thing is–or should I say the tragic thing is–not only are Christians watching these things but they are defending them under the guise of Christian liberty. They are are actually rationalizing and explaining away why it is okay to fill our minds with the things God hates.
This has been one of the biggest puzzles I have tried to understand as a believer. How can godly people who are in a good solid church and in the Word on a regular basis justify such evil entertainment?
I think it has something to do with the hardening our consciences. See, as the young husband filled his home with snakes, he became rather inoculated to them. He stopped thinking about the offense he was bringing to his wife. Oh, his conscience was pricked once in awhile–kind of like ours is after a sermon or blog post about entertainment is pricked, but not enough to actually make changes. After all, he could enjoy the feel of snakes–the look of snakes–and his fascination of snakes without having a real snake.
Let's continue our story for just a moment. Let's say that the young man saw his wife's distress and, finally faces what he is doing to the relationship. Instead of rationalizing it away, he recognizes his lack of love towards her in one eye-opening moment. He starts removing the snakes from the house. As he does so, they start to lose their appeal. He eyes the statue in his hand and starts to wonder what his fascination was to begin with. As he turns it over, he recognizes it for what it is. As the weeks slip by, he finds snakes here and there but he is quick to remove them in his desire to eradicate all snakes from his life. Not only as a sign of love for his wife, but because has grown to hate them like her.
I'd like to share a quick story from my own life about this. I've shared it before but it's been a long time. In the mid-90s my husband and I had a favorite TV show we liked to watch. We'd turn it on and for 30 minutes we could forget the world and just laugh. We enjoyed that and never really thought that much about it. Fast forward 15 years to when the show came back on in re-runs. Keep in mind that in that time, we were making an effort to purify our entertainment and to live out Philippians 4:8–
Finally, brethren, whatever things are true, whatever things are noble, whatever things are just, whatever things are pure, whatever things are lovely, whatever things are of good report, if there is any virtue and if there is anything praiseworthy—meditate on these things.
And Psalm 101:3–
I will set nothing wicked before my eyes;
I hate the work of those who fall away;
It shall not cling to me.
So one day I sat down to watch the show. And I was appalled. It was terrible. It was filled with fornication, crude language, envy, and a number of other things that all made me cringe inside. And I realized something–God was working in me! I was growing towards Him and away from the world.
I'd like to say I never struggled with this area of entertainment again, but of course I did. Of course I do. It's a really tough area of life to navigate.
But may I suggest that we give this area of our lives to the Lord?
The other week I decided to look at the lyrics of the Top Ten pop songs chart for a Bible Study I was doing. Can I just tell you that it almost made me sick? Literally. And yet this is what Christians play on their radios, filling their minds with all kinds of evil. Allowing their kids to fill their minds with all kinds of evil.
Why don't we care? Why doesn't it bother us as believers? Those are the questions that I still have no answer for. However, from my own life, I have recognized one thing–
Our entertainment choices and spiritual growth are directly correlated.
Until I really gave an effort to purifying my entertainment, my spiritual growth was stunted.
I know that I am pretty alone on this issue. Our family has learned to take the criticisms and ridicule we regularly receive at not going to the popular movies filled with immorality, watching the TV shows filled with crude language, or ignoring the bestsellers that are full of sorcery. And, honestly, sometimes some of us cave to the peer pressure. It gets really old always having to be the odd one out and sometimes we blow it.
Someone accused me yesterday of thinking myself to be so righteous. At first, I was taken aback. I never want anyone to believe that about me. So let me be clear here– I am not righteous in any way, which is clear to me on almost any given day. I am just a wicked sinner saved by grace who loves her Lord. And I believe that my love for Jesus has to shine through all areas of my life–including my entertainment.
I hope that you will consider opening the entertainment room of your heart to the Lord.