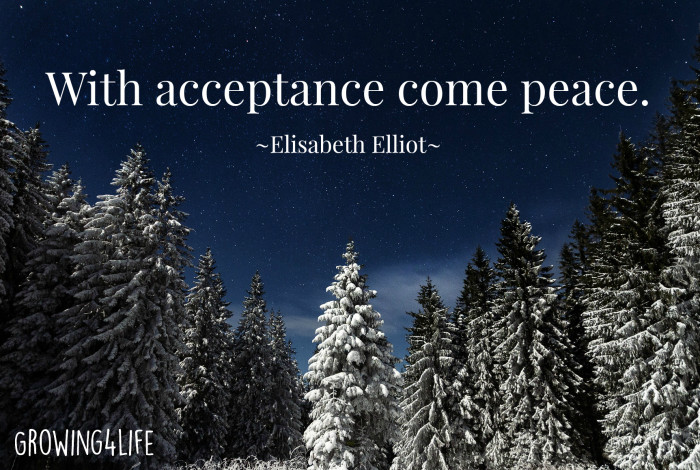 When you get to be my age, sometimes you look back over your past and you realize just how much you have changed in certain areas. Oh, in many ways, I am still the person I was but–praise God!– in so many ways I am not.
Sometimes it seems that all we hear about the Christian life is brokenness and imperfectness and how that unites us all. And, yes, we are all broken. I actually prefer the term sinful. It's what we are and it is how we are born. But there is some victory over the years in the life of a servant of God who truly desires to obey the Word of God. I'd like to share one of those small victories with you today. I am not sure I was even aware of it until a conversation took place a few weeks ago.
This person was not happy with their circumstances. They kept reminding me of how unfair it all was and questioning why life wasn't going a bit more according to their plan.
As I listened, vague memories of my own dissatisfaction with my life circumstances came to my mind. I remembered feeling much the same way about my life situation when I was a young wife with a houseful of small children and a workaholic husband. If you remember, we were building a business. And businesses take hours and hours and hours. My husband has never worked less than 55 hours a week. Many times it was more. (It probably still is). And, of course, in the beginning years, there was little money to show for it. It was a lot of hours for little reward.
I could feel myself growing slightly resentful. I'd hear of things other husbands were doing and how they were able to help their wives and I'd think to myself: That's just not fair.
But somewhere in that time of my life when I could have grown bitter and resentful over this, the Lord opened my eyes to a wonderful truth–
With acceptance comes peace.
This particular phrase was coined by Elisabeth Elliot. I am using it because it is the simplest, most profound way to say what I learned.
My life was my life. I was not changing my husband. I knew enough to know that. So I could choose to be joyful in my circumstances or I could choose to be a miserable grump. The choice was all mine. And the ramifications of that choice would ripple out across my family.
As I understood this more fully, I came to understand that the only thing I could change was me. Was I so arrogant as to believe that I somehow I had it all together? Did I think my husband had it so easy to be married to me?
Yes, as the Lord opened my eyes to accepting my circumstances, he also opened my eyes to my own bad attitudes, unkind words, and impatience. And it was not a pretty sight.
As I started climbing out of the pit that complaining and dissatisfaction had kept me in, I started realizing just how good I had it. Sure, my husband worked long hours but he loved his family. He was there for the kids whenever he possibly could be, making it to more games and events of theirs than most dads who don't work those same hours. We had winters together–a few quiet months each year to catch our breath and regroup as a family.
As I started to focus on the positive and not the negative, our family life changed. As I started focusing on fixing myself instead of fixing my husband, our marriage changed.
Oh, I'd like to say I never experienced defeat in this area again, but, of course, life isn't like that. But remembering that accepting my circumstances is the key to peace (and joy, too) in my life has helped me navigate many an unfair circumstance in my life. That lesson I learned as a young mom has helped me through many difficult times.
Let's face it–we could all have a reason to be dissatisfied with our lot in life in one way or another. And if the thing we struggle with could be fixed tomorrow, we'd find something else to be unhappy about. It is the very nature of our humanity. We actually have to work against our selfish nature to rise above it and reach acceptance.
Now, let me just add this one thing–
Acceptance is not the same thing as resignation.
Accepting our circumstances does not mean we resign ourselves to the fact that our circumstances will never change. We still pray and ask the Lord to convict those who need to change. We ask Him to turn hearts to Him or to work in an area of our life or someone else's life that needs changed. Oh, how we neglect the power of God to change people when we don't get on our knees with diligence and perseverance.
But while we wait for God to work, we have to accept His timing and His sovereignty in the situation and work on our own selves–humbly recognizing our own sinfulness and need for growth.
Yes, this can all be extremely difficult, but the sweet and abundant fruit we yield when we do so is so much different than the bitter, ugly fruit we yield when we don't.
And, so, there is some victory in the life of a believer truly dedicated to God and His Word. 2 Timothy 3:16-17 is so true, isn't it? —
 All Scripture is given by inspiration of God, and is profitable for doctrine, for reproof, for correction, for instruction in righteousness, 17 that the man of God may be complete, thoroughly equipped for every good work.
The Word of God will change us–but only if we spend time studying it with a humble and yielded heart.