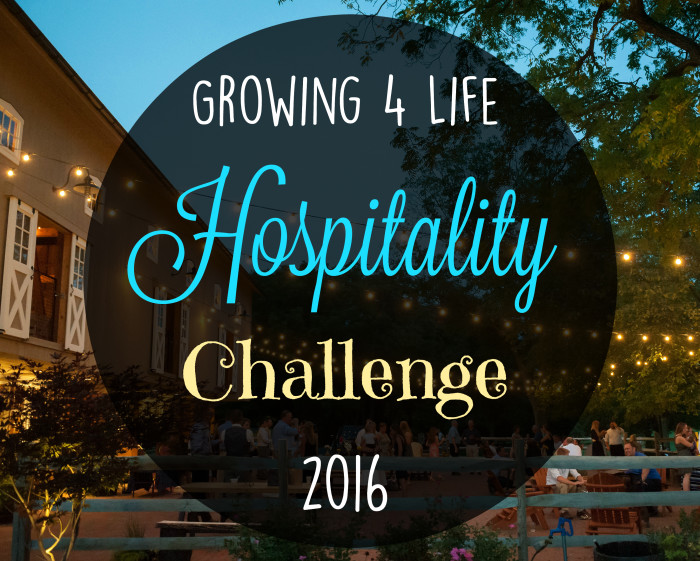 January is over already! Isn't that hard to believe? I always think January will drag on forever but it never does. The month was already half way over before I realized that I had never even made plans for the January Challenge. Yes, I am talking about the challenge that I created…
So at that point I realized that I needed to get some plans in place. Here is how it all turned out for me–
First–preparing my home. Well, I started out with great aspirations to get a little more organized. But, alas, it didn't really happen. Thankfully, my home, with a little tidying, is generally company ready, since I host a Bible Study in my home each week. It's amazing how much a weekly meeting at your house changes how you keep things cleaned up and organized–at least on the surface! So, while I can't say I made great strides in this area, I can say that our home is ready for guests.
Second–meeting a couple for dinner. I went out on a limb and called a couple from our church that we don't know very well. The wife and I had enjoyed talking together at a church camping trip a year or two ago, but other than the tidbits of conversation we would hold in the church foyer occasionally, we had not really talked since then. Her husband owns a business, too, so I knew the men would have plenty to talk about.
I hesitantly picked up the phone and dialed their number. I felt a little bit funny, quite honestly, calling out of the blue like that. I explained the Growing 4 Life Hospitality challenge and then asked her if she and her husband would like to meet us for dinner. She said they would like that and we put set aside Friday night, January 29–only two days before the month's end. Nothing like cutting it close!
And so this past Friday night found us meeting this couple at our local Ruby Tuesday's. I know I shouldn't expect this every time, but the delightful thing about this particular evening was that all four of us hit it off immediately. There were no awkward moments or uncomfortable pauses. We have very different backgrounds and lives, and yet we had so much in common that I think we were all pleasantly surprised. I can definitely say that we left the restaurant that evening with new friends. It was a really rewarding experience for us–and one we would never have had without the Hospitality Challenge pushing me to make that call.
Now it's your turn. I'd sure love to hear your stories. Do you have any stories about preparing your home for company? Or meeting with a family you desired to know better? Would you share your experiences in the comment section below? Don't feel that you can only share the good things, but feel free to share your frustrations and challenges, too.
By the way, if you are reading about the challenge for the first time today, you can still join. This is not like the Bible Reading Challenge of last year, where you are hopelessly behind if you start late. The 2016 Growing 4 Life Hospitality Challenge can be joined at any time during the year. Click here for more information.
So are you ready for the next challenge? Here we go…
FEBRUARY CHALLENGE
Now that you have your home ready to go, it's time to open up your home and practice hospitality. This month the challenge is to invite two or more singles (don't forget the singles, they are often overlooked!), couples, or families into your home for a game night. Winter is a great time to play games, so this seems to be a great place to start in our desire to become more hospitable.
You can make this as simple or elaborate as you want to. Just remember to keep the focus off of yourself and your home and keep it on your guests and making them feel welcome. Personally, I will probably just serve a few munchies and iced tea and keep it very casual. But you may want to serve dinner or buy some pizza. It's totally up to you!
NOW, I know that some of you may have a spouse who does not like to play games. If this is the case, then why not ask them if they will do this for you just once OR, if they won't budge, then think of a different activity that you can do that evening, such as having couples bring their wedding albums or childhood photos. Think outside the box a little. I'd like to add here that I do not recommend any movies or TV for your activity. This discourages conversation and when your company leaves you won't know much more about them than when they first arrived.
If you are in need of some game ideas, I have listed a few of our family favorites below (FYI: these are NOT affiliate links and I receive zero compensation if you click on these)–
For smaller groups–
Qwirkle–This is a fun game of colorful tiles that need to be lined up in rows according to color or shape. It's very easy to learn and lots of fun to play.
Play Nine–We have spent hours playing this as a family. It's a fun card game that you play for nine rounds. Just make sure you sit beside someone nice for this game, as your neighbor can make or break the game for you ;)
Rummikub–This is a new game to our family, but it's been around for awhile. It has tiles with colored numbers on them and you lay them out on the table, similar to Qwirkle, but not quite the same. It's a fun game, if you like this kind of thing.
Rook–My first memory of this game is with my aunts and uncles when I was around twelve. I have such fond memories of everyone sitting around a table, laughing and forgetting the rest of life for just a few moments as we played. The deck of cards says that only six people can play, but I think we can play with more if you buy an extra deck of cards. It's an easy, inexpensive, and enjoyable card game. This can be played as individuals or in teams.
For larger groups–
What?–I just bought this one at Christmas and we had lots of fun playing it over the holiday season. It is extremely easy to play and actually helps you to get to know one another a bit. I highly recommend this one.
CatchPhrase–This is a wonderful game for big groups and we play it regularly if we have a crowd at our house. The game is actually a small electronic box that you pass, so no table is needed. It's easy, fun, and is always played with a lot of laughter!
Scattergories–We have enjoyed this game since the kids were little. It's an old game, but still a good one. As long as you can write, you can play this game.
Balderdash–This is a fun game of creative thinking. Coming up with definitions of unknown words and plots of unheard of movies (plus a few other categories) and then trying to guess which is the right one is what this game is about.
For families with children–
Cranium Family Fun–Oh, we love this game! If you have kids coming to your party, this one is well worth the money. I am not sure how many can play it, but it is really fun for both adults and kids.
Charades–No link is needed for this one. Simply write some things to act out on pieces of paper, throw them in a paper bag, and make your own game up. Everyone can play and have fun with this one, no matter what age.
Do you have any other game suggestions? I always love hearing about new games–especially ones for a larger group, as it is rather hard to find fun and clean games for adults.
So are you ready for this new challenge? Ready…Set…
GO!