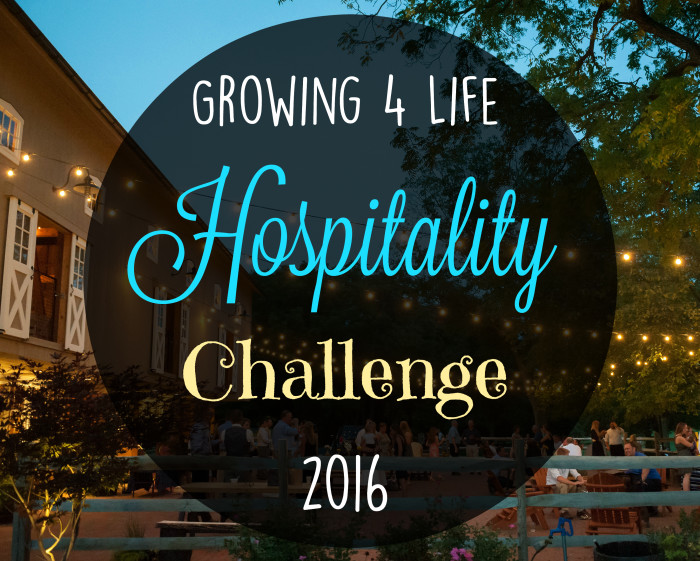 The Growing4Life Hospitality Challenge officially begins today! I will present a new challenge on the first Monday of each month during this coming year. I hope you will read these challenge posts, even if you have decided not to participate, because I do think you will find some helpful ideas and tips.
There are actually two parts to this first challenge.
But, first, let me share a passage of the book *Hospitality Commands by Alexander Strauch—
I don't think most Christians today understand how essential hospitality is to fanning the flames of love and strengthening the Christian family. Hospitality fleshes out love in a uniquely personal and sacrificial way. Through the ministry of hospitality, we share our most prized possessions. We share our family, home, finances, food, privacy, and time. Indeed, we share our very lives. So, hospitality is always costly. Through the ministry of hospitality, we provide friendship, acceptance, fellowship, refreshment, comfort, and love in one of the richest and deepest ways possible for humans to understand. Unless we open the doors of our homes to one another, the reality of the local church as a close-knit family of loving brothers and sisters is only a theory.
So, this idea of hospitality isn't just a nice idea. It is going to cost us something. Are you ready to obey, anyway? I truly believe that our hearts will rejoice as we obey the Lord in this area.
So here we go!
JANUARY CHALLENGE
PART 1
Think of a Christian single person, a couple, or a family at your church that you would like to get to know better. If you are not attending a **church regularly right now then move to your other circles–perhaps work or school. Can you think of someone?
Now, call them up and arrange to get together for dinner. Or if funds are tight, then just arrange a time for dessert and coffee. But get a date on the calendar for the month of January.
PART 2
Before I share part 2, I want to tell you a little story. Years ago, we served under a pastor who would just pop in on people without calling them. One evening, as I sat in my family room surrounded by laundry on every surface, the doorbell rang. My dishes weren't done. My husband wasn't home. And things were really crazy. Keep in mind that I was homeschooling our four kids at the time. I was not prepared for company. As I opened the door, I saw my smiling pastor standing there. Now, to his credit, he stepped his way through the laundry, took a seat, and enjoyed a visit with the kids and me and never once did I feel judged. But, I still felt soooo uncomfortable. The whole time. It was awful. I kept furtively glancing at my messy house and just wanted to melt into the floor. My house was not normally in such a terrible state, but, of course, the one evening I had let it go was the evening the pastor chose to call.
All these years later, I realize that I learned a little something from that visit. And now I try to generally have my house in order at all times. Oh, it still gets the best of me sometimes– especially during the holidays (anyone else ready to get back to their routine??) but, as a rule, I try to tidy up first thing in the morning. Of course, this is so much easier now that I only have one child at home. I fully empathize with you moms. Especially if you home school. That felt like a losing battle.
So why am I telling you all this? Because, while I don't believe a spotless house is necessary to entertain, I do believe that you need to feel like your house is ready to entertain. One of my readers mentioned that she would like to do the challenge, after she completes a few home projects and gets it ready.  I got to thinking about that– perhaps we could all use a month to prepare our homes. Especially if we haven't entertained in a very long time.
So here is Part 2 of the challenge–
Prepare your home for company.
You have all month to do this. For some of us, our home is already in pretty decent shape. We keep things neat and tidy, for the most part, and this challenge will be easy for us. BUT, for others of us, clutter and busyness have overtaken our lives and we have neglected our homes.
This is the month to change that. Let's do a basic house cleaning and clutter removal, so that we can entertain guests with confidence. Here are the basic things to do to prepare for guests–
Clear clutter off surfaces
Dust furniture
Wipe down counters
Vacuum
Mop floors
Tidy bathrooms
If you would like to do more or are looking for some resources in this area of cleaning, you may find these helpful–
http://www.flylady.net/d/zones/
I first became acquainted with Flylady when I was homeschooling. She breaks caring for our homes into manageable zones. I think you will find this website very helpful. (disclaimer: I am not sure if she is a believer or what her beliefs are. I did notice that she condones an unbiblical form of meditation, so be very careful if you choose to follow her "spiritual" advice.)
http://christianhomekeeper.org/be-clutter-free/
Here are a few suggestions for ways to keep our homes clutter free. This author had some other good posts, as well, about this area of keeping our homes, so take a little time to look around the blog.
http://www.imperfecthomemaker.com/2013/07/how-to-declutter.html
Another article on de-cluttering. This article gives seven easy steps!
I am going to try to use this helpful app during this year. It makes caring for our homes more manageable and can even be used in conjunction with Flylady. Here's a helpful web page to show you how–
http://www.homeroutines.com/resources/choose-a-housework-expert/flylady/using-homeroutines-to-follow-flylady/
Again, let's remember– our homes don't need to be perfect. There are no spotchecks and no one cares if you didn't dust the light fixture or missed that cobweb in the corner of the family room ceiling. But, we can do our best to do a basic de-clutter and clean-up of our homes.
I will touch base at the end of the month to hear how it went! I can't wait to hear your stories about this first challenge.
Okay, so…are you ready?? Here we go!
*To go along with this challenge, I am reading the book The Hospitality Commands: Building Loving Christian Community: Building Bridges to Friends and Neighbors by Alexander Strauch. If you'd like to read along, you can find the book here on Amazon.

**If you are not in a solid, biblical church, then I would like to suggest you find one. It is so very important for both you and your family to be in fellowship with a body of believers (Hebrews 10:25).