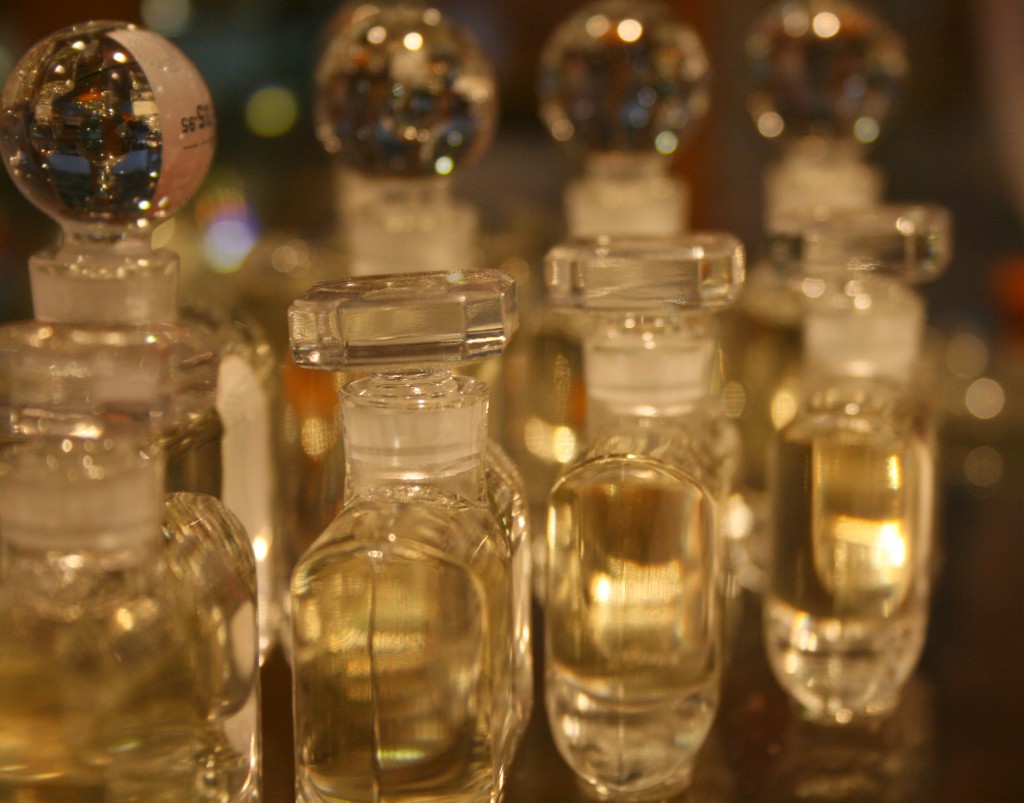 My heart sank. The perfume I had used for so many years wasn't on the shelf –in any form.  I studied the display for anything, even body wash would be better than nothing. But, no, it wasn't there. I hesitantly approached the clerk, hoping she'd say they were simply out of stock.
Of course, that wasn't what she said.
"I'm sorry, but they have discontinued that scent."
Of course, they have.
I am not a real "perfume" type of gal so it had taken me a long time to find just the right scent that both my husband and I liked. I spent the next half hour trying to find another one. With no luck, whatsoever.
I went back a different day a few weeks later and tried again. I settled for one (that I ended up taking back), tried another one (which I used for awhile, but just couldn't get used to), and finally am using one that's just okay. But it's not the same.
Meanwhile, on my shelf are my half-finished bottles of my favorite scent. I am afraid to use them, because I don't want to use the last drop.
But if I don't use them, I will never use the last drop.  Instead, they will start to get that funny, strong smell and become unusable.
OKAY, so who cares?
Well, when we were hunting for the Christmas tree, my mind became a bit nostalgic. It's just not the same as when the kids were small. Now, they are so big and none of them really care all that much. We still all go together (for which I am very grateful), but the excitement of having Christmas with little ones has disappeared.
Now we have Christmas with young adults. And I have been quietly mourning, carefully keeping the last vestiges of childhood around the house. The only plan I ever had for my life was to be a mom. I enjoy it tremendously. But my "Mom"  job description has been changing quite dramatically these last few years.
The other day, I decided it is finally time to get rid of some of the toys! So, I dragged my girls down to the basement and we started sorting. Oh, the memories that came flooding back. Going through bins of dolls and barbies and trucks and games and books. The picture books especially made me sad. I loved reading to my kids. No one in my house needs me to read to them anymore.
My mind went back to the perfume.  I could keep it in a bottle forever or I could use it. Those were my only two choices.
My mind came back to the toys. I could keep them all here, lonely and unused in the basement or I could give them away so they would have a new home (memories of Toy Story 3 are coming back here– no wonder I cried at that movie!) Those are my two choices.
But no matter what I choose to do, the scent I loved is never coming back on the shelves. No matter what choice I make, my little kids are gone forever.  And while I may never be able to find another scent that I love as much as that first one, the young adults that have replaced my little kids are amazing!  I feel so honored to be the mother of these young people who love the Lord and desire to please Him with their lives.
We haven't finished the toys yet, but I am going to be getting rid of quite a bit. Oh, I will keep a few for the grandchildren that hopefully will be along someday. But it is time to face the fact that my "small children" days are over and clear things out of here.
Meanwhile, I am going to choose to be grateful for right NOW.  I have so much for which to be thankful –not only for the special and wonderful family memories I already have but also for the memories we are making right now.  I am blessed.