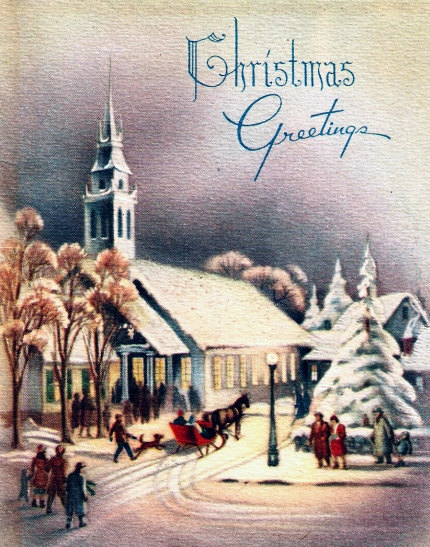 For the Christmas Season, I am going to dedicate Wednesday Wisdom to sharing some beautiful short stories. The first story I would like to share is from Joe Wheeler's Christmas in My Heart, Volume 19. It is called "Mrs. Hildebrandt's Christmas."  It was written by Robert Smith many years ago.
It is a great reminder that there are many lonely, heartbroken people who could use some encouragement during the holidays. We can not only bless them by reaching out but also be blessed. There is such tremendous joy when we give of ourselves to others. And, oh, what an important lesson this is to teach our children! I hope you enjoy this story–
            It's been 30 years since I last saw her, but in memory she's still there every holiday season. I especially feel her presence when I receive my first Christmas card.
            I was twelve years old, and Christmas was only two days away. This season's first blanket of white magnified the excitement.
            I dressed hurriedly, for the snow was waiting. What would I do first – build a snowman, slide down the hill, or just throw the flakes in the air and watch them flutter down?
            Our station wagon pulled into the driveway, and Mom called me over to help with the groceries. When we finished carrying in the bags, she said, "Bob, here are Mrs. Hildebrandt's groceries."
            No other instructions were necessary. As far back as I could remember, my mom shopped for Mrs. Hildebrandt's food and I delivered it. Our ninety-five-year-old neighbor, who lived alone, was crippled from arthritis and could take only a few steps with her cane.
            Even though she was old, crippled, and didn't play baseball, I liked Mrs. Hildebrandt. I enjoyed talking with her; more accurately, I enjoyed listening to her. She told wonderful stories of her life – about a steepled church in the woods, horse and buggy rides on Sunday afternoons, and her family farm without running water or electricity.
            She always gave me a dime for bringing her groceries. It got so that I would refuse only halfheartedly, knowing she would insist. Five minutes later, I'd be across the street in Beyer's candy store.
            As I headed over with the bags, I decided this time would be different, though. I wouldn't accept any money. This would be my Christmas present to her.
            Impatiently, I rang Mrs. Hildebrand's doorbell. Almost inaudible at first were the slow, weary shuffles of her feet and the slower thump of her cane. The chain on the door rattled and the door creaked open. Two shiny eyes peered from the crack.
            "Hello, Mrs. Hildebrandt," I said. "It's me, Bob. I have your groceries. "
            "Oh, yes, come in, come in, "she said cheerfully. "Put that bag on the table." I did so more hurriedly than usual, because I could almost hear the snow calling me back outside,.
            As we talked, I began to realize how lonely she was. Her husband had died more than 20 years before, she had no children, and her only living relative with a nephew in Philadelphia who never visited. Nobody ever called on her at Christmas. There would be no tree, no presents, no stocking.
            She offered me a cup of tea, which she did every time I brought the groceries. Well, maybe the snow could wait.
            We sat and talked about what Christmas was like when she was a child. We traveled far away and long ago, and an hour passed before I knew it.
            "Well, Bob, you must be wanting to play outside in the snow, " she said as she reached for her purse.
            "No, Mrs. Hildebrandt, I can't take your money this time. You can use it for more important things," I resisted.
            She looked at me and smiled. "What more important thing could I use this money for, if not to give it to a friend at Christmas?" she asked, and then placed a whole quarter in my hand.
            I tried to give it back, but she would have none of it.
            I hurried out the door and ran over to Beyer's candy store with my fortune. I had no idea what to buy–comic books, chocolate, soda, ice cream. Then I spotted something–a Christmas card with an old country church in the woods on the cover. It was just like the one she'd described.
            I handed Mr. Beyer my quarter for the card and borrowed a pen to sign my name.
            "For your girlfriend?" he asked. I started to say "no," but quickly changed my mind. "Well, yeah, I guess so."
            As I walked back across the street with my gift, I was so proud of myself I felt like I had just hit a home run to win the World Series. No, I felt better than that!
            I rang Mrs. Hildebrandt's doorbell. The almost inaudible sounds of shuffling again reached my ears. The chain rattled and the door creaked open. Two shiny eyes peered from within.
            "Hello, Mrs. Hildebrandt, " I said as I handed her the card. "Merry Christmas."
            Her hand trembled as she slowly opened the envelope, studied the card, and began to cry. "Thank you very much, " she said almost in a whisper. "Merry Christmas."
            On a cold and windy afternoon a few weeks later, the ambulance arrived next door. My mom said they found her in bed; she had died peacefully in her sleep. Her night table light was still on, illuminating a solitary Christmas card.