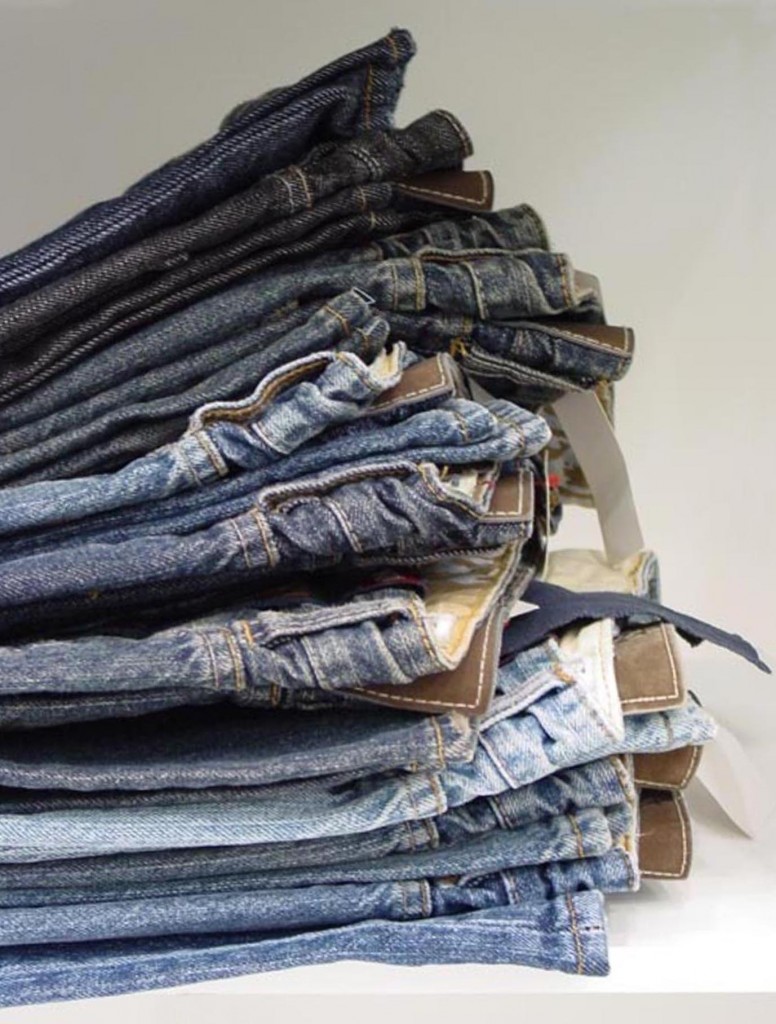 Disclaimer: This post is for women only. While men may gladly read it, I have my doubts that any of them have ever had a difficult time finding a pair of jeans that fits!
________________
I think I was on my 100th pair of jeans (okay…I may be slightly exaggerating, but it certainly felt that way!) Most of the styles I liked weren't available in my size. If they just happened to have my size, they didn't fit. Once again, I despaired over the extra pounds hugging my body and berated myself for my lack of discipline. I gave up and dejectedly walked out of the store. I went home discouraged.
That evening I went online and ordered three or four pairs of jeans in my size and even a couple in a size bigger–just in case.  I excitedly carried the box up to my room when it arrived. I had high hopes. Surely one of these would fit!
Imagine my discouragement when not one of them fit right. They were either too small or too large or gapped at the waist or were too baggy at the crotch.  I threw them all back in the box to return to the store and decided to just give up my search.
I shared my dilemma with my mom and she suggested I try Target. She told me she likes their jeans. I hadn't thought of them before. I figured what did I have to lose?
And, so, on Friday, when I had the opportunity to get to a Target, I made one last-ditch effort to find a pair of jeans. I found seven pairs that were in my size and took them back to the dressing room.  I had little success with the first five pairs and they lay in disarray around me.  I sighed heavily and resigned myself to another fruitless attempt of finding a pair of jeans.
I pulled on the sixth pair of jeans and buttoned them. I did a double-take. I stared at myself in the mirror. Not only did they fit, but I actually liked how they looked on my body.  I was pleasantly surprised.
I left the dressing room with one pair of jeans to buy. I still felt discouraged about how I looked, but at least I had found one pair.
I heard yesterday that only 2% of women like their bodies the way they are. That means 98% of us don't. I confess I am definitely one of the 98%. Why is it that so many of us are unhappy?
Well, of course, weight is a big issue for many of us. But there are other things that we pick out, too. Things like big feet or big noses. Hair that is too fine or too curly. Calves that are too thick or too thin. You see, we have fallen hook, line, and sinker for the world's definition of beautiful. And I am right there with you.
We judge ourselves by the world's standards, or shall I say Hollywood's standards, and come up short. Very short.
But I am not going to sit here and write that we are all beautiful, as seems to be the typical message of the day. We aren't all beautiful.  Not really.
I would suggest we need to go a different direction. I think we, instead, need to stop worrying about if we are beautiful. Oh, we should take the greatest care possible to look nice and to be healthy. Don't get me wrong. We are Christians and want to present ourselves as such. We are also stewards of our bodies and are responsible to take good care of them.
BUT it ends there. Our obsessive concern about how we look is not from God. It just isn't. It is a self-absorbed, me-centered thing that distracts us from being the best Christians we can be.
When I was looking at myself in the mirror trying on jeans, I never gave one thought to what people would think of Christ if I bought these. I was thinking only of myself and how I looked. I wasn't standing there thanking God for my body, but instead, I was complaining to myself. About myself. Under my breath, of course.
As I write this, I find myself being very convicted! I am so self-centered and focused on me. There is no better time for that to surface than when I am in a dressing room trying on clothes.
Some of us are gluttons for punishment and keep trying things on, hoping that we will eventually feel good about ourselves in something. Others of us totally avoid dressing rooms if at all possible. We don't shop for ourselves. Ever.
But no one is going to look good in everything. We're just not. But we think we should. We are focused on a standard that isn't possible for most of us. We want to look a certain way, but that way takes time that we don't have or requires us to grow longer legs or to have a different type of hair and so we find ourselves with a dilemma, don't we? We can't look that way. But we think we should.
Perhaps it is time to start thanking the Lord for how we are fearfully and wonderfully made (Psalm 139:14) and then stop thinking about ourselves at all and go about the business of our Savior.
Instead of worrying about how people think we look, let's worry about how they think we act, and speak. Let's worry about if they think we love them.
Sometimes I get all mixed up and distracted and focus on things that aren't important and forget the things that are important. My quest for jeans showed that to me so clearly. I was guilty of doing just that. I have some work to do. But at least I don't have to visit another dressing room for awhile, since I did find that one, elusive pair of jeans!