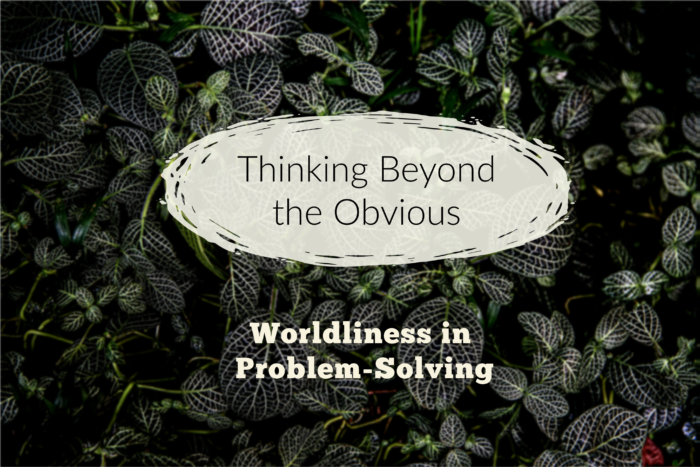 I have a little garden behind our house. I drive my husband a little crazy with it because it is a cottage-style garden that derives its loveliness from its disorganization. What I mean is: The plants aren't neat and tidy and trimmed–as he prefers.
Over the winter, he started talking about ripping the garden out. At first, I was very against this but as I started thinking about it, I began to realize that this would mean one less thing for me to keep after and I started to warm up to the idea. Although we never had an "official" conversation about it, I assumed it was going away. And so when spring came, I ignored that garden. But so did my husband. It grew wildly and crazily without barely a glance at it. It was starting to spill over on the pathway and I did think I should do something about that, but with the crazy busy spring/early summer we had, I just kept putting it off. We didn't use that pathway that much, anyway.
Finally, on Saturday, in preparation for a gathering we were having at our house, I decided to give that garden a little care. And what I found was a little overwhelming. The weeds had not only kept some of my favorite perennials from showing their faces at all, but they had also taken over and were growing so high, so as to overtake the perennials that had fought for life. The few flowers that did bravely poke their heads through to the sun were rather anemic-looking.
There was a particular type of weed that had really taken over. It was one that I had planted as a perennial many years ago, naively not realizing that it was invasive. Oh, how sorry I am that I planted that plant. It has made that garden a major challenge since that time.
So why am I sharing this on a post about worldliness? Because, my dear readers, that invasive weed is just like the world. It looks very beautiful, at first, and we naively have no idea of the deadly damage it can-and will–do. But, sooner or later, if we don't keep after that weed, it will take over our garden so subtly and so comprehensively that not one piece of spiritual fruit will remain untouched by the effects of that weed.
Worldly thinking is such a danger to the believer. We can not–we must not–forget this as we strive to live obedient lives for God. Worldliness is deadly to the spiritual health of every believer.
But put on the Lord Jesus Christ, and make no provision for the flesh, to fulfill its lusts. Romans 13:14
Putting on the Lord Jesus Christ is the polar opposite of fulfilling the desires of our flesh. We are in a constant battle to think like the Lord instead of like the world. The world says fulfill your flesh and follow your lusts. But the Lord says to yield to Him, obey His commands, and to practice godly wisdom. In all avenues of life we should carefully examine if and how worldliness has entered into our thinking.
In today's Part 3 of this series, I want to take a look at how worldly thinking has invaded this area of Problem-Solving. (You will find the posts on Items 1-3 here and on Items 4 & 5 here.)
6. PROBLEM-SOLVING. There are thousands of books published each year that claim to contain methods and miracle cures to help us fix any bad habit or issue we may face. There is an abundant amount of therapists and counselors and coaches for almost every possible problem that is stealing our happiness. There are more websites, ministries, and organizations to help people with their problems than ever before. And yet, there seems to be just as many problems as before. Are the worldly methods effective in solving problems? I am sure they are at times. However, according to scripture, we know that how Christians approach their trials and problems and even their bad habits should be vastly different than how the world does.
The World: The world says the ultimate goal is to fix the problem so that you can be happy. Do anything to make yourself happy, even if it means divorcing your spouse, leaving your children, or dishonoring your parents. Look out for Number One. The world promotes the ungodly, self-centered philosophies that flow from psychology. It says we have the strength to fix things on our own and that anything is possible if we just believe in ourselves. We don't need God or any other strength or help outside of ourselves.
What the Bible Says:
1. We are to crucify our flesh, not satisfy it–
And those who are Christ's have crucified the flesh with its passions and desires. 25 If we live in the Spirit, let us also walk in the Spirit. Galatians 5:24-25
This verse immediately takes the focus off of ourselves and gives us a different perspective, doesn't it? Our desires and our passions are pretty irrelevant in the scheme of things. We have died to ourselves and we live for Christ. All trials, problems, and situations that we face should be viewed through this lens of the "Big Picture". Perhaps our suffering and struggle may inspire someone else to turn toward the Lord. Perhaps it will change us profoundly and give us a stronger walk. Perhaps it will show the validity of our faith to a doubting co-worker or family member. There is a bigger picture.
2. It says that trials and problems make us stronger–
My brethren, count it all joy when you fall into various trials, 3 knowing that the testing of your faith produces patience. 4 But let patience have its perfect work, that you may be perfect and complete, lacking nothing. James 1:2-4
This means that God is sovereignly allowing trials and problems in our lives to make us stronger and to build our characters. This means that the goal isn't about our temporal happiness but about looking more like Jesus, step-by-step. Our goal shouldn't be relief from our problems but instead we should desire to learn and grow from any that comes our way.
3. The world's thinking on any subject will look foolish when compared to God's–
Where is the wise? Where is the scribe? Where is the disputer of this age? Has not God made foolish the wisdom of this world? 21 For since, in the wisdom of God, the world through wisdom did not know God, it pleased God through the foolishness of the message preached to save those who believe. I Corinthians 1:20-21
When the world is all for something, it is usually a sign that we should avoid it. So many of today's methods and claims and popular programs are full of new age philosophies and worldly wisdom. We should always be oh, so carefully discerning in this area of life (even with those that claim to be Christian, as so many have been fatally compromised.)
4. Problems will rarely be solved instantly–
But those who wait on the Lord Shall renew their strength; They shall mount up with wings like eagles, They shall run and not be weary, They shall walk and not faint. Isaiah 40:31
In this age of instant-everything, scripture says that our strength will be renewed when we choose to quietly wait and rest in the Lord's care and sovereign will. While the world says "fix it as fast as you can in any way you can so as to avoid pain and sorrow and inconvenience and unpleasantness", scripture teaches us that waiting is sometimes best.
5. We aren't alone. We have a strength bigger than ourselves to support and aid us–
God is our refuge and strength, a very present help in trouble. Psalm 46:1
It is wonderful to have the support of others, but the Bible tells us that, as believers, we can find refuge and strength from God. Have you ever thought about how amazing that is? I've often wondered how people can get through such terrible trials without this.
6. We must recognize that some of our problems and bad habits are just plain sinful–
Let not sin therefore reign in your mortal body, that you should obey its lusts thereof Romans 6:12
Some (not all, by any means) of our problems and issues and struggles come because we are choosing to sin. This word is not looked upon too kindly in the world or even in many churches these days. But it is always best to evaluate and examine our own behavior in the light of this concept. Is there any sin that is a part of this struggle I am currently facing? Am I responding in a biblical, loving manner? Am I behaving like a follower of Christ should? Is there an idol that has a grip on my life that is causing this issue? This is an important question as we go through the process of solving any problem.
From the above verses and so many more, we can safely conclude that our happiness and relief from a problem should never be our ultimate goal. While, of course, we desire to be relieved from our burden or trial, we shouldn't be willing to sin or to go against God's Word in order to fix it or to make it better.
We need to understand that so many of the methods that are used in counseling and psychology go directly against the Word of God. The truth of the matter is that the science of human psychology is deeply, deeply flawed. On so many levels. And so we need to be so careful not only who we listen to but on what we actually apply in our lives.
I think the other thing that needs to be mentioned in this post is our attitude towards even biblical counseling. I have noticed an interesting trend that is rather disturbing. If someone is in biblical counseling but it isn't solving their problem or there is a demand for personal change, they tend to quit. When the going gets hard, we can tend to just quit.
If we are going to undertake true biblical counseling then we should expect it to be a difficult and rocky path. We are going to have to carefully examine our lives for sin. No more blaming others for our problems. What have we done to exacerbate and worsen the situation at hand? What changes can we make to better things? This is the attitude with which we should approach any counseling.
And what about when it can't get better? What if we are struggling with a spouse or a child or a co-worker who has no interest in making the relationship work? What then? Do we give up? Or do we allow this difficult situation to grow us and perfect us, as James tells us in the verse above?
Biblical counseling can be helpful when approached with a humble, willing spirit. But even that requires great discernment as there are so many promoting themselves as "biblical counselors" who have absorbed so many of the world's philosophies. Especially the philosophy of self-esteem–one of the most invasive and destructive worldly philosophies to ever make its way inside the church. It is in complete opposition to what the scriptures teach.
It is so tempting to allow worldliness to seep in when we are seeking to be rescued from a difficult or painful problem. But we must be so very, very careful to never allow our thinking to get skewed just because we are in pain, frustrated, or feeling imprisoned by our circumstances. This is when we are often at our most vulnerable to the wiles of Satan and can so easily fall to temptation. How important that we continue to seek God's way even in the midst of the problems and trials and bad habits.