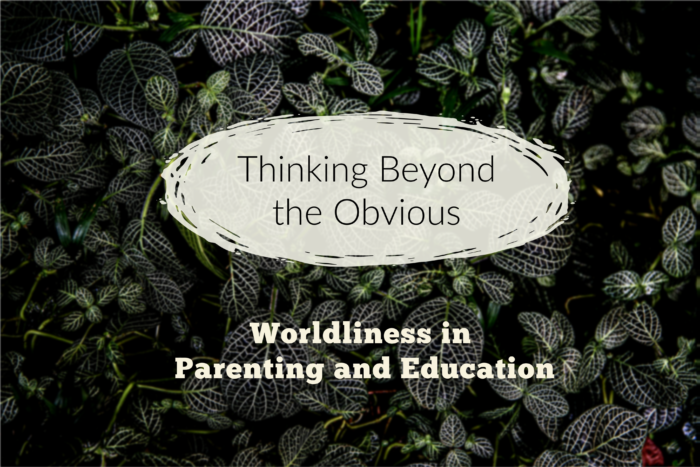 If we are in the Word, we know that God hates when we love the world. We know that we are to remain unspotted from the world (James 1:27) and that to be friends with the world is to be God's enemy (James 4:4). But what exactly does worldliness look like?
In the first part of this series we defined worldliness according to scripture and then we looked at a few areas where worldliness creeps in. In that post we talked about entertainment, networking, and language. Today, starting with #4, I'd like to continue to look at areas where we are so prone to worldly thinking–
4. HOW WE PARENT. Christian parenting has undergone extreme changes. Most have fallen for modern day philosophies of raising children in some way. Often, there is nary a difference between the behavior and attitudes of children from Christian homes when compared to the rest of society's children.
The World: Don't ever punish your child or speak negatively to them. Always listen to the professionals because they know best. Resign yourself to never again enjoying a meal or any other event that includes your child. If you love your child you will satisfy their every whim and desire and occupy your child every moment of every day.
What the Bible Says: Let's take all of these things the world says and look at them individually–
First, we know that the Bible tells us to discipline our children. We are told that discipline and correction keep our children from ending up foolish (Proverbs 22:15) or going astray (Proverbs 10:17). We also know that disciplining in a biblical manner not only protects our child but also shows our child how much we love them. No parent loves to punish their child. It takes true love to do something we so hate to do because we know it is in the best interest of our child. The one thing I will say here to any young parents who might happen to be reading this: If your child understands that mom and dad are the authority when they are two, there will be much more family peace and joy for future years. We cannot expect to let them be little tyrants at three, four, or five and then decide to discipline them when they are twelve. The concrete hardens with each passing year. Don't miss the wonderful opportunity of  not only loving and snuggling our wonderful, forgiving little preschoolers but also establishing loving discipline and parental authority.
Second, we are to look at what the Bible says about parenting and not what worldly professionals tell us. We often say that the Bible is our guide for life but then proceed to ignore it when it comes to this most important of duties–raising the precious children God has given us. May I suggest that parents look up in the Word everything they can find about parenting. Look at examples of parenting in the Word. Find biblical books on parenting, instead of the modern day fodder calling itself Christian but greatly influenced by worldly psychology.
We can and should also look to godly families for our examples rather than to worldly blogs, books, and speakers. One of the things that I suggest to young parents is that they find a Christian family that has teen or adult children who are like they want their kids to be and then talk to them. Find out what they did. How they did it. It is only by following the Bible and godly examples that we can expect to raise kids who love the Lord. The world will always steer us in the wrong direction.
Third, true love is shown by discipline and boundaries and not by fulfilling every wish and desire. We can know this easily by the way God talks about chastening and disciplining us. Hebrews 12:7-11 puts it like this–
If[d] you endure chastening, God deals with you as with sons; for what son is there whom a father does not chasten? 8 But if you are without chastening, of which all have become partakers, then you are illegitimate and not sons. 9 Furthermore, we have had human fathers who corrected us, and we paid them respect. Shall we not much more readily be in subjection to the Father of spirits and live? 10 For they indeed for a few days chastened us as seemed best to them, but He for our profit, that we may be partakers of His holiness. 11 Now no [e]chastening seems to be joyful for the present, but painful; nevertheless, afterward it yields the peaceable fruit of righteousness to those who have been trained by it.
These days, there actually are fathers who never chasten their children. But this is unnatural. Throughout all time, it was recognized that a parent that truly loves his children will not cater to them. They will chasten them and discipline them in order to yield the fruit of a moral or godly life. A parent who loves their child recognizes that some pain–both for themselves and for the child–must be endured now in order to yield fruit later.
How critical it is that we remember that never saying "no" will yield a tyrant; gratifying our child's every whim will yield a self-centered, selfish adult; and failing to biblically discipline them will hinder their future in every possible way.
Parenting is a very challenging and critically important job. Let's use the scriptures to determine how we parent rather than the worldly philosophies that will surely fail us.
5. OUR VIEW OF EDUCATION. This particular one is often a very, very touchy among believers as they decide how to educate their children and then choose how to navigate the criticisms of their choice. But I want to actually view education as a whole. It has become a bit of an idol to even Christians. If someone has a title behind their name or a bunch of letters after it, they are given immediate respect. I am not against this, as a rule. Many of these people have managed to stay true to God's Word while increasing their education. They have learned how to remain free from compromise. But what I have found is that so many who are educated have compromised. Just because they are educated does not mean we should listen. We must first establish that they are committed 100% to the inerrancy and inspiration and correct interpretation of God's Word. This should be our first and most important litmus test of anyone–including anyone with a degree or two or four or ten degrees.
Now, don't get me wrong–I am in no way against education. But I think it is also extremely important to recognize that the majority of learning institutions in the world are not guiding us towards Christ but very emphatically leading us away from Him. They are not filling our heads with biblical knowledge but very decidedly filling it with human wisdom and vain philosophies. From elementary school through college there is a joined effort to brainwash us away from biblical Christianity, absolute values, and having a moral compass. If we choose to educate our children in public schools or to attend a university or seminary, we must be ever vigilant to counteract the unbiblical information that's being heard with the Word of God. Vain philosophies and ungodly thinking has entered higher education, both Christian and secular, on a massive, unprecedented scale and we must be Bereans or be led astray.
The World: Education is the golden ticket to freedom and to having authority. If you are educated you have the right to be heard. Professionals are always correct in their assumptions–even if there is no scientific data behind it.
What the Bible Says: I Corinthians 1:18-31 sums this subject up pretty nicely–
For the [g]message of the cross is foolishness to those who are perishing, but to us who are being saved it is the power of God. 19 For it is written:
"I will destroy the wisdom of the wise,
And bring to nothing the understanding of the prudent."
20 Where is the wise? Where is the scribe? Where is the [h]disputer of this age? Has not God made foolish the wisdom of this world? 21 For since, in the wisdom of God, the world through wisdom did not know God, it pleased God through the foolishness of the message preached to save those who believe. 22 For Jews request a sign, and Greeks seek after wisdom; 23 but we preach Christ crucified, to the Jews a [i]stumbling block and to the [j]Greeks foolishness, 24 but to those who are called, both Jews and Greeks, Christ the power of God and the wisdom of God. 25 Because the foolishness of God is wiser than men, and the weakness of God is stronger than men.
26 For [k]you see your calling, brethren, that not many wise according to the flesh, not many mighty, not many [l]noble, are called. 27 But God has chosen the foolish things of the world to put to shame the wise, and God has chosen the weak things of the world to put to shame the things which are mighty; 28 and the [m]base things of the world and the things which are despised God has chosen, and the things which are not, to bring to nothing the things that are, 29 that no flesh should glory in His presence. 30 But of Him you are in Christ Jesus, who became for us wisdom from God—and righteousness and sanctification and redemption— 31 that, as it is written, "He who glories, let him glory in the Lord."
If we are going to choose to follow Christ and His Word, the world will call us foolish. They will mock, disdain, and ridicule us. As believers, we so often want our cake and to eat it, too. We want to please God and to also win the praise of man. But in so many ways, this is impossible and perhaps no place more so than in this area of education.
Education is a good thing and not wrong, in and of itself. But, just as with any other area of life, we must stay on guard if we want to avoid worldliness when it comes to this topic of education–
First, we must stay on guard against the human wisdom that is in complete opposition to godly wisdom.
Second, we must stay on guard against the pride that can start to invade and take up residence in our hearts when we start to have a few degrees behind our name.
Third, we must carefully evaluate anyone we choose to respect and listen to, rather then giving a free pass simply because of a degree.
________________________________
Well, I had planned to cover more than two areas today but to do so would make this post way too long. In fact, it's probably too long already. I hope that this post has caused you to think and to be encouraged to search the scriptures for yourself.
If you call yourself a Christian, then the Bible should be your final authority in all aspects of life. The world so easily creeps in, doesn't it? But we can't let it. And we can only keep this from happening by faithfully running everything–whether it's how we raise our kids or a choice about education or anything else–through the grid of God's Word.