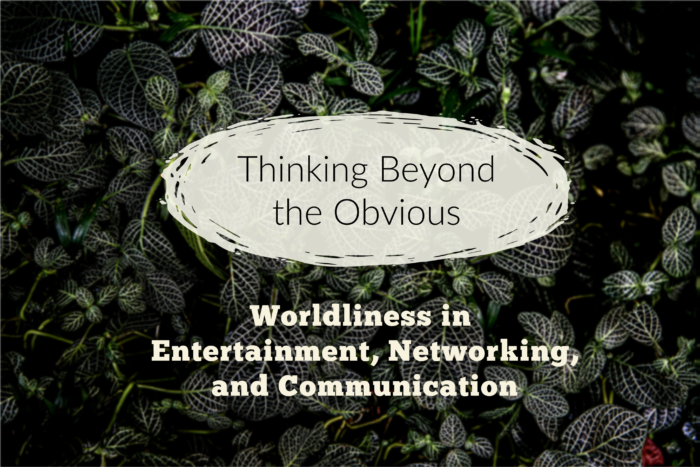 The past several months have brought several trials across my doorway. A few major ones but mostly minor. A few extremely heart-wrenching but most simply annoying or inconvenient. Through it all, I've had a choice in how I was going to react and respond. And, to be flat-out honest, I've been less than impressed with myself. The tough moments of life quickly show us our weaknesses, don't they? You think you are getting somewhere in your spiritual journey and then BAM! A trial hits and you realize you haven't gotten near as far as you thought. It definitely keeps me humble. To say the least.
One of the things that I've been thinking about recently in regards to this is worldliness. I found myself responding way too often just as the world would respond. Wouldn't responding and reacting just like the world make me "spotted" by the world? (James 1:27) Throughout most of my life, I've viewed worldliness mostly through the avenue of entertainment. I've written several posts on trying to eliminate this form of worldliness from our lives. And rightly so. The lack of discernment in this area is epidemic in the lives of Christians. There is a gigantic disconnect between Christians and their entertainment.
But, while this is important, I've been realizing that worldliness is far more encompassing than entertainment. I'd like to take a few posts and look into this subject of worldliness. What does the Bible teach about it? What are some surprising areas where we need to be on guard against it? And what steps do we take to minimize or even eradicate it from our lives? If there is time, we may even take a look at how the doctrine of separation and the term "worldliness" was completely eradicated from our current church culture. Whew! That's a lot to cover.
It's been awhile since I wrote a series, but as I've been reflecting on this topic recently, I believe it is critical to have a good understanding of it. I hope that this series is a blessing to us all as we strive to live holy and godly lives.
First, let's talk about what the Bible teaches specifically about worldliness. A few passages quickly come to mind. You could find more if you do your own study. God makes it clear that we are to be separate from the world. Not in connecting with and loving others or in sharing the Gospel with the lost but in how we live our lives. There should be a vast contrast between our life and that of our unsaved neighbor.
Let's look at three of the scripture passages that speak about this–
I John 2:15-17—Do not love the world or the things in the world. If anyone loves the world, the love of the Father is not in him. 16 For all that is in the world—the lust of the flesh, the lust of the eyes, and the pride of life—is not of the Father but is of the world. 17 And the world is passing away, and the lust of it; but he who does the will of God abides forever.
Do not love the world or the things of this world. Wow. How more clear can you get than that? We are not to love the world or the things of the world. This encompasses all areas of life. Not just entertainment. Not just the obvious things we think of immediately. The world's wisdom and philosophies permeate every aspect of life. Have you ever thought about this? I really hadn't until just recently.
Romans 12:1-2—I beseech you therefore, brethren, by the mercies of God, that you present your bodies a living sacrifice, holy, acceptable to God, which is your reasonable service. 2 And do not be conformed to this world, but be transformed by the renewing of your mind, that you may prove what is that good and acceptable and perfect will of God.
Do not be conformed to this world. The definition of conform is: to be similar or identical. From these verses, we can know that we are not to look anything like the world in any way. We can also see that as we grow and start to look more and more like Jesus we will look less and less like the world.

James 4:4— Adulterers and adulteresses! Do you not know that friendship with the world is enmity with God? Whoever therefore wants to be a friend of the world makes himself an enemy of God.
Friendship with the world=Enmity with God. God couldn't have made it much clearer than that, could He have? If we insist on being a friend of the world, then we have, by default, become the enemy of God. If we think about this seriously for just a moment, we have to recognize something that is very sobering: True believers are not friends with this world. This doesn't mean that we don't sometimes desire friendship or even cave to that battle. It also doesn't mean that we are without struggle or growth in this area. This is not perfectly realized as a baby Christian or even as a mature Christian. What it does mean is that eventually the Holy Spirit convicts us and we recognize that we cannot be friends with God and friends with this world at the same time. God doesn't leave a whole lot of wiggle room in this area of befriending the world.
So we can see from these passages above that God expects us to remain disenchanted with the world and its philosophies. That we are to separate ourselves from it and to be different. In fact, it is this difference that will make us stand out to those who are seeking Jesus Christ. It will be this difference that makes us as light and salt to a lost and dying world (Matthew 5:13-14) Of course, this is a far cry from what is being taught in the mainstream church these days. Most popular Christian teachers, preachers, authors, and musicians are either completely ignoring this doctrine or promoting the exact opposite.
So let's take a look now at some of the ways worldly thinking and attitudes creep into our lives when we least expect it. I confess I had to really stop and think about some of these things and I will readily admit to you that I have to recognize that I am far more worldly that I thought I was. It happens so subtly. How easy it is to fall prey to this–especially in a Christian culture that is promoting it so heavily.
So here we go. I will start the list today and continue on in the next post. Please keep in mind that in several of these categories the mainstream church isn't too far off from the World. It's a sad, sad thing and we must be on guard. Just because your favorite Pastor says it or a Christian author promotes it or a Christian artist sings it, does not mean it is biblical truth. We truly must compare everything to God's Word. This has always been true, but perhaps never so critical as in the minefield that is called "Christianity" today.
So just how do we let the world slip into our daily lives so easily?
Let's look at the obvious and not-so-obvious ways–
1. ENTERTAINMENT. Let's start with the obvious. After all–it is one of the primary ways that worldliness inches its way into our lives.
The World: Watch, listen to, and read what you want. It doesn't matter. Numb your brain as much as you can with any and all kinds of entertainment–no matter how wicked. God and even morals are irrelevant when it comes to entertainment. The only thing that matters is that you experience pleasure.
What the Bible Says: I will set nothing wicked before my eyes (Psalm 101:3). We can also look at Galatians 5:19-21, which provides one of several lists of the "works of the flesh". These are things that we are not to practice as believers–and we can safely assume that they are things we are not to entertain ourselves with, as well.
This area of entertainment is one of the key ways Satan infiltrates a Christian's life. Cleaning up and even cutting back on our entertainment has the power to tremendously change our walks with the Lord for the better. There is something that stands between us and the Lord when we are constantly filling our minds with the things He abhors. Until we are willing to give these things up, there is a wall there that cannot be removed. As we grow in Christ and yield our entertainment to Him, we will lose our appetite for these things. But we have to be willing to give them up first and let Christ "clean house".
Think about not only what you watch but how often you watch. Pay attention to music lyrics on the radio. Think about not only what you read but how often you read frivolous fare compared to the solid food of the Word or even the works of solid Christian authors (most of whom are long gone now–Ryle, Spurgeon, the Puritan writers, etc.)
Sometimes it isn't what we are watching but how often we are watching. I really had to think about this a few months ago. I had allowed myself to get lazy and we just turned the TV on every evening as a matter of course. It stayed on a good part of the evening while we mindlessly consumed what we considered as fairly innocuous programming. But somewhere in there God really convicted me and we made an effort to really change that. I realized just how much precious time I was wasting. If Satan can't get us with the evil entertainment issue he will try to get us with the wasting time issue. We must be on guard for both. I was also challenged about my definition of "innocuous" programming. When we really evaluate what we are watching through the lens of scripture, we are really left with little to watch.
2. NETWORKING/BUILDING A PLATFORM. This is a more recent thing. Several years ago, I took an online class that taught me how to "build a platform". I took it because at that point in time, I was hoping to grow this blog. It wasn't until a bit later that I took on John MacArthur's philosophy of marketing (as in: I don't market myself. If God wants to grow the blog, He can take care of that. I will just be faithful to God and His Word, in whatever ministry He places me and let Him take care of the rest!)
The World: Get as many connections as you can. Work hard to connect with the ones that will help you build your platform. Numbers matter. Get as many followers and connections as you possibly can to enlarge your circle.
What the Bible Says: Don't worry about building a platform. Our job is to serve faithfully in whatever ministry we have been called to (Matthew 20:16; Hebrews 12:28; 2 Timothy 1:3). John 3:30 takes it a step further: He must increase, but I must decrease. We aren't even to be worrying about ourselves or our "platform". Our focus should be on giving God the glory, sharing the Gospel, and growing the saints. He will take care of building any platform that we need.
Would it surprise you to know that there is not one word in the scripture about building a network? Does this mean it is wrong to be on social media? Of course not. We like to follow those with similar interests or those that encourage us in our faith. And it is fine for them to follow us. This is not about the what but about the why. Are we following someone so that they will follow us back? Are we commenting on something so that we will bring notice to ourselves and get our name out there? Are we developing a friendship with that guy or conversing with that girl because they have "connections"? In short, are we using people to further our own agenda?
One of the things I was told that I would need to do in order to build my platform was to read other blogs and be actively participating by commenting. I did try this for awhile, but at the time I was extremely busy and didn't have time to read a lot of blogs that I didn't really care about. Since that time, I only read blogs that I really enjoy. (This change in attitude has also given me total freedom from offense if friends or family don't read my blog. There are just so many hours in a day and I totally get it if my blog isn't their "cup of tea". We all have to choose what we have time to do. I mean I absolutely love when someone I know personally tells me they like my blog or that they were blessed by a post. But I also know that just because they don't take time to read this particular blog isn't necessarily a reflection on their feelings for me. Okay–enough of that bunny trail!)
In summary, we must not use people to further our ministries, careers, or personal followings. In fact, we should spend minimal–if any–time marketing ourselves. The world would say use people and puff yourself up. But the Bible says love people and diminish yourself. See how these are complete opposites?
3. LANGUAGE/COMMUNICATION. How the world talks and communicates should be very different from how we Christians communicate on so many different levels–how we talk, what we talk about, and even the tone with which we say what we say.
The World: Foul language; Agreement equals love; Gossip; Speak your mind no matter who you hurt.
What the Bible Says:  Let no corrupt word proceed out of your mouth, but what is good for necessary edification, that it may impart grace to the hearers. (Ephesians 4:29)
What exactly is edification? According to google, it is defined as: The instruction or improvement of a person morally or intellectually. Now if we run everything we say through this grid, it clears up a lot of things real quick.
Are we edifying someone by using foul language? No.
Are we edifying someone if we stand around and talk about about the boss or a fellow employee? No.
Are we edifying someone if we give our agreement to something that we know is wrong? No.
And one more–
Are we edifying someone if we speak our mind in a brusque, matter-of-fact manner without a smidge of love or kindness? No.
See how helpful this verse is? Probably would be a good one for us all to memorize and reflect on before we say anything.
Are you starting to see how much the world has crept into our mindset? How many things we have let slide and never even think about? As I started thinking about this, it can be a little overwhelming. But we can't let "overwhelming" stop us from living in submission and obedience to God's Word.
My next post will continue with more areas we have allowed worldliness to seep into our lives without even thinking about it.