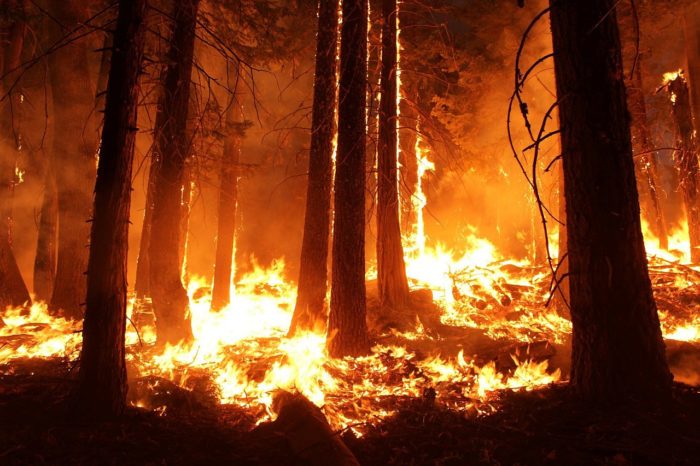 The other day a friend was telling me the account of a couple she knew who were staying in one of the vacation cabins in the Gatlinburg area this past week. If you are following the news at all, you will know that this was not a very good time to take a trip to Gatlinburg. Wildfires have ravaged the area and hundreds of homes and cabins have been destroyed. Most areas have been evacuated and we have seen some terrifying footage and heard some unbelievable accounts–including this one, which was relayed to me by my friend–
The couple noticed smoke in the air as they walked around town, but were assured that there was no need to worry. There are forest fires but they are far from here is what they were told. As they headed back to their cabin the sky grew darker and it started to get windy. They got nervous. The wife called the rental company asking if they should leave.
"No, no, the fires are nowhere near the cabins. No need to worry. This is not a big deal."
They tried to relax. But they just couldn't seem to. At one point, the electric went out. And then in the darkness they spotted an orange glow. They called the rental company again.
A condescending "no need to worry. The fires are nowhere near your cabin."
Finally, they decided to pack up and head out, no matter what the rental company said. As they headed down the mountain road–their only way out–they came to an abrupt stop. There were trees across the road, making it impassable.
They headed back up the mountain to the cabin, where now the phone lines had stopped working, as well, and the situation was getting more and more serious by the moment. Thankfully, they had cell phone service and they called the rental company one last time to demand that someone come out to clear the road immediately.
And one last time, the impression was given that there was no hurry and this was not a big deal.
And that is when they made the decision to call 9-1-1! How wise they were! When asked where they were, they were surprised to hear the respondent ask them why they were still up on the mountain–that they were to evacuate immediately.
Thankfully, fire crews and police cleared the road and then escorted them and a few other cars in the same situation out through the fire. Fire burned on both sides of the road as they made their terrifying escape to safety.
Honestly, I am not sure I have this timeline all correct. As I was listening to her tell this story, I sat there aghast. I cannot imagine the horror of such a thing. I do know for sure that they called the rental company no less than three times. That I remember vividly. As I thought about the company's careless disregard for their renters, I recognized a parallel that I just had to share here.
In many ways, I believe there are Christians who are asking their church leaders and their Bible Study leaders and godly people they trust: Is this false doctrine? Should we be worried about this methodology or this unbiblical teaching? And, in most instances, they are getting responses like the rental company gave to this lady.
Heresy is nowhere near us. Stop worrying. No big deal. And always with just a bit of condescension so that one feels like a fool for even mentioning it.
But the sky is starting to turn orange now. And we had better wake up. The sky is burning bright and smoke is filling the air, indicating that the great falling away is so close we can almost touch it (2 Thessalonians 2:1-3). Heresy has seeped its way into even the most sound, biblical churches because people who try to warn the leaders are often shut down or marginalized immediately and then, often, are made so unwelcome they are forced to look elsewhere for a place to worship.
Just as there were four types of people in the story above, so I believe there are four types of true believers in this current Christian culture–
1. There are the ones who are sitting in the cabins blissfully unaware, trusting the rental company that all is well. They are completely oblivious and naively believe whatever they hear. This is a very unhealthy and extremely dangerous state for any believer and leaves them open to much deception.
2. There are the ones who are in the cabin and are starting to get really nervous. They are the ones who feel like something is just not quite right in their churches and Bible Studies. They are the ones who read mainstream blog posts or books and they see that they don't line up with scripture. Or perhaps they spot unbiblical practices happening in ministries, on college campuses, or on the mission field. But they just aren't quite sure what to do about it.
3. There are the rescue workers, feverishly working to free the trapped and the deceived. These are the ones who understand that what is going on in the church is leading very quickly to a one-world religion. They see the paradigm and they are working to save as many people as they can. They are moving trees and taking people through the fire, but not only are they finding that most people want to stay in the fire, but that some are even blocking their way as they try to move the trees! It is frustrating, lonely work with little reward. They are ostracized, marginalized, and their reputations are often attacked. But they keep going because they love their fellow brothers and sisters in Christ and, even more importantly, it is what the Lord has called them to do.
4. And there is the rental company–the ones telling everyone else to just relax. To stop making such a big deal out of everything. Some of these are doing this very intentionally and some are truly ignorant to the danger. They really believe that everything is just as it should be.
So which kind of Christian are you today? As we watch Christianity being completely hijacked by mysticism, where do you stand?
The really fascinating fact is that Christianity today is absolutely nothing like it has been historically for two thousand years. It has changed in such a subtle but fundamental way that it is no longer biblical Christianity anymore. It has become a religion based on mysticism, personal experience, and relativism.
Why the change? And why now, at this point in history?
I hope to write more about this next year. But perhaps this will start you really seeing what is going on in the church today. Maybe you will start to see what is going on in your church. If you have been feeling like something is off, but you just don't know where to begin, begin by picking up a book and getting yourself educated. Here are two good ones to get you started–
A Time of Departing by Ray Yungen
Faith Undone by Roger Oakland