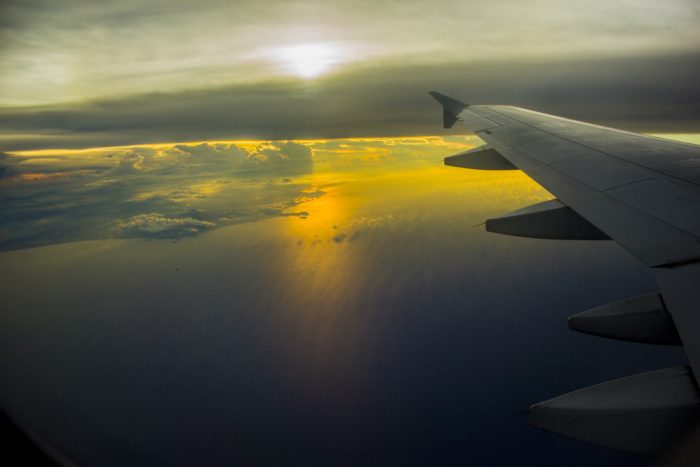 No matter what weather is going on down on earth, when a giant, silver-winged plane soars beyond the clouds, the sun soon appears. Have you noticed that, too, when you have had the opportunity to fly? Above all of the black clouds or fuzzy gray fog, we always–without fail–will find the sun.
I have often thought that there is a very similar spiritual parallel to this. As you may already know, I am a Bible Study leader. Currently, we are studying Philippians and I have been struck–as I usually am in this epistle–by Paul's focus on joy. When you really think about all of the pain and suffering Paul endured (much of it because he was standing for truth), it seems almost incongruous, doesn't it?
How in the world could Paul have been content and joyful through all of these hardships? And yet, we read in Philippians 4:11-12—
Not that I speak in regard to need, for I have learned in whatever state I am, to be content: 12 I know how to be abased, and I know how to abound. Everywhere and in all things I have learned both to be full and to be hungry, both to abound and to suffer need.
And he wrote this in 2 Corinthians 7:4—
Great is my boldness of speech toward you, great is my boasting on your behalf. I am filled with comfort. I am exceedingly joyful in all our tribulation.
So just how did Paul learn to be content in all circumstances? What was the source of his joy?
It is generally agreed that the key word for Philippians is the word joy. And that is most definitely the main theme throughout the book. The Greek noun or verb form of the word "joy" is found over a dozen times. But I would like to draw your attention to the fact that Paul mentions Christ 50 times in this short epistle. John MacArthur puts it this way in his introductory sermon on Philippians—
The theme of these chapters is joy; Paul mentions it at least 16 times in these four chapters. He also mentions Christ 50 times. And that is because his joy is found in Christ, and so is our joy.
I think that last sentence is worth repeating–
Because his joy is found in Christ, and so is our joy.
Now think about this with me for a moment. Is your joy found in Christ? Because I can tell you right now that this is a huge struggle for me. Instead, I spend an inordinate amount of time looking for happy circumstances and personal comfort and convenience. And when all is lined up just perfectly, then I claim to be joyful. But is this really joy? Or is it rather just a temporary state of well-being that I am calling "joy"?
You may be wondering by now what all this has to do with an airplane and clouds and the sun…
Well, I am glad you asked!
I wonder if we are so desperate for sunny skies and carefree living that we forget that Christ is always there–working through all of our circumstances–whether we can see Him clearly or not. And I wonder if our finite and temporal view of things makes us distracted and forgetful? Are we so focused on the here and now that we lose sight of the big picture?
If we can only see the clouds and forget what is beyond them, we can become embroiled in grief and depression and despair. Without proper perspective, we become unhappy, thankless, selfish people who live just like the rest of the world.
But if we, like Paul, can remember that our joy and, in fact, our very lives, are wrapped up in the Person of Christ, then we become a joyful and peaceful person that not only stands through the storms of life, but who can also boldly testify to the strength and power and faithfulness of Christ's love through those storms.
For He is always there.
The winds may blow, the skies grow dark, and the rains pour down but Christ will not move. He is the constant that our whole world revolves around. And He is always there, working in and through the shadows and storms for His glory and our good.
Paul says it best in Romans 8:28-29—
And we know that all things work together for good to those who love God, to those who are the called according to His purpose. 29 For whom He foreknew, He also predestined to be conformed to the image of His Son, that He might be the firstborn among many brethren.
I guess joy and contentment will always be a battle for most of us. It will be something that eludes us as we focus on ourselves and on our temporal situations. But when we turn our focus to the Lord Jesus, the temporal will fade a bit. Oh, it never fades completely, of course, but it fades a bit. And as we become more and more mature in the faith, we become more and more content. And contentment yields greater joy and peace. Isn't this a most wonderful thought?