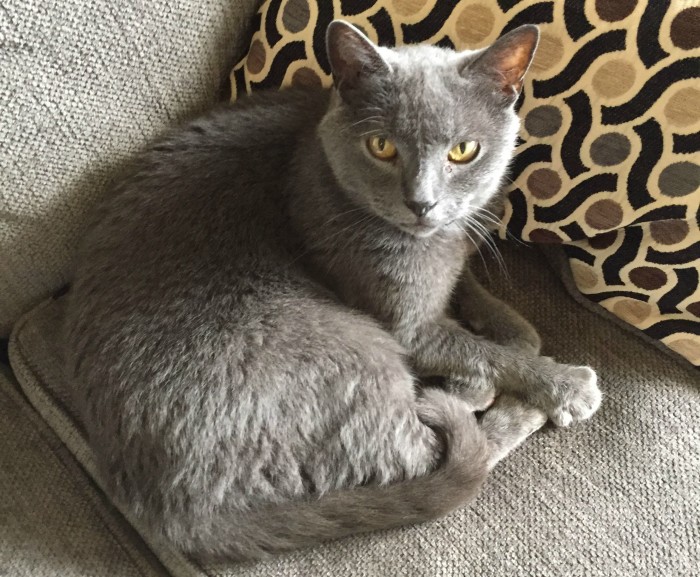 It all started with a phone message from my daughter that I listened to one evening while I was away from the house.
"Hey, Mom, this cat showed up at my boyfriend's house. Can I bring it home? Call me back."
I called and said a very emphatic "Nooo!" but, unfortunately, I was too late with my response because by the time I got home the cat was already there. Apparently, if you can't get a hold of your parents, your older brother is the next authority in line and he had told her to bring the cat on home!
Now I am not a cat-hater, per se. But I have had my fill of stray cats and feel no need to bring any extras home, as plenty show up here on a regular basis already. Lest you think I am being harsh, I would like to inform you that, over the years, many stray cats have ended up finding a comfortable home in our shop and a few have even made it to our garage. But, just to be clear, I am definitely a dog person.
At any rate, I came home to find this gray cat with very penetrating eyes staring at me. With my son promising to care for him and naming him Champ, the cat proceeded to make a very comfortable home in our garage attic. But he was always hanging by our door, seeming to want inside our house. We concluded that he must have been an inside cat before being dumped into a farmer's field.
And, while it did make me very sad that any cat-owner would do such a thing and that any animal would be treated in such a heartless and cruel way, I still didn't want a cat in my house. He did make it in on a few occasions when it was really cold or one of the kids brought him in, but then he was always returned to our garage.
During this time, my son and his fiancee were making plans to take him to their house to live when they got married. There with them, Champ would finally be the indoor cat he longed to be. I was happy for Champ and I was happy for me! No more cats in the garage!
After returning from their honeymoon, my son and his new wife came to pick up Champ. They took him to their house and told stories and showed us pictures to prove just how much he was loving his new cushy life.
But then a strange thing happened.
He became frustrated at being locked inside the house all the time. He knew what it meant to explore the outdoors and he wanted that life back. And so he started standing by their door, meowing almost constantly.
Finally, they left him out. After a few times of being left out, he disappeared and showed up at our garage a couple of days later.
Our son came and picked him up and took him back home. Champ is now back in their house again, driving them just a little crazy. The cat is not satisfied under any circumstances. If he is outside, he wants in. If he is in, he wants out. You can't make him happy. What to do?
I'm not sure what is going to end up happening with him, but I had to think of that cat this morning when I was sitting on my porch swing with absolutely no one around to interrupt my quiet time.
I remember when I was homeschooling just how attractive the quiet life with no kids around looked to me. I longed for those days.
But now that they are here, I remember those busy homeschooling days with sweet nostalgia, wishing for a little more noise around here sometimes.
In the midst of it all, I am starting to recognize just how important contentment is, throughout all the stages, valleys, and changes of life. There is something to be said for finding contentment right where we are. Let me give a few important reasons–
1. It is what we are called to do as believers. Paul tells us in Philippians 4:11-13 —Not that I speak in regard to need,  for I have learned in whatever state I am, to be content:  I know how to be abased, and I know how to abound. Everywhere and in all things I have learned both to be full and to be hungry, both to abound and to suffer need. I can do all things through Christ who strengthens me.
One of the things that should set us believers apart is our contentment in the circumstances that have befallen us. We can really stand out and be a light if we demonstrate contentment.
2. We are a joy to be around when we are content. No one wants to be around someone who isn't happy with who they are or where they find themselves, for those people tend to complain, criticize, are easily angered, or are sulky. These things do not demonstrate Christ's love through us to others, but instead leads to self-absorbed observations and a lack of grace towards others.
3. A lack of contentment demonstrates the insidious selfishness within all of us. Selfishness is rarely talked about anymore, but this sin is what is at the heart of so many other sins. And when we aren't content we show just how very selfish we are. We feel like we deserve something different, or that we should be at a better place, or that we are helpless to change. All of these feelings are directed inward, focusing on ourselves and our comfort, esteem, and success as the main object of our lives. This focus is everything that goes against Christianity as described in the scriptures (Matthew 16:24). Instead of trusting in God's plan, we are unhappy because things aren't going according to our plans.
It has become a pretty accepted sin to be unhappy and discontent with the hand we have been dealt. No one is going to really challenge us if we complain a lot or if we are grumpy or angry about where we find ourselves. But that doesn't make it any less of a sin.
Contentment is a choice. We must consciously choose to accept where we are right now as under the hand of a Sovereign God and then ask ourselves two important questions–
1. How can I glorify God through this (situation/time in my life/set of circumstances)?
2. What can I learn from this (situation/time in my life/set of circumstances)?
Sure, it will be hard sometimes. And sure, it may be painful. But it's certainly better than the pit that self-pity has you winding up in should you follow it to its end. And let's not forget that we are all blessed with times of great joy, as well. We tend to forget about those in the valleys.
So let's find contentment where we are right now–no matter what our circumstances. Let no one ever say of us that we are the Always Unhappy Christian.