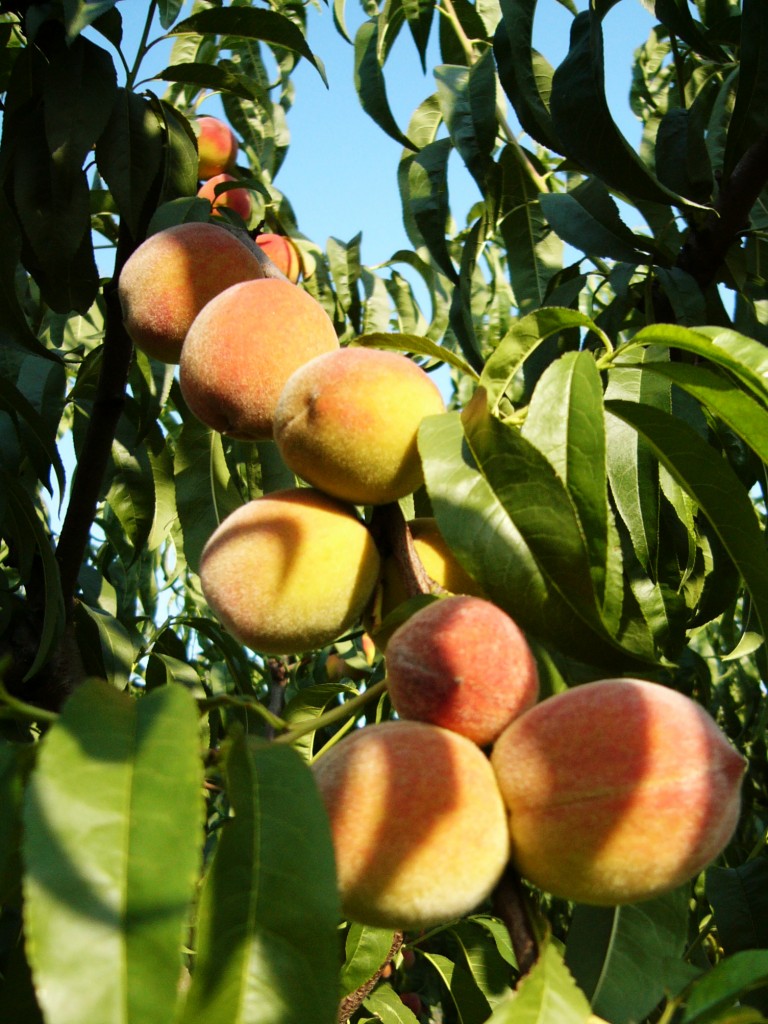 The man studied the tree. It had been the last to get leaves this spring. Now the sparse fruit hanging off the tree was misshapen and bumpy. The leaves were small and yellow. Something must be terribly wrong. He started to investigate and his search led him to understand that the tree was fatally diseased with a deadly virus. The disease that had started in the heart of the tree had worked its way out and was now affecting the leaves and the fruit of the tree. There was no saving this tree and he knew that if he didn't remove it immediately it would spread to the rest of his orchard. And so the headed to the barn for his axe. He chopped that tree down and it became firewood.
This little story reminds me of a specific passage from scripture. While there are several passages about trees that do not bear fruit, my favorite is in John 15, where Jesus tells us that in order to bear fruit we have to abide in Him.
You see, the orchard owner did not realize anything was wrong with that tree until it was too late. The tree was bearing fruit and seemed fine, until one day the disease had worked its way up to the leaves and fruit.
People are a little like that. They look like good, healthy trees. They are attending church and seem to be doing all of the right things. But it has never reached way down inside to their heart. They are full of the head knowledge of Christianity, but they have never been born again. Sometimes, we find out that it was all a show. And other times, that person dies thinking they have been a good person, when all along their motivations have been self-seeking. Only God truly knows the heart of any man or woman.
In John 15, Christ tells us we can do no good apart from Him. And if we do not abide in Him, then we are cut off and cast away.
So how do we know?
How do we know if we are abiding in Him? I have noticed two things all believers that I admire have in common.
First, I see a never-ending thirst for God's Word, which is the main source of comfort and strength and guidance for them. And, second, I see a desire to know and please God, no matter the cost to their own personal lives. It is not about being sinless– they are human and they sin, but they desire to live pure and holy lives and follow Christ sacrificially. It is always about direction and not perfection.
Growing Christians love God's Word and desire to obey at any cost.
Are we Christians like this? Or is it in name only that we profess Christ? Let's truthfully examine ourselves today so that we will know without a shadow of a doubt that we are abiding in Christ.
John 15: 1-8: "I am the true vine, and My Father is the vinedresser. 2 Every branch in Me that does not bear fruit He takes away;[a] and every branch that bears fruit He prunes, that it may bear more fruit. 3 You are already clean because of the word which I have spoken to you. 4 Abide in Me, and I in you. As the branch cannot bear fruit of itself, unless it abides in the vine, neither can you, unless you abide in Me.
5 "I am the vine, you are the branches. He who abides in Me, and I in him, bears much fruit; for without Me you can do nothing. 6 If anyone does not abide in Me, he is cast out as a branch and is withered; and they gather them and throw them into the fire, and they are burned. 7 If you abide in Me, and My words abide in you, you will[b] ask what you desire, and it shall be done for you. 8 By this My Father is glorified, that you bear much fruit; so you will be My disciples.