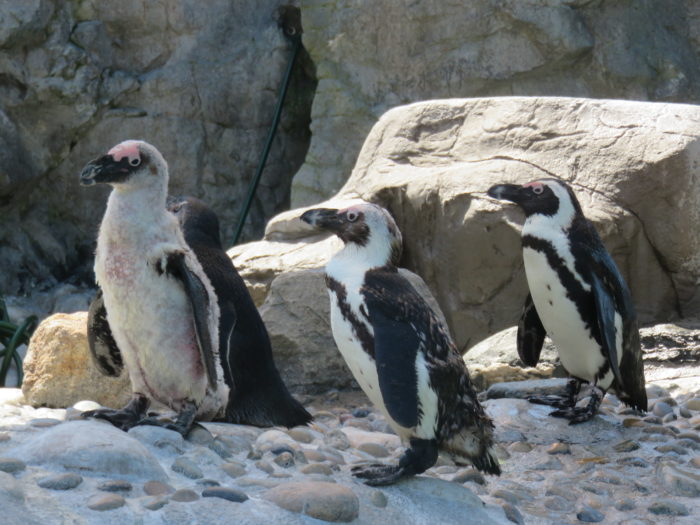 On our recent visit to an aquarium, we saw this featherless penguin (see photo above). We all noticed him. The poor guy. He looked awkward sitting there among the beautiful black and white penguins. Instead of a sleek black and white coat, he was covered in a brownish-gray fuzz. He looked quite pathetic.
I spoke with the Aquarium representative and he shared that this particular penguin has an issue with molting. Instead of his feathers coming in every season, they only come in every other year. They had made a special wet suit to help this little guy get through the harsh Connecticut winters.
I think we Christians are a little like this featherless penguin.
In some ways, before we come to Christ, our good deeds function as our feathers. They comfort us and make us believe that we are right with God. Wearing them, we fit in with all of the other Christians and non-Christians, as we strive to be kind, do what's right, and follow man-made rules. It isn't until we stand before God without any of our righteous deeds covering us that we can fully understand God's plan of salvation. The truth of the matter is that we can never be saved when we are counting on our righteous deeds to save us.
This means, simply, that there are really only two world religions –God has provided a way of salvation through His Son Jesus alone (True Christianity) OR Man is trying to reach God through self-righteousness and rules (All other world religions–including some that are labeled "Christianity").
If we are part of the first religion, we stand out in a crowd, don't we? When we came upon the penguins, they all melted together in an array of black and white life–all except for that brown fuzzy one. He stood out among them.
I guess this is what I really want to focus on. If we are a true believer in Jesus Christ, we have been given a wetsuit that can only be provided by God. Yes, we look funny. And, yes, we will stand out. And maybe the other "penguins" won't like us and will pick on us. This is how it is when we step away from the crowd.
This has, historically, been part of what makes it so tough to be a believer. We hate to look different. We don't want to stand out. And, yet, this is part of being a true Christian.
Paul writes about this in Ephesians 5:8– For you were once darkness, but now you are light in the Lord. Walk as children of light.
If we are a light in the darkness, we are definitely going to stand out! Unless we try really hard not to. Which we do in a myriad of ways, don't we?–
–We join our friends in their gossip, complaining, and crude jesting.
–We go along to that ungodly movie that our group of friends or our family wants to see.
–We ignore the horrible lyrics on the radio because we want to be the "cool" mom.
–We (and our daughters) wear the same thing to the beach as everyone else. (A little side note here– this is definitely a way to stand out. People think you are absolutely ODD if you are a young woman who doesn't wear a bikini. I still shake my head over how it became appropriate for Christian women to be almost naked in public. How did Christians come to accept this as okay? How do dads– who I know love their precious daughters deeply –allow them to dress like this when they know how mens' minds work? This will forever be a puzzle to me. I will step down off my soapbox now…)
Bottom line: Many people who call themselves Christians are just like the world. They wear the same things, they curse, they have sex before they are married, they watch the same entertainment, they look just like the world.
With the onset of the Olympics this week, many people have been posting an article about Micheal Phelps becoming saved in 2014. I was disturbed to find out that he is living with his fiancee and that they had a son together five months ago. Surely, even a baby Christian would understand that living out of wedlock is a sin? But not in this sick world we are in. I have no idea if this young man is truly saved but what I do know is that he certainly shouldn't be held up as some kind of Christian role model.
We are to stand out! We are to be obedient to the words of scripture. We are not to join the world in all its lusts and sinful activities. And, yet, somehow this has all become fully acceptable with nary a word. I just don't get it.
We are to be that penguin that looks different among all of the black and white. That is part of the cost to being a Christian. Yes, the plan of salvation is simple, but that doesn't mean it is easy. Following Christ means taking up our cross and denying self (Matthew 16:24). It is not a self-centered decision –filling us with purpose, giving us happiness, etc.
When we fall humbly before God confessing our sin and asking Him to save us, it is a God-centered decision, making us right with the One, True God so that we can stand righteous before Him through the blood of Jesus Christ. It is the only way to be reconciled to God.
When we surrender our wills and lives to God, our happiness, our purpose, our health and wealth are irrelevant. Paul makes this clear in Philippians 4:11-13–
Not that I speak in regard to need, for I have learned in whatever state I am, to be content: 12 I know how to be abased, and I know how to abound. Everywhere and in all things I have learned both to be full and to be hungry, both to abound and to suffer need. 13 I can do all things through Christ[b] who strengthens me.
Are you standing out? Are you focused on your own personal happiness and fulfillment or on surrendering your will to God's? This is a constant battle. For me, too. But we know that God's Word teaches that true salvation yields transformation (2 Corinthians 5:17; Galatians 2:20). Truly saved people stand out like featherless penguins in a sea of black and white. Truly saved people rely on Jesus Christ alone for salvation. Any good works are done because of the deep love they have for their Savior–not because of some drive to save themselves. Sure, we all grow spiritually at different rates and we give grace to those who are young in the Lord (Philippians 1:6). But this cannot keep us from speaking these important truths.
It is critically important that this is the Gospel we not only preach but that we also live! Eternal destinies are at stake.