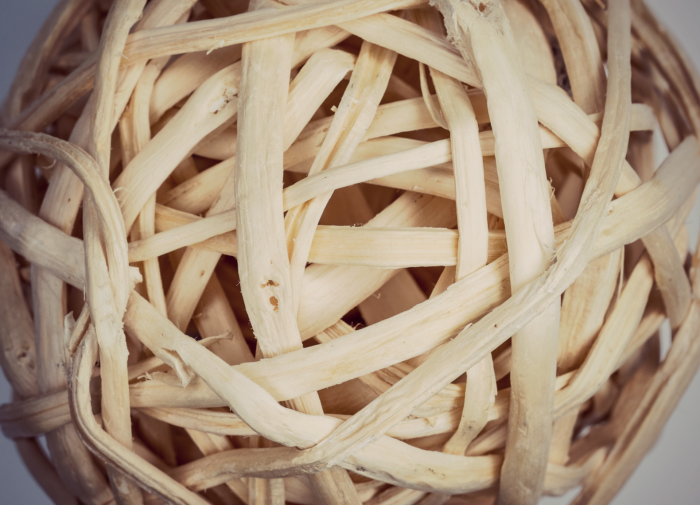 Yesterday morning I was awakened by a familiar buzz. I didn't know who would be texting me that early but I reached over and, fumbling to put on my reading glasses so I could actually read the text, I picked up my phone.
I squinted my eyes to take in the unfamiliar number and opened the text. It was from Discover card, asking me if I had made a purchase at Sunoco in the amount of $4.98. Somehow they had gotten my cell phone number (I do not remember giving it to them) and decided to start texting me about purchases. While most early mornings, neither my husband or I would ever be at a Sunoco gas station, this particular morning was one where my husband was busy doing snow removal. I knew he often stopped there to grab a snack and drink. I was sure the charge was legitimate.
I decided to get out of bed since I was awake and as I did so, I pondered the interconnectedness of everything in our lives. Even a credit card charge by my husband comes to my cell phone. Everything is connected. Here's another example: Have you ever looked at something on Amazon and then went over to Facebook, only to see ads for what you were just looking at? Personally, I find that rather creepy. And now there are apps out there that track your kids' phones so you know where they are at all times; security systems, lights, and furnaces that can be turned on and off by your smart phone; and fitness devices that track every step you take and every place you go and then provide that information to any device you desire. In this world of technology, everything is connected.
While I could (and perhaps should) write on the privacy we are giving up willingly in this world that is interconnected in so many different ways, I am actually going to go a different direction.
These strands of life interconnecting and forming one whole is exactly how we should be living as believers. All strands interconnect and wind around one another, each affecting the other.
Sometimes we like to pretend that a certain strand can remain separate from the rest of our spiritual life, but that is a naive thought. For example, we like to believe that our "entertainment" strand isn't part of the whole. Way over there with that strand we can fill up our minds with ungodly movies, music, and books and oddly believe this will not affect the whole. Or we do it with our "family" strand, acting like a completely different person at home than who we portray out in public, somehow believing that we can freely express our anger and selfishness there in that safe space, all the while keeping that "family" strand far away from the whole of who we really are. One final example would be our "online" strand. So often we think who we are online is separate from who we are in real life. We seem to believe that our "online" strand, and the angry rants and selfish posts that go with it, are there own separate strand far away from the rest of who we are.
But it just doesn't work like that. Everything we are and everything we do is a reflection of who we are in Christ. We can't separate any strand of life from the whole. I admit it would be nice if we could. But here is what God's Word has to say about this–
Mark 12:30 And you shall love the Lord your God with all your heart, with all your soul, with all your mind, and with all your strength.'[a] This is the first commandment.
Matthew 16:24-25 Then Jesus said to His disciples, "If anyone desires to come after Me, let him deny himself, and take up his cross, and follow Me. 25 For whoever desires to save his life will lose it, but whoever loses his life for My sake will find it.
Romans 12:1-2 I beseech you therefore, brethren, by the mercies of God, that you present your bodies a living sacrifice, holy, acceptable to God, which is your reasonable service. 2 And do not be conformed to this world, but be transformed by the renewing of your mind, that you may prove what is that good and acceptable and perfect will of God.
James 4:4-5  Therefore submit to God. Resist the devil and he will flee from you. 8 Draw near to God and He will draw near to you. Cleanse your hands, you sinners; and purify your hearts, you double-minded.
We can see by these verses (and there are so many more, as well) that following Jesus means giving our whole ball of interwoven strands to Him. We can't separate out the parts we don't desire to surrender to Him. To try to do so only leads to one thing: hypocrisy.
It is hypocrisy to say we love Jesus and then to continue in any sin. Whether it be yelling at our spouse; tuning in to a radio station that plays songs filled with lyrics about sex outside of marriage, drug use, and violence; or its being unkind and self-absorbed online. While we are certainly going to sin sometimes (as humans, we can't reach perfection here on this earth), the Holy Spirit will fill the hearts of believers who are in the Word with conviction and repentance. The more I am in the Word, the more often this happens.
And, contrary to what you might think, this life of surrender and obedience is a much more joyful and peaceful place to be. Sure, it's no fun facing our sin. But there is something so comforting and amazing in knowing that the Almighty, Omnipotent Creator actually cares enough about me to show me my sin and to grow me to be more like Christ. Life is so much better when we stop rebelling.
Total obedience yields a life of true joy and peace. I am convinced of this more and more each year. But we must remember that this isn't some solitary decision. As life ebbs and flows and changes, some days it is easier to surrender to the Lord than others. There is no magic pill that makes this lifestyle easy. But we must keep trying.
If you have a strand that you have tried to keep separate from the whole, I encourage you to surrender that strand to the Lord. It's part of the whole, anyway, whether you realize it or not. Give it all to God. He will not disappoint.