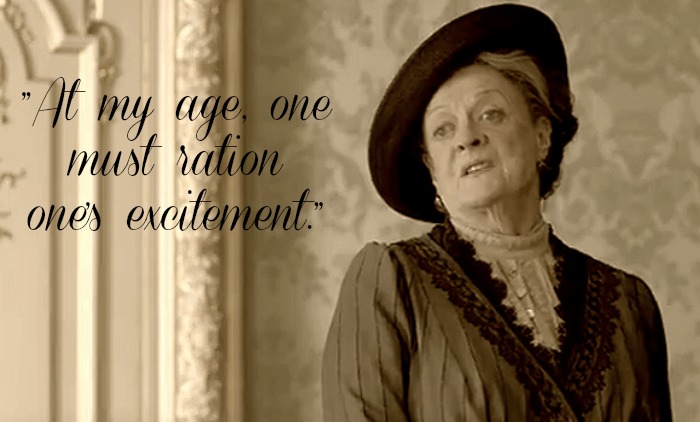 I took one of those quizzes the other week: Which character on Downton Abbey are you most like? I wasn't all that surprised (or displeased) that I ended up with Violet Crawley, the Dowager Countess. While this woman does not always say things in the kindest way, you never have to wonder what she is thinking. I like that about her. And while I hope I am not near as cutting with my remarks and I certainly hope I am not a snob, I do want to be someone who can be counted on to tell the truth.
As I watched the final episode of season 4, I was overwhelmed with empathy for this elderly lady during a conversation she had with the American Sarah Levinson, her daughter-in-law's mother. As was her style, she had made some sharp remark to Mrs. Levinson. In return, the woman looked Violet straight in the eye and retorted, very matter-of-factly, "My world is coming nearer. And your world – its slipping further and further away."
Violet Crawley stared at her with eyes full of sadness as the camera faded away to another scene. And at that moment– as Violet stared–I felt a deep connection with this old woman.
The year was 1923 and the Dowager Countess was losing her world– a world of counts and countesses, butlers and housekeepers, fancy balls. A world where the classes were carefully kept separated and true feelings were hidden away and never discussed.
In its place was coming a world where anyone could make a go of it and become successful and wealthy, people could speak their mind without fear of repercussion, and men and women of different classes and even different races could be married with nary a raised eye-brow.
How heart-breaking it must have been for her, as she could see it happening and couldn't do a thing about it. And while, especially as Americans, we see that world she lived in as stuffy and confining, for the Dowager Countess it was the only world she had ever known.
And I would guess– although I can't be sure– that some of her acerbic responses and reactions were coming out of this realization and the helplessness that naturally goes along with it.
I feel a little like Violet Crawley. Maybe it's because I'm getting older. Maybe it's because it's just the nature of the world to change constantly. Or perhaps it's because I see a very, very black sky on the horizon of our country. Maybe it's a combination of all three.
The world I grew up in no longer exists. And, let's face it– the world of the 70s and 80s wasn't all that great. I don't really look back on it and think "heaven". But where we are now–the changes that are taking place– well, it's a bit disconcerting, is it not? Especially for those of us who have seen it all happen.
So, what now? How do we then live?
Do we bury our heads in the sand, turn off all of the news, and live in our own small world?
Do we become acidic and irritable and grumpy?
Do we sink into a state of depression at the woes of the world?
Do we avidly watch, listen, read, and breathe the world news?
Do we volunteer for our favorite politicians or some other cause?
How do we change a world that can't be changed? 
Look–if we are believers, we know the end of the story. We know that the world will not become a better place before Jesus Christ returns. But, instead, we can expect the worst.
So now is the time to put our armor on (Ephesians 6:12-18), prepare for battle, and know God's Word. Now is the time to share the gospel and stand for Truth.
Let's keep the big picture in mind. Let us forge ahead, knowing that we are led by Jesus Christ Himself. And He can't lose. And if He can't lose, neither can we.
And, just as importantly, let's remember that we can be instruments of change right where we are. God is still working in a mighty way in individual lives. Just because the world, as a whole, isn't going to get better, does not mean that your spouse, or boss, or friend, or parent won't be saved. There is still much hope in this world and God is still quite alive and showing His power! We can still bring positive changes to a hurting and lost world. We can make our corner brighter and better by loving-kindness and by standing for what's right.
We dare not throw our hands up in the air and say, "what's the use?!"
I don't know what hardships lie ahead, but I do know the end of the story. Oh, praise the Lord, we know the end of the story. This world may be slipping away, but the next one is far better. Let us be found faithful until that day comes.