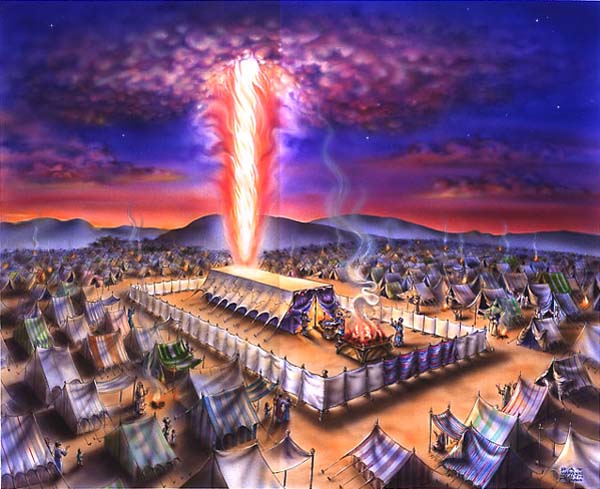 Many times, as believers, we really struggle with this concept of holiness. If we are truly saved, it is something we know is required of us and so we work and strive to be more "holy". But do we truly understand why?
I think that is a question with several answers, but one was just made very clear to me by our scripture reading this past week.
As you read the detailed description of the tabernacle, did your eyes glaze over? I have to confess that as I read all of the specifics about the Tabernacle, I found it hard to stay focused on what I was reading. In this day and age of "soundbite" information, such detail can be hard for us to read.
So why did God place so many details about the Tabernacle in His Word? That was the question my youngest daughter and I found ourselves discussing the other day.
If God gave 50+ chapters in the Old Testament to let us know His exact requirements for the place His Spirit would reside with the children of Israel in the wilderness, then it must be important. As we discussed this question, it dawned on me that it could have something to do with helping us to understand just how holy is the place His Spirit demands as a sanctuary. It gives us some insight into just how holy and awesome God is!
Now, jump with me, if you will, to the New Testament. Suddenly, personal holiness takes on a whole new meaning–
Or do you not know that your body is the temple of the Holy Spirit who is in you, whom you have from God, and you are not your own? (I Corinthians 6:19)

 That good thing which was committed to you, keep by the Holy Spirit who dwells in us. (2 Timothy 1:14)
For there are three that bear witness in heaven: the Father, the Word, and the Holy Spirit; and these three are one.(I John 4:7)

If, now, in this church age, we have become the place in which the Holy Spirit dwells, then our sin takes on a whole new light, doesn't it? It becomes even more offensive and not something to brush off lightly, as we are so apt to do.
I would often ask my kids if they would take Jesus to that movie or listen to that radio station if Jesus were sitting in the car with them as they were growing up. But God is with them at all times. God, the Holy Spirit, is with them. With me. With you. At all times. We have a responsibility to live a holy and pure life so that we are a fitting place for the Holy Spirit to dwell.
If God gave all of that detail in the Old Testament showing us what He required (and it's clear that the sacrifice of Jesus did eliminate all of the ritual and blood sacrifices of old — just read Hebrews 9) and if we read all of the specifics of gold and silver and bronze, of the colors of blue and purple and scarlet, the carvings of orange and almond blossoms, we have to understand that God demands the best.
Not perfection. Perfection isn't an option in this sinful world. But the best, purest, most holy me I can be. Because if I believe what the Bible says then I understand that when I became a believer, His Spirit came to dwell within me.
Doesn't that make us view even the smallest choices with much greater care? And even our "smallest" sins with much greater remorse? Doesn't daily confession and the idea of repentance make much more sense with this insight? We not only represent a Holy God, but His Spirit dwells within us!
In this day and age of casual living, we tend to view God as our buddy and friend (and we are called His friends in John 15:14) but may we learn from our Old Testament reading that God is also holy and awesome and omnipotent. This hasn't changed just because of Jesus's sacrifice on the cross. And a Holy God demands a holy dwelling place. Let us not forget!
Please Note: I am presenting the insight and understanding that I am learning as we read through the Bible with each Thursday post, but may I encourage you to please do your own study using good resources to gain insight and grow in the Lord. I am doing my best to give biblical, solid food for thought as we read through the Bible, but I would be the first to admit that I am no theologian!