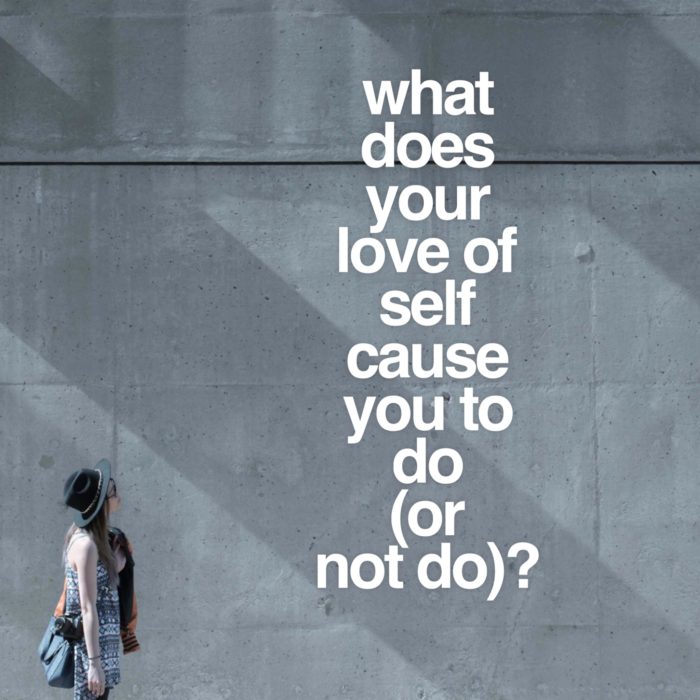 The last week or so, I have been really reflecting on how much we all do because we are concerned about our own selfish good. This has come about through a couple of conversations, through a sermon of by Pastor Dean (found here), and through our Sunday School study of Philippians. As I mulled these things over during the past few days, I recognized the two things they all pointed to: A Savior that never did anything–not even one tiny thing–out of selfishness. And, second, the weakness of believers–those that the Savior has saved–that can hardly do anything without at least a tinge of selfishness.
Selfishness gets almost all of us in one way or another, doesn't it? Sometimes we are obvious in how we go about it–we demand our way, our rights, our desires. We are very noticeably selfish. But, for others of us, we are viewed as the nicest, most unselfish people in the world, even while we are being selfish. We agree with everyone, we don't confront, we don't have the hard conversations–all because we hate conflict and we don't want to rock the boat. We will selfishly do anything to avoid even a hint of controversy.
For others of us self takes on a whole life of its own, as we grasp for praise and glory, growing comfortable in a life of boasting so that we can make sure others see how great we are. Pride grows out of self-absorption and we start to believe we know everything and, along with this, comes the insatiable desire to win every argument and always be "right".  Even when it doesn't matter at all.
And then for others, we like our comfort and our relationships and our churches and we just aren't willing to sacrifice them to stand up for what's right. Again, love of self rears its ugly head. When it comes right down to it, we'd rather have a friend go to hell and still have them as a friend, than to risk that friendship to share the Gospel.
Now, don't get me wrong–I am not saying that we should always speak up. There is great wisdom in knowing when not to speak. I tend to be one of those that speaks up too much and I have spent a lifetime working on timing and, most often, not speaking at all and praying instead.
But sometimes we do need to speak up–especially when it concerns the Gospel and other biblical matters. Knowing how to do that gently and with love is important. I've mentioned this before, but one of my greatest concerns in the area of discernment is how unloving these "discerners" can be–treating it as if they are on a treasure hunt and it is some great competition. Some even seem to gloat with glee when they discover something. Pride is often rearing its ugly head in these scenarios. (Okay, that was a bit of a rabbit trail, but I just had to say it!)
Our struggles with selfishness show themselves in our homes as parents and spouses (As we fervently avoid battles, insist on being right, are lazy in nurturing and disciplining our kids, and as we lack a servant's heart–home always tells the true tale); in our churches (as we insist on certain ways to do insignificant things and as we are unwilling to call out sin); and in our work places (as we demand our desires or stay quiet at the water cooler.) This is the nitty gritty of Christian living for all of us. If you will allow me to use a cliche: This is where the rubber meets the road.
The key is this: We always have to ask ourselves–why are we speaking up? Why are we not speaking up? Why are we doing a certain action? Or not doing a certain action? Why are we thinking what we are thinking? And then we must run it all through the grid of the Word, making sure that our own desires aren't getting in the way of speaking, doing, and thinking what's right.
Truthfully, I don't know most of you at all. I don't know how SELF worms its way into your thinking. I don't know if you are one who demands your own way or if you are someone who sits back and says nothing to avoid conflict. I don't know if you are someone who is always pushing your own agenda and opinions on others or if you are someone who timidly won't say anything so as to not rock any boats.
But what I do know is that all of us–in one way or another–fight a battle with our greatest enemy of SELF. Today would be a good day for all of us to take a good look in our hearts and see how we are doing in that battle. Are we winning? Or losing?
Philippians 2:5-8 encourages us to have the mind of Christ. If we read verses 3 and 4 right before this section, we can understand that an important part of having the mind of Christ is diminishing our view of self.
Let nothing be done through selfish ambition or conceit, but in lowliness of mind let each esteem others better than himself. 4 Let each of you look out not only for his own interests, but also for the interests of others.5 Let this mind be in you which was also in Christ Jesus, 6 who, being in the form of God, did not consider it robbery to be equal with God, 7 but made Himself of no reputation, taking the form of a bondservant, and coming in the likeness of men. 8 And being found in appearance as a man, He humbled Himself and became obedient to the point of death, even the death of the cross.
Do we really understand exactly what Christ did by coming to earth?? This is probably worthy of its own post, but, I will just say this: As we begin to grasp and gain a deeper understanding of exactly what Christ did so that we could be saved from eternal damnation, our battle with self takes on a new importance and we gain a deeper desire to win that battle! Our enemy of self must be beaten if we are to be like Christ and if we are going to live effectively for Christ. There is no other way. Selfish people are useless in–and even detrimental to– God's Kingdom.
As my pastor said the other Sunday in this challenging sermon: There is only one throne in our hearts. Who is on yours?
I leave you with these wise words of John Newton, the former slave trader, who was amazingly saved by grace (and who actually went on to write our beloved hymn Amazing Grace)–
Beware of SELF! This is the worst enemy we have to deal with!
 
Self-will,
self-wisdom,
self-righteousness,
self-seeking,
self-dependence,
and self-boasting.
 
It is a large family–and I cannot count up all the branches! They are all nearly related to Satan–and they are all a sworn enemy to our peace.
 
If we lie low–then the Lord will raise us up.
But if we will be something–then His arm will surely pull us down.
That monster SELF has as many heads as a Hydra, and as many lives as a cat! It is more than twenty-five years since I hoped it was fast nailed to the Cross! But alas, it is alive–and still mixing with and spoiling everything I do!
And to that I say a rousing AMEN!!!
(Note: The Hydra was a serpentine mythological water monster with many heads.
For every head chopped off–the Hydra would re-grow a couple of new heads.)