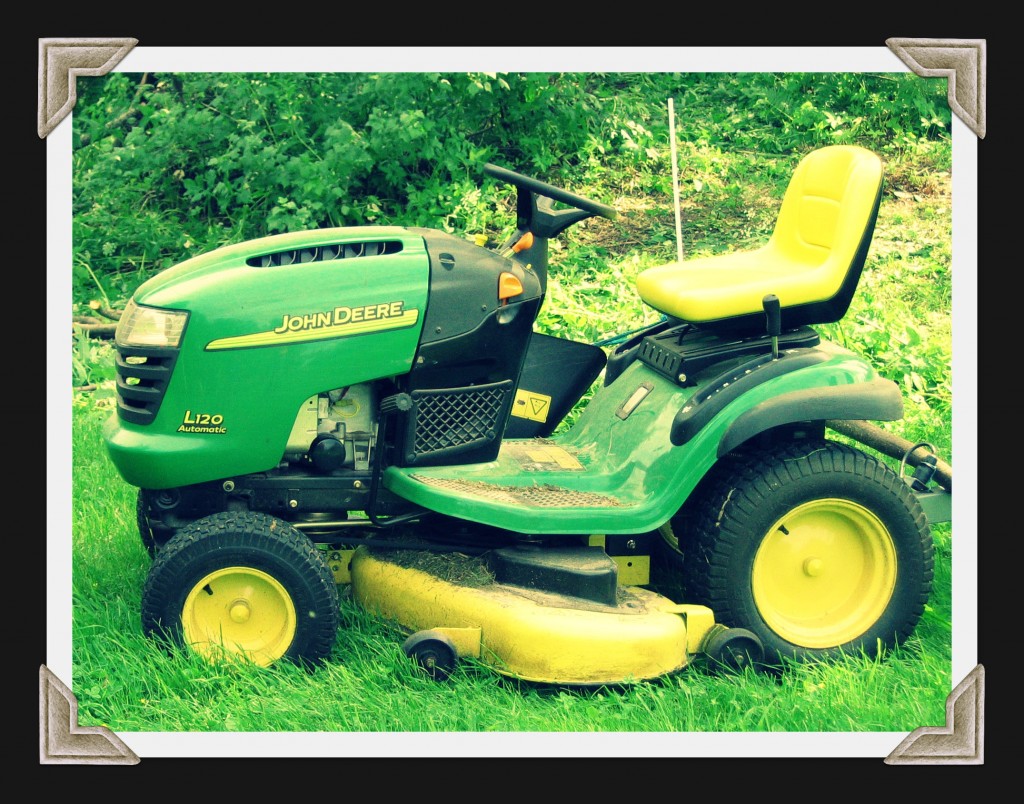 Twenty-six years ago, a kid, just graduated from college, loaded a used John Deere riding mower on the back of his old pick-up truck and went to work. All these years later, that kid and his bride (my husband and I) have learned a fair amount about running a business. If you are interested in starting your own company or are in the process of starting your own company, you may find these suggestions worthwhile–
1.  Have a thankful heart.  We often joke around about how we had NO idea what we were doing all those years ago. Eric didn't go into business to make money.  He just did what he loved and what he believed the Lord was calling him to do. As his wife, I just went along for the ride. We didn't pour over profit and loss statements or balance sheets. We probably should have done a bit more of that, but because we didn't, we know that God has really protected and cared for us in this venture.  We have seen Him work in marvelous ways–helping us to meet payroll or feed our family in the lean years.  We try very hard to not take his grace and care for us for granted. A thankful heart, even in the midst of the hard times, is important.
2.  Plan for the worst. We try very hard not to over-stretch ourselves financially. We know that at the whim of a culture or the downturn of the dollar, our whole business could change. We keep that in mind as we determine what debt to take out. Eventually, we are trying to work it down to zero, but that takes time. However, we have made some progress and can already see some rewards of our efforts to reduce debt.
3.  Work hard. This sounds so simple, but we have noticed that there are so many who aren't willing to put in the long hours necessary to get a business up and running. I think this is the main reason that we have been successful–because of my husband's willingness to work hard (not mine–I don't have near the same drive). Any success we have experienced is mostly because of the gift of hard work that God has instilled in Eric. We see so many people who want to go into business to make easy money. What they don't realize is that the money doesn't come easily at all and it takes a lot of hard, hard work and many, many hours. Especially those first five to ten years. Success can only be realized if you are willing to work hard.
4.  Don't sacrifice your family. One of the things I appreciated early on was Eric's willingness to meet the needs of his family despite the long hours. He always (aside from crazy springtime) makes time to talk to me and the kids.  He goes to sports games (most of the time) and plays basketball in the backyard. And, honestly, in our early years, one of the ways he did that was by following God's command to keep the Sabbath holy. He kept Sundays work-free and our family is stronger because of it. Oh, don't get me wrong–we did sacrifice as a family with dad's long hours, but keeping the family a higher priority than the business is important for both the family and the business.
5.  Don't give up! Persevere through the tough times.  I know sometimes people look at successful companies and assume that they just got lucky, but it's not like that. At least it wasn't for us. We have been through some very difficult times (and know that at any time we could go through them again). Eric just keeps going (and drags me with him, even when I feel like giving up!)  He refuses to give up and that has benefited our business over and over again.
6.  Treat your customers and employees like you would want to be treated. So often bosses treat others with condescension and harshness. We try very hard not to do that. Oh, we are not perfect, by any stretch of the imagination, but we want our employees and customers to know that they are valued as people to us and that we realize we would not be where we are today if not for them!
7. Follow God's way as written in His Word. We sometimes get frustrated when we watch (or hear about) other company's taking money "under the table", lying on tax returns, and not getting the proper licenses or insurances.  But, early on, as Christians, we made the choice to be on the "up and up" with everything we do and we have never regretted it.  We can sleep at night because we know that we are doing things as God would want us to and that is what matters most.
8. Don't get stuck in status quo. No matter what business you find yourself, it is constantly changing. Don't stick your heels into the ground and determine to stay where you are. That is almost a sure way to kill your company. We have ebbed and flowed with various trends through the years. We have adjusted and changed and moved, all according to where the industry was going. We continue to do this.
9.  Be Generous. Don't hang on to any material blessing too tightly.  Use what you have to further God's Kingdom and to support and encourage Christian brothers and sisters.
10. To God be the Glory. Sure, we may have done some things right, but we have done a whole lot more wrong. But through it all we have tried to honor God.  Any credit for any success goes to God alone.  Along with that is the realization that any success is fleeting in the scope of life. We put our future in God's hands and trust Him completely.
These are just a few of the lessons that we have learned and put into practice over the years. When I asked Eric to read over this, his first concern was that I was bragging too much on him. And maybe it does sound like that. I do have a lot of respect for this man who is my husband. However, much of what we have learned has been through much heartache, tears, and many arguments. It was a long and difficult road.  My main desire here is to spare some of you the same grief we went through.
Many of you are not running companies, but many of these same principles can be applied to any job…any life. It is my prayer that these principles will be helpful to you, wherever you find yourself in life.