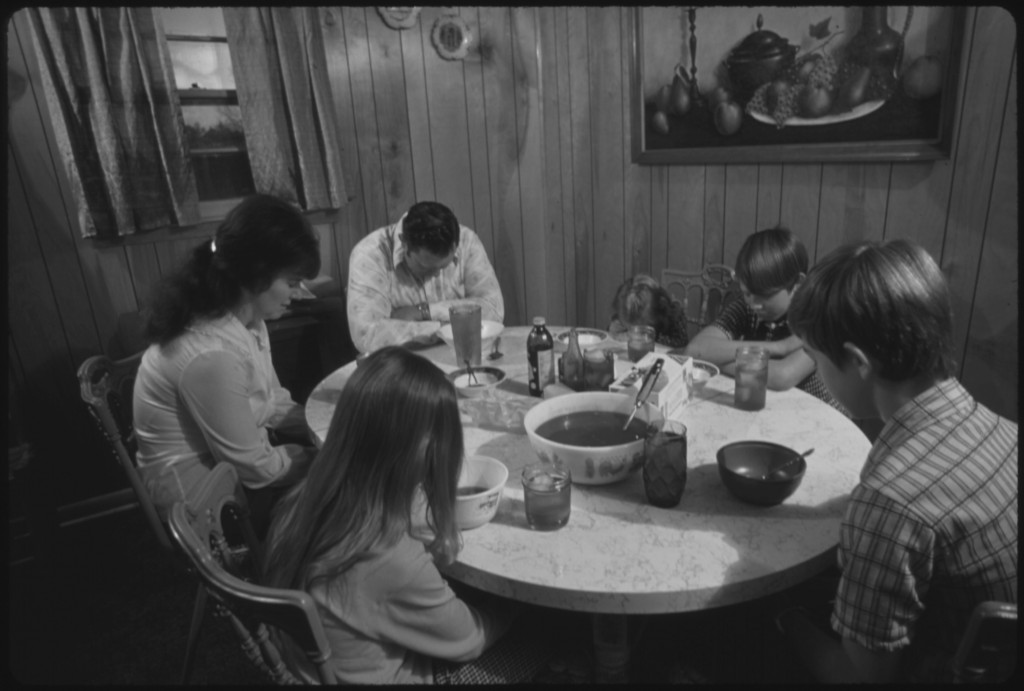 When writing about the breakdown of the family in Communist China back in the early 1960s, Valentin Chu made this observation: 
"The family everywhere is a man's source of strength and courage as well as his emotional harbor at times of natural disaster and personal misfortune.  In China it was even more so. It was society itself. The Chinese communists were acutely aware that their control of the people could never be effective unless the monolithic family system was destroyed, along with religion and conventional morals."
Can you destroy the family without destroying pure religion and morals right along with it? Consider Mr. Chu's words as you read the following excerpt–
Once upon a time, men were men, women were women, and both seemed to not only be okay with this, but they liked it quite a lot. More than a lot. They loved it. And they loved each other. All in a manner approved by the Southern Baptist Convention, of course.
Consequently, they loved their life. All of it. Not all of the time, maybe, but close enough to seem crazy from a contemporary perspective.
These men and women would come together to build homes; not the brick or wood kind, but the people kind. They would then seek to have and raise children. Many children. As many as they could have…and then they'd want more.
They loved their homes.
They loved their children.
They loved their God, and it was their love of and devotion to this God that had made all the rest of it possible. Life was good.
Older family members were lovingly tended to and taken care of by the younger. Their wisdom was treasured. Little boys and little girls basked in the glow of their stories, experience, and hard-earned depth.
They all lived, loved and laughed together.
They even ate together.
Are you feeling sick yet?
Is this all just a little too Little House on the Prairie for you? Or maybe a lot?
Don't sweat it; that's a normal reaction to the sight of God's plan for families in action from a contemporary secular perspective. It happens all the time. It's called "improper emotion sickness," and while Dramamine doesn't do much for this form of disorientation, there is a solution, so try to relax. We'll get to it shortly.
This is just a hyper-Rockwellian fantasy spin on history, you might be thinking. But you'd be wrong. And I think you know it already. I think that we all do. All Common Believers, anyway.
We all know that God gave us something of matchless beauty and power in His ordination of the family, and that we, as we tend to do with every good and precious thing entrusted to our care, have profoundly trashed it in every way imaginable (and then some). So we like to pretend that those vivid, detailed family pictures painted in His perfect Word are completely detached from reality; rendered impossible by the "more factual" representation dictated by the prevailing views of the time in which we now live. We'd never say it out loud—God's Word being "completely detached from reality"—but we definitely think it. And we act accordingly.
We divorce at rates in perfect harmony with the openly anti-Christian folk roaming the landscape. We pursue relationships and romance in the same distinctly unbiblical manners so highly esteemed and advocated by the culture. We know that homosexuality might technically be a problem, but we love Will & Grace. We value children like the culture, meaning: We murder and defend the right to murder innocent babies just as the world does.
When we do let them live, we abdicate our responsibility to raise and educate our children, instead shipping them off to government-controlled schools for Christ-less "education."
We define success just as the world does, exalting the pursuit of careers, education, titles, cars, and houses well above the pursuit of a large and growing Bible-centered and happy home.
In short, we are the world. There is no discernable, substantive difference. So what is the solution to all of these profound problems and "improper emotion sickness" too?
Is it a new ten- or twelve-step program?
Maybe a cool set of acronyms to help you memorize a new ten or twelve step program?
Could it be a cool new hip and relevant ministry aimed at helping you realize your best family now by repainting your Christian faith with a bluesy, jazzy new perspective?
Nope.
It's just the Bible. Sorry folks; that's the only real thing I've got to offer here. (And no, I'm not really sorry at all…and you won't be either.)
Buss, Scott Alan (2011-09-25). Fire Breathing Christians, R3VOLUTION Press. Kindle Edition.
This is the first time since I have started writing the Wednesday Wisdom post each week that I have used the same book two weeks in a row. I am about half-way through Fire-Breathing Christians, the Common Believer's Call to Reformation, Revival, and Revolution. I find myself wishing that every Christian would read this book.  In a rather quirky and very readable writing style, the author educates the reader on many of the unbiblical teachers and movements of the modern-day church, using God's Word as his grid.