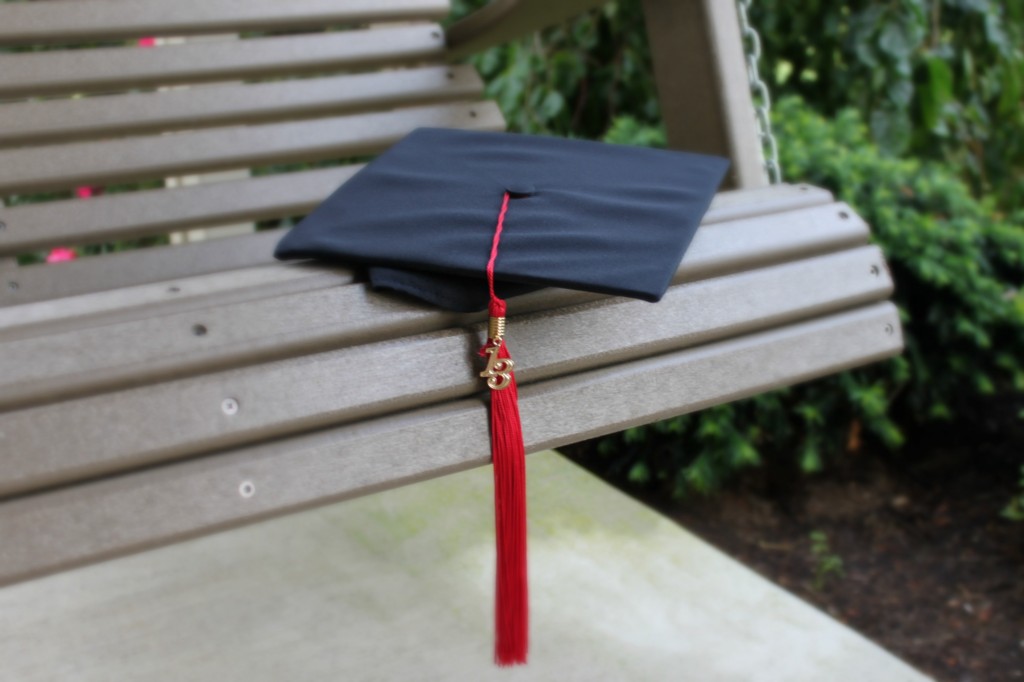 One more child graduated from high school on Saturday. Three down –only one to go. Where in the world has the time gone? As I sat listening to the commencement speaker address the group of gifted kids that made up my daughter's senior class, my mind started to wander (no reflection on the speaker–just on my easily distracted mind). What would I say if I had the opportunity to address these kids? Trust me, I am under no grand illusion that anyone will ever ask me to speak to a group of graduating seniors but it did make me wonder: What would I say to a group of kids ready to embrace life as an adult?
In some ways, it feels like just yesterday that I was the one hugging my friends, saying good-bye to favorite teachers, and smiling for the camera. But it wasn't yesterday, it was a lifetime ago. And it is amazing what one learns in a lifetime. And so here it is in a nutshell–my commencement address to anyone who is finishing up an education, whether it be high school or college–
1.  Develop a deep love for the Word of God. Let it function as your guide and help for the many tough decisions you will be facing. Make it your moral compass. Many has been the time that my husband and I have said to each other that we don't know what we would do without the Bible. It truly is a source of comfort, strength, and guidance—like a solid rock amidst the crazy sea of life.
2.  Who you marry matters–A LOT. It will make or break your life. Make a decision right now to only marry someone who not only says they are a believer, but actually lives like they are one. You will spare yourself much, much heartache in the long run. I have seen so many young people make the wrong assumption that the person they marry will eventually be saved or they will change that bad habit, but, while it does happen on occasion, it is much more likely that you will end up in a very difficult marriage. Choose wisely!
3.  Make every decision with the desire to please the Lord.  Whether it be the smallest thing (what movie am I going to see tonight?) or the largest (what career should I choose?), seek the Lord's will. Rather than trying to gratify your temporal desires now, live with an eternal perspective. I'd like to say this gets easier as you get older, and while in some aspects it does, as long as we are on a fallen earth, this is difficult to do.
4.  Don't sweat the small stuff. Life has enough big stuff to work through without making the small stuff so significant. This one I have certainly learned (or shall I say continue to learn) firsthand. I have the personality that can get very easily distraught over something very trivial. It has taken many years –and still I sometimes catch myself doing it– to relinquish the worry and frustration over the stuff that just doesn't matter in life. But I have learned that life is so much sweeter if you don't let the small stuff get to you.
5.  Feed your mind well. If you spend your nights watching mindless television shows that mock all things Christian, you will never grow as a believer. Do not accept the mindless entertainment of this culture but, instead, think deeply, and then teach that to your children. Choose a church that will help you to grow in your knowledge of biblical doctrine and in the application of God's Word. And remember–just because something has a Christian label, doesn't mean it is Christian. Do you remember that verse about Satan coming as an angel of light (2 Corinthians 11:14)? There are a lot of books, music, and other media that twist the truth just enough to be completely out of whack. Know the truth, so that you can spot the lies.
6.   Whatever you do, do it well. Some of you know what path you are headed on and some of you are still trying to figure it out. As you choose to go a direction, sometimes God will close doors and make it clear He wants you somewhere else. But whatever job you happen to be in right now–wherever He leads you–do your work heartily, as unto the Lord and not to men (Colossians 3:23). This world desperately needs people with a good and honest work ethic. Be that kind of worker.
7.  Feelings matter but the truth matters more. Be careful not to base your life on your feelings. This is especially hard in a culture where almost everything is based on feelings. You don't feel like going to work? Just call in sick. You love that guy who doesn't know the Lord? Just marry him. You don't love that girl anymore? Just get divorced. You are depressed about having a baby? Just kill it.  But God calls us to live righteously even when our feelings don't agree. Your life will end up so much better –in the here and now and for eternity– if you follow this advice: Do what is right and don't worry about your feelings.
8.  Make people a priority. Material stuff is very enjoyable. I mean who doesn't like a cool car or a new iPhone? But keep people more important than your stuff. Don't get so wrapped up in texting or the world online that you miss the potential relationships right in front of you.
9. And, finally, stay humble enough to learn from those who have gone before you. Learning from the elderly is not "cool" in our culture.  Youth, and all things young, are what it's all about. But you will spare yourself much heartache if you take the time to ask godly men and women questions and then listen to their answers. Sure some of us older people can be downright irritating–we know it, too–but that is because we love you so much. Give us a break and don't write us off completely because we have learned a lot and we would love to share it (at least most of us).
I know I will never have the opportunity to share this in front of a group of graduating seniors, but this is what I would say. I don't mean any offense to the educational gurus out there, but let's face it, by the time you are 35 or 40, no one cares where you went to school. In fact, they don't even really care if you went to school. But they do see how you are living your life. Live a life dedicated to Jesus Christ and by doing so, go out and make a difference for Him. Live with conviction and integrity so that you will shine like a bright light in the midst of a very dark world. After all, that is what really matters.