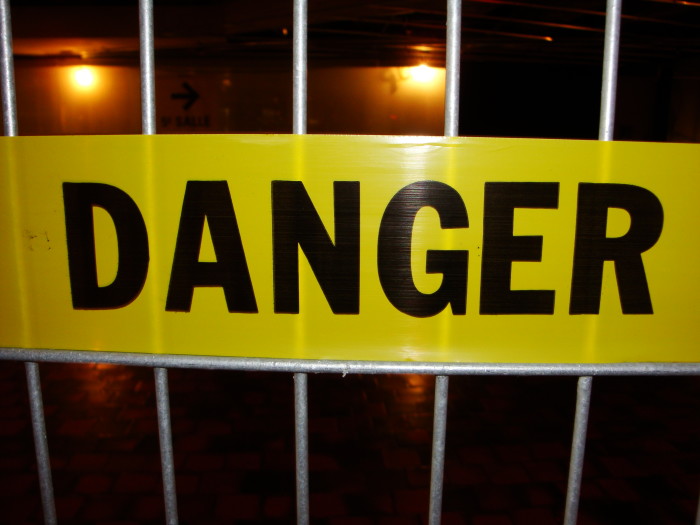 I had an idea of what I wanted to buy for a graduation gift but time got away from me and the other day I realized that it was too late to order it. I groaned within, as I realized this meant I would have to buy it at my local Christian bookstore.
I have generally tried to avoid any bookstore labeled "Christian" over the last five or so years because I find them most disheartening to walk through. But that day I had little choice.
And so I headed off to the store to once again be dismayed and disgusted by the heresy and false teaching that is promoted and sold in "Christian" bookstores.
The first display I saw–just like the last time I was there and the time before that– featured Jesus Calling. You can read here why this book goes against scripture and why Christians should not be reading it. How long will that book be in the stores? I cannot believe it is still actually selling. It has had an incredibly long shelf-life compared to most books.
Then I headed to the Bible section. There I found both the good and the bad. One has to use great wisdom in picking out a Bible these days. We should always do our research before purchasing one. All Bible versions are not equal.
I headed next to the Bible Study section. There I was dismayed to find a whole section by Beth Moore. She has made some seriously wrong doctrinal turns in the recent years and, yet, it doesn't seem to have affected her sales in any way. You can find good biblical articles refuting Beth Moore here and here.
As I continued to look around, I found many books by Henry Blackaby of Experiencing God fame. His books were everywhere, along with Bible Studies he authored under the title Encountering God. He is quite a prolific author but, unfortunately, he writes from a mystical, experiential point of view (which you might have been able to deduce from the title of his first book). You can find a solid reproof to his false teaching here (this link is Part 1 of a 3-part article). There is another good article here.
And then I turned a corner in the store and saw a large area of a bottom shelf taken up by Rick Warren's Daniel Plan. There are few authors who have affected the church so negatively over these past fifteen years as this man. His book Purpose-Driven Life has changed the Gospel, watering it down and removing sin and repentance. His book Purpose-Driven Church has completely changed how we do church and it is certainly not in a good way. Seriously, this man has almost single-handedly changed the whole church culture. But the Daniel Plan–his plan for health and fitness–may be his most dangerous yet. For it is in this plan that he incorporates new age practices and ideas, partnering with doctors who don't even claim to be Christians. Read more about this plan here and here, and run from it as fast as you can!
Sadly, I could present many more names of authors who have twisted and bent scripture to write supposedly "Christian" books that, while bringing a pleasant message to the readers, are doing great harm because they are not biblical.
And so my most recent trip just confirmed my opinion about Christian bookstores. And I was reminded of just how very few books (and music–I didn't even get into the music) that we can trust there. Even books that may be written by solid, biblical, unfamiliar authors are suspect in this place where there is such a dearth of good, biblical resources.
SO why is this? Why has there been such compromise in this area of buying and selling things that are not biblical? From companies we should be able to trust? I have a few ideas about this.
First, we, as a society, have become obsessed with ourselves. Even we who claim to be Christians are often self-centered and self-absorbed. And so we want to read things that will help us solve our problems. We want to read things that will make us feel good about ourselves. And we want to read things that will lift us up and tell us how wonderful we are and how much God loves us. In response to this, companies will stock their shelves with these resources that sell. While Christian companies shouldn't, in theory, compromise and sell unbiblical material, most do. They are in business to make money, after all. And, if you do some checking, you will see that many of these so-called Christian publishing companies are just branches of secular companies.
Second, most of us Christians do not know the Word of God and have very little discernment. When we spend time reading, we'd prefer it to be a light and easy reading not some heavy-duty study of the Word. Few of us do more than lightly read a few verses each day so that we can put a check-mark by "devotions" on our to-do list. No wonder we Christians have been hood-winked. We don't know what the Bible teaches, so anyone pulling verses out of context or twisting a passage can fool us.
And third, the authors mentioned above and any other false teachers teach a lot of good things. If they didn't, Christians would spot them in a heartbeat. Have you heard of Rob Bell? Recently, this "pastor" has joined up with Oprah, claiming there is no hell and a variety of other very heretical things. And with this out and out heresy, most mainstream Christians have rejected him. But, do you know, that only ten years ago, his videos played in biblical church youth groups all across America, including my own? And when anyone spoke against them, we were told what we are always told — you are exaggerating, you are worrying about nothing, this will help us reach the kids, you need to relax, you are too harsh and unloving.
That is because those videos were mostly true, with just a tiny bit of error. And so most churches let it slide. Even though scripture warns us of this very thing in 2 Corinthians 11:14-15 And no wonder! For Satan himself transforms himself into an angel of light. 15 Therefore it is no great thing if his ministers also transform themselves into ministers of righteousness, whose end will be according to their works. If Satan and those who promote his kingdom of darkness only presented themselves as evil would we fall prey to their methods? Of course not. How much more effective to bring heresy and false doctrine into the church by being mostly biblical but not quite.
And I ask you: If you were given a bowl of soup that was 99% filled with the best cut of meat and the freshest produce around but was 1% arsenic, would you eat it? Of course not, because you know that arsenic would harm you.
Somehow we don't apply this same principle to what we put in our brains.
All of this has left us in a very vulnerable place as a church. We are being groomed to join the one-world church. We can see this happening almost before our very eyes and a walk through the Christian bookstore only confirmed this once again for me.
I could say lots more about this area of books–like there are some people I read who I don't agree 100% with on secondary issues but they have not changed the Gospel message and I feel safe reading them. And that there are some really great authors who left this earth long ago–men like Spurgeon and Ryle who are very readable and biblical and trustworthy. And, I guess, most importantly, that you wouldn't even trust me without running everything I write here through the grid of scripture. I am not sinless and I certainly do not have some corner market on truth. Test what I write. Test anything you read, no matter who wrote it. We live in a very dangerous world, where even a store labeled "Christian" has become a dangerous place. Don't let Satan fool you. Know the Word and be aware of the false doctrines around you, so that you won't be deceived.
I Thessalonians 5:21– Test all things; hold fast what is good.
Acts 17:11– These were more fair-minded than those in Thessalonica, in that they received the word with all readiness, and searched the Scriptures daily to find out whether these things were so.
2 Thessalonians 2:15– Therefore, brethren, stand fast and hold the traditions which you were taught, whether by word or our epistle.