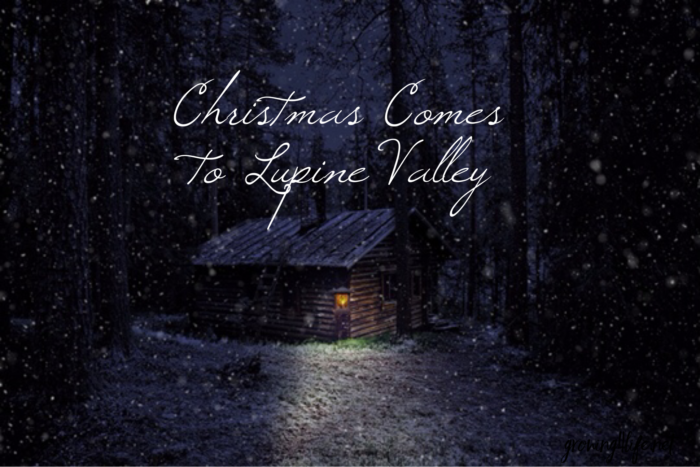 It's time for Part Four of this year's Christmas story. If you'd like to go back and read the rest of it, you can find the first three parts here. The final installment of the story will be presented on Christmas Eve (Thursday) next week.
  The next few weeks flew by, as Christmas Day rapidly approached. Henry and Grace invited Clara to stay with them until the baby was born and she agreed that would be best. She had received a telegram from her parents, stating they would pay for her fare home when the baby was old enough to travel. With this settled, Clara was able to enjoy the holiday season as she settled comfortably into the little, pleasant cottage in Lupine Valley.
  Grace had many opportunities to share with Clara about the baby that came that first Christmas night. She explained how baby Jesus would grow up to die for the the sins of man and that, through Jesus, anyone could be forgiven of their sins and be reconciled to God. Clara didn't say much, but she did listen. She hadn't ever heard the story of Christmas put quite like that before and it gave her much pause for thought. Meanwhile, Henry and Grace prayed that she would come to know the Lord Jesus personally, contemplating that perhaps this was the reason for their special Christmas guest.
  Clara joined Grace in all of her many holiday activities, although she grew noticeably more tired as Christmas Day approached.
  On the day before Christmas Eve, Henry drove the two women into town to make some cookie deliveries. They had made dozens and dozens of cookies the day before and now it was time to deliver them. The festive plates of cookies, wrapped with red bows, bounced up and down as Henry carefully guided the wagon to town.
  They first stopped at the church parsonage, where Pastor was studying for his Christmas sermon.
  "Oh, Grace, what a lovely gift! Mabel wasn't up to making cookies this year, so this is a wonderful surprise!" He said with a twinkle in his eye as he rubbed his ample belly. His wife suffered from a chronic health condition.
  Grace asked after Mabel and they spoke a few more pleasantries before heading back to the wagon. They next headed for the doctor's office.
  Henry carefully helped Clara off the wagon here so that the Doctor could give her a quick check-up. Thankfully, he was there when they knocked on the door.
  "Well, what have we here? No baby, yet, Clara?" He laughed.
  "Not yet, Doctor Miller," Grace's voice reflected the fatigue she felt in every bone of her body.
  "Well, by the looks of it, I'd expect that young'un any day now!" The doctor gratefully took the large plate of cookies from Grace and then gave Clara a quick examination. Announcing that all looked well and that he expected the baby to make an appearance any day now, he sent them on their way.
  After stops to deliver cookies to the Widow Burgess, elderly Mr. and Mrs. Whitley, and several other townspeople, they finally drove the wagon to Martha's house with the last two plates of their cookies.
  "Oh, Mom, thank you for these! I just wish I could have helped you make them this year! I didn't even have time to make any for my own family," Her broad smile showed that she didn't mind too terribly much. Motherhood suited her. Martha loved to bake cookies but she loved being a mama even more. With two month old twins added to her other four, all who were under the age of eight, it was just a little too much to help this year.
  During their visit, Grace happened to look up and see Clara holding tightly on to her belly with her eyes closed. She made her way over to Henry and whispered in his ear. He nodded and announced that it was time to go.
  James and John, Martha's two oldest boys, protested loudly, "Awwww, but you just got here, Grandpa!"
  Henry quietly leaned down and said something. The boys looked over at Clara and nodded their heads quite seriously. They understood.
  Martha told Grace that if they needed her, she could come. Jack would gladly stay with the kids in an emergency. Grace smiled gratefully and, in a flurry of good-bye hugs and kisses, they climbed in their wagon.
  Clara grew more and more uncomfortable with each bump and shake of the wagon as it made its way back to Lupine Valley. Grace tried to make her as comfortable as possible but there was little she could do.
  When they arrived home, Clara announced that she was going to go lay down.
  Grace was uncertain. Had Clara's labor officially begun? Or was she coming down with that flu bug that was going around? Finally, she went into the room with a cup of hot tea to see if she could find out.
  "How are you feeling, dear?"
  "Awful. Just awful. I have such a back ache," she rubbed her lower back as she spoke.
  "Are the pains coming with any regularity?"
  "No, not really."
  "Okay. Here is some hot tea. Please call for me if you need anything," she gave Clara's hand a gentle squeeze.
  "Okay," she said feebly.
  The day passed by quietly, with Grace checking on her every hour or so. The pains did start becoming more regular as the evening wore on, indicating that she was indeed in labor, so Grace shooed Henry off to bed and decided to sleep in the rocking chair. She had just dozed off when she heard a loud cry. She jumped up, trying to figure out where she was, when she suddenly remembered. Clara!
  She ran into her room to see her thrashing about on the bed in pain.
  "I think it's soon time," she said, gasping for breath.
  Grace ran out of the room to tell Henry to fetch the doctor. He was soon saddled up and riding towards town.
  Meanwhile, she tried to remember everything she could about a baby's birthing. After setting a pot of water on the fire to boil and finding some clean cloths, she went and sat by Clara's bedside to wait for the doctor.
  Thankfully, Henry was soon at the door with Doctor Miller.
  "Well, Miss Clara, are you ready to be a mama?"
  Clara smiled wanly.
  Henry waited impatiently in the main room, while Grace and the doctor aided Clara in the bedroom.
  An hour later, he heard a loud cry. Grace soon peeked her head out the door.
  "Is all well?" he asked anxiously. The girl had become like another daughter to him in just the few weeks she had been staying with them.
  Grace gave a huge smile as she affirmed that it was, "It's a healthy baby boy. Naming him Edward Henry, after his missing father and after you, my dear."
  Henry was shocked and delighted to hear this. What a wonderful Christmas surprise.
  As Christmas Eve dawned, the people in the cottage in Lupine Valley were a happy, exhausted bunch. There is nothing quite like a new baby at Christmastime.