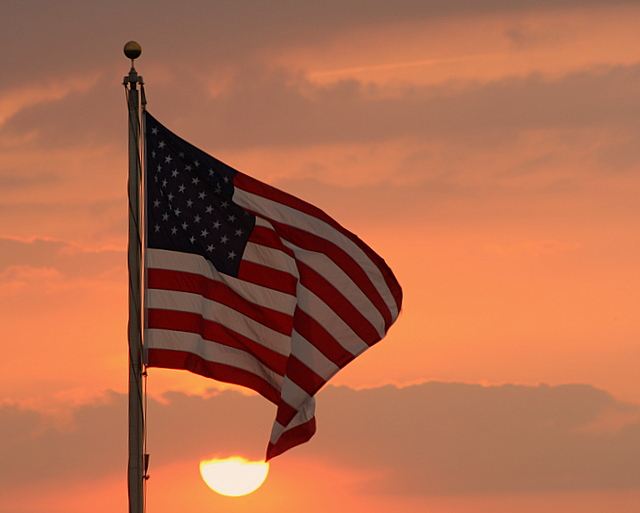 Have you noticed the air of panic that surrounds Christians these days? Everyone is handling it in their own way. Some are rallying around a questionable man with a checkered past and calling on him to return the country to what it was. They truly believe he is the guy to save us. Others are wringing their hands in despair and declare that they aren't going to vote. Some say they will vote but they won't like it. Theirs will be a vote against rather than for because they know what is coming with the opposition and want no part of it.
Whatever our stance is in this upcoming election, it is easy to slide into a state of panic at the state of affairs in America. The tide has turned against Christians and we are desperately trying to turn it back.
But what if it never turns back? Will we be okay?
I had to think through this a bit.
Christianity in our American culture has been a remarkable aberration from historical Christianity and also from current Christianity across the world. There have been few times that Christians and Christian thought were so well-received than in 20th-century America. We have grown used to the praises of men and the comfort of a nation that abides by Christian principles. That is all changing very quickly now and it is filling many of us with fear. And I believe that Satan wants us in a state of fear and panic for this renders us useless and ineffective for the cause of Christ. So perhaps we should look at what we are so afraid of? I can think of a few things. See if you relate.
First, we are afraid of losing the approval of man. This affects so many of us right where we are–ridicule from family, friends, and co-workers is hard to face. We want to be courageous but we feel so weak. In fact the derision of man is so powerful that many who call themselves Christians are either not standing for the truth of God's Word or they have suddenly "changed their mind" about what they believe to be truth so that it matches the world's (or mainstream church's).
Second, we are afraid of losing our conveniences and comforts. If we read about other countries steeped in socialism, we are well aware of what it means for our future. Doctors we could make timely appointments with suddenly become impossible to see. Store shelves that were once full are empty. We know that socialism brings with it many troubles.
Third, we are afraid of persecution. Even today, laws are going into effect that make standing for God's Word equal to a hate crime. This is frightening, isn't it? It could mean arrests, large fines, and even prison for those who align themselves with the Word of God. This is scary stuff.
So we do have a reason to be frightened. However, given the past Christian nature of the American culture, I wonder if we haven't become too hopeful in a candidate to save us. As if somehow a man will be able to turn back the clock and bring us the old America back.
Personally, I don't believe it will happen. But we serve a great God who is all-powerful and I could be wrong. No matter what the future holds for this country, my concern is that we Christians are putting our faith and trust in a man instead of God. That we are looking for a man to save us instead of God.
Dear Christian, we will still be praising God for our salvation after this election. We will still have our hope fully intact after November 2016 because our hope is not in a human being but rests in the Lord. Everything is going according to God's perfect timing and we need not fear. May God give us an eternal perspective so that we do not succumb to a spirit of panic but instead are filled with peace and joy as we rest in His plan for this country.
I Peter 1:3-9 reminds us of our living hope–
Blessed be the God and Father of our Lord Jesus Christ! According to his great mercy, he has caused us to be born again to a living hope through the resurrection of Jesus Christ from the dead, 4 to an inheritance that is imperishable, undefiled, and unfading, kept in heaven for you, 5 who by God's power are being guarded through faith for a salvation ready to be revealed in the last time. 6 In this you rejoice, though now for a little while, if necessary, you have been grieved by various trials, 7 so that the tested genuineness of your faith—more precious than gold that perishes though it is tested by fire—may be found to result in praise and glory and honor at the revelation of Jesus Christ.
So follow your convictions in this upcoming election. Do what you believe the Lord wants you to do. But be careful not to place your hope in any man. For it is only God who saves and if He has saved you then you will never be lost, no matter what happens to this country.