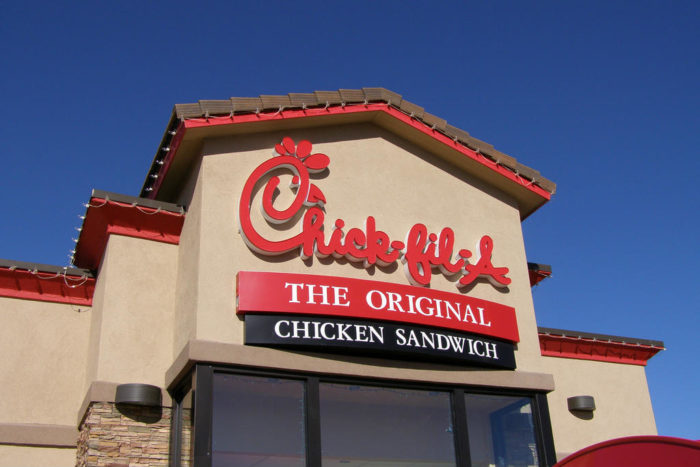 Have you been to a Chick-Fil-A restaurant anytime recently? We don't frequent fast food restaurants on a regular basis but if we choose to go to one, this is the one we choose.
Why?
It goes far beyond their delicious chicken sandwiches, waffle fries, and fresh-brewed iced tea (and no I am not getting paid to advertise for them!) The reason people love Chick-Fil-A is about the experience you have when you are there.
Respectful young people stand up straight and look you in the eye. They look clean cut and they act like they care about your experience there. They say things like "Can I help you?" and "My pleasure".
While not all Chick-Fil-A restaurants offer a wonderful experience and certainly not all employees are Christians, we have had mostly positive experiences in any we have visited.
Why is Chick-Fil-A so different than other restaurants? Could it be because it is run with Christian principles and biblical morality?
The Bible teaches us about sin and God's wrath and God's justice. But it also teaches us about things like kindness, unselfishness, thinking of others before yourself, loving others, being honest, having personal integrity, caring about others, having compassion, and being joyful.
People that exhibit these behaviors are pleasant to be around, aren't they? And restaurants who train their employees to behave in such a way make for a much more enjoyable experience.
As the code of morality changes in this culture, places like Chick-Fil-A stand out like a beacon of light. And what I find most interesting is that the world loves Chick-Fil-A as much as we Christians! All of us, no matter what our religious preference, enjoy being around kind, respectful people.
I can't help but think of a stark contrast I experienced the other day. As I was out and about, I heard an acquaintance (who didn't know I was nearby and also one who would never, ever read this blog–so no worries for any of you who know me!) speak very unkindly to an employee. As the employee referred this person to another employee, they sarcastically said under their breath, "Have fun with this one."  What I know (that these two employees didn't know) is that this person claims to be a Christian. My heart sank at this bad testimony.
And this begs each of us to answer this very personal question: Am I more like a Chick-Fil-A or am I more like this acquaintance with the bad testimony?
We Christians are to share God's light with a very dark world. We are to preach the Truth in a sea of relativism. And we are to courageously defend God's Word among those who are more interested in pleasing man than in pleasing God. And we are to do these things with a gracious and kind spirit.
Chick-Fil-A trains its employees to be kind to all who enter their restaurant. Just as customers will enter Chick-Fil-A who are unpleasant and selfish, so we, too, will face those who want nothing to do with Jesus. But should that change us and our message? Should we back down, shout back, or get angry?
Of course not.
We need to continue to be pleasant and kind, while preaching the truth of God's Word, no matter what the response is. The world may hate us. They may strive to shut us up. They may exert great pressure on us to stop our message, trying to obliterate the true Gospel, as written in scripture.
But may they never say that we were unkind and unloving.
May they never accuse us of being self-absorbed.
May they never call us arrogant.
May they never say we were rude or called them names or attacked them with our words.
Because there is never, ever an excuse for these things.
This reminds me of Proverbs 15:1–
A soft answer turns away wrath,
But a harsh word stirs up anger.
Let's stand for the truth, but let's do so in a humble and gracious way, striving to do so with kindness and love, avoiding harsh and angry words. For this is the best way to make a real difference for the cause of Jesus Christ. May we shine like a beacon of light in a world that has forgotten its manners.