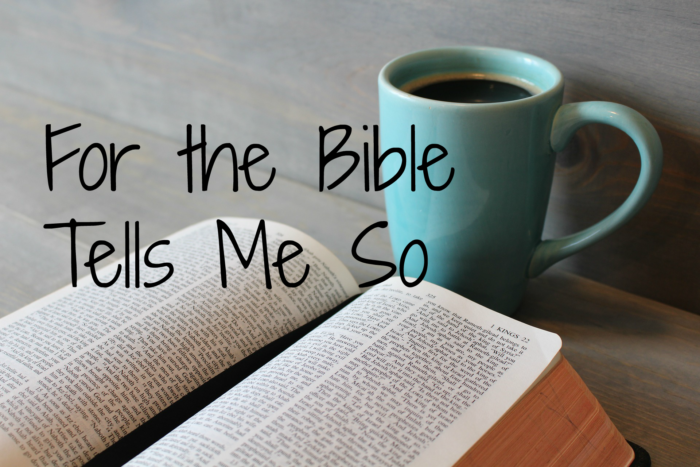 How big is your view of God? Can it encompass a world that was created in six days, despite what the world's scientists tell you? Do you believe that God and His Word are powerful enough to reach a post-modern world without any help from us?
Recently I watched a video by Ken Ham that shows clips of several well-known preachers and Bible scholars who say that we need to subject the scriptures to modern-day science. Most of these men believe that if we don't do this, we stand to lose the entire millennial generation.
Does anyone else realize how ridiculous this premise really is?
One has to wonder just how small their view of God is.
Welcome to the world of pragmatism, as in: Just do what works. But does this work? If we remove the authority of scripture and place it on to science, do we even have Christianity left? Or does it become some malformed, unrecognizable religion?
I am so amazed at how Genesis (and other Old Testament passages, as well) are twisted and changed and turned into mythical stories in order to bow down to science. As if somehow man gets to determine the origins of the world, using fallible methods that are not even based on observational science.
If anyone who believes in evolution is truly honest with themselves, they will have to acquiesce that both world views–evolution and creationism–take a great amount of faith to believe. Trying to wed the two theories is like trying to mix oil and water. They are philosophically and impossibly opposed to one another. The fact that so many are trying to do so shows us just how thoroughly the world has seeped into the church.
If we remove the authority of the entire Bible and align ourselves with the world and with the "science" of evolution (which isn't even actual science–read about that here), aren't we then totally and completely re-defining Christianity as it was defined for the last two thousand years? It would seem extremely arrogant that a man would take that upon himself, but many do.
Most recently, this has been done by a preacher named Andy Stanley (watch the video linked above or see articles listed at end of this post). I have been amazed with his finesse, charisma, and smooth-talking. I have been amazed that people sit in awe and listen to a man who effectively swipes away the authority of scriptures in just a few words. And Christians continue to sit and listen and even defend this guy. And listen, I don't know his heart or his motivation. I hope that he is simply misguided and has the best intentions but even the best intentions do not eliminate the need to test what a teacher is saying (I Thessalonians 5:20-21; I John 4:1).
Paul tells us this in 2 Thessalonians 2: 15–So then, brothers, stand firm and hold to the traditions that you were taught by us, either by our spoken word or by our letter.
This verse comes after he tells us about the Man of Lawlessness who is coming in earlier verses (9-12)–
The coming of the lawless one is by the activity of Satan with all power and false signs and wonders, 10 and with all wicked deception for those who are perishing, because they refused to love the truth and so be saved. 11 Therefore God sends them a strong delusion, so that they may believe what is false, 12 in order that all may be condemned who did not believe the truth but had pleasure in unrighteousness.
It says that man refused to love the truth. And how do we even know the truth? We are not living in the days when Jesus walked the earth, so how can we know the truth? Traditionally, it has been taught that the Word of God is the only place we will find truth. Can you see how removing the authority of scripture turns men into "little gods", defining God and salvation as they want to define them? It also turns the minds of men from the Bible to other, extra-biblical ways to know God–such as mystical experiences and the words of man.
So what kind of church are we left with if we deny the Word of God and just start pulling out the pieces that we (fallible man) believe to be "acceptable"? We are left with a false church. A false church that follows a false religion that can be molded and shaped into anything sinful man desires. (Remember that any religion that takes away or adds to scripture is a false religion). And, even more importantly, it becomes a church that is ripe for being melded into the coming One World Religion–a religion that will have nothing to do with doctrine and everything to do with mysticism and feelings. A religion that, even now, is forming and uniting all across the world.
These kind of posts really challenge me to dig into the Word. And, honestly, I am never disappointed. The answers are there–
For the word of God is living and active, sharper than any two-edged sword, piercing to the division of soul and of spirit, of joints and of marrow, and discerning the thoughts and intentions of the heart.(Hebrews 4:12)
If this is true (and it is!), you can certainly see why Satan is centering his attack on the Word of God. If he can win this battle, he can turn true religion into false religion very quickly.  It is the Bible that keeps us from swerving off the narrow path and Satan knows this!
We are sinners (Romans 3:10).
God sent His Son to die as a sacrifice for our sins (John 3:16).
We will be saved if we believe this (Acts 16:31)
We know this because the Bible tells us so!
In conclusion, I want to leave you with this link: A List of Creation Scripture References. In studying for this post, I came across this helpful list. If you scroll down you will see how many times the New Testament refers to creation. Create and Evolve are two very different words. They imply completely different things. Create implies a Creator. Evolve implies lots of time, gradual change, and no creator. This is probably worth its own post, but I just wanted you to take a look. To deny creation doesn't mean only denying the literal interpretation of Genesis 1-11, but it also means you will have to deny the literal interpretation of most of the Old Testament and also the New Testament–creation is referred to that often.
As for Andy Stanley, I am trying to give an honest review of his theology as compared to scripture. I have no intention of personally attacking him. You can read more here if you are interested–
For the Bible Tells Me So: Biblical Authority Denited…Again by Al Mohler
Andy Stanley's Problem with the Bible by Josh Buice
And if you are really curious, you can visit this page for many article links and videos.