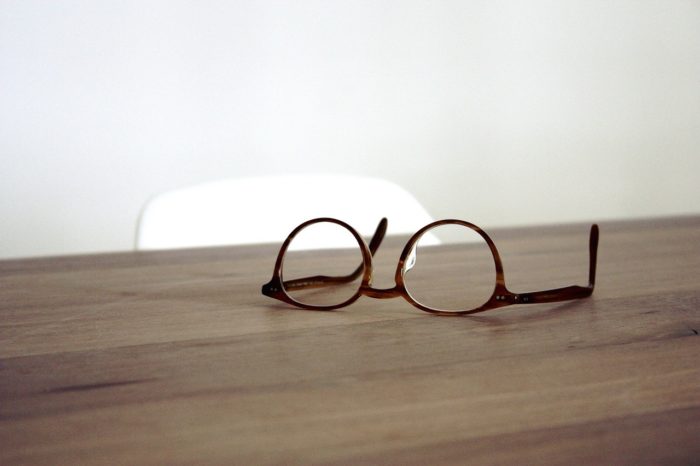 A few years ago, things started to get fuzzy. Books, menus, texts on my iPhone, nutrition information on the back of a food container–they all became difficult to read and I found myself squinting or holding the item way out in front of me so that I could decipher what it said. I finally gave in and bought the weakest reading glasses available. Suddenly, reading became an easy thing again.
I knew what that meant. My eyes were doing what most eyes do as they get older–namely, to lose their ability to see things close up. I remember going into the library with my young children years ago, seeing the shelf of "large print" books, and thinking just how old people must be if they need books with large print.  And here I was. Already. I didn't even feel that old.
As the years went by, my eyes grew steadily worse and I would have to buy the next "number" on the reading glasses scale. Until, finally, the other day it dawned on me that, sadly, I can hardly make out even a word without them anymore. I may as well be blind when I hold a book or menu in front of me but–magically–things grow super clear as soon as I put those glasses in front of my eyes.
As I was thinking about this, I realized that the Word of God is rather like a pair of glasses that helps us to see truth and to view the world from God's perspective. When we are saved, we suddenly walk into the marvelous light (I Peter 2:9), where we can finally see again! Life is never the same again and as we read the Word, God uses it to open our eyes and make clear what once was utterly inexplicable to us as an unbeliever.
For all of us were blinded before we were saved. We could not see because the god of this age had blinded us. 2 Corinthians 4:3-4 puts it this way–
But even if our gospel is veiled, it is veiled to those who are perishing, 4 whose minds the god of this age has blinded, who do not believe, lest the light of the gospel of the glory of Christ, who is the image of God, should shine on them.
But when the gospel of the glory of Christ shined brightly on our lives, it changed us. And God's Word went from being an old, irrelevant book to being the instrument God uses to change us, filling us with truth about who God is, building our faith, offering encouragement for us in our trials, and convicting us of our sin. Hebrews 4:12 tells us that–
For the word of God is living and powerful, and sharper than any two-edged sword, piercing even to the division of soul and spirit, and of joints and marrow, and is a discerner of the thoughts and intents of the heart.
How grateful I am for the Word of God that takes away my blindness! How wondrous it is to see things clearly. To walk in truth instead of stumbling in murky darkness. To rely on God's wisdom instead of my own short-sighted and vain philosophies.
If we are saved, the Word helps us see! The Bible is the Book that God has given us to know Him. It is this Book that helps us to understand the purposes and plan of our enemy. And the Book that clears our vision so that we can see our sin in all its dark ugliness. But this Book also shares the Gospel story and is full of wonderfully encouraging, uplifting words for us in our trials and struggles. It is an amazing, incredible Book that God, in His infinite wisdom, gave to us.
And yet, many of us treat the Bible like any other book on our shelf. It sits side by side with our novels and our non-fiction self-help books and holds no dearer place in our lives than that of any other book. In a lot of ways how we live with our Bible is like me living the rest of my life without putting on my glasses–walking around not being able to read a thing simply because I am too proud, too lazy, or too apathetic to put on my glasses.
If you are younger (in years or in the Lord) you may be thinking right now that you don't feel that way about the Word of God. You want to but you just don't. Well, don't be discouraged! The more you study the Word, the more you will see. Cast aside your feelings, your laziness, your too-busy schedule and just get in the Word and your love for it will deepen and grow. And you, too, will start to treasure the Word of God.
And to my young friends who can't comprehend ever needing reading glasses…well, I just have to say it is coming sooner rather than later. Life goes by so fast and we dare not waste a day. Even though we all do! That's just life, I guess.