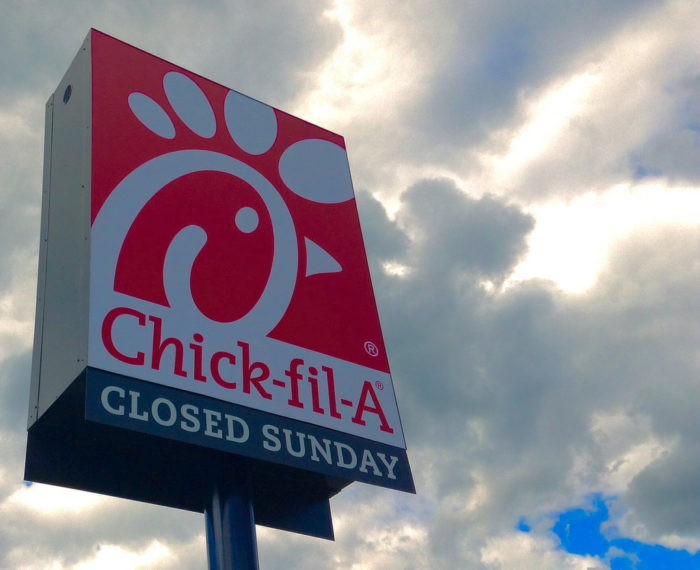 Have you ever noticed that almost everyone loves Chick-Fil-A? The other day we went to one for a mid-week lunch and it was lined up almost to the door. In a world where fast food has lost much of its popularity and is considered quite unfashionable, Chick-Fil-As are still always busy. Why is this?
I believe it is because when you go there you will find their restaurants clean and organized and the employees respectful and helpful. Of course this isn't true across the board, but there is a much greater chance of finding a Chick-Fil-A like this than any other fast food restaurant.
How does the owner of Chick-Fil-A accomplish this? This article states that Truett Cathy screens his franchise owners. They must exhibit Christian values and be involved in their communities. It's a Huffington Post article that puts a negative spin on it (of course!). But, actually, what Cathy is doing is completely lawful. He's protecting the reputation of Chick-Fil-A, which he owns. (Funny how you never see Huffington Post talk about the unfairness of progressives forcing business owners to bake wedding cakes…)
So why does having Christian values make a difference?
The Bible teaches us many things about life and human relationships. And it is clear that when we put them into practice, life is generally better. We avoid so much heartache and pain and generally experience so much more peace and joy when we don't lie, steal, cheat, or hate. We have a much more restful home when we love, forgive, discipline our children, treat one another with respect and kindness, and live out the roles God has established for Dads, Moms, and kids. And we run much better restaurants and companies when we are honest, fair, train our employees to treat others with respect and kindness, and operate with integrity.
Christian principles make for a better restaurant, family, church, workplace, and LIFE.
Psalm 1 puts it this way–
Blessed is the man
Who walks not in the counsel of the ungodly,
    Nor stands in the path of sinners,
    Nor sits in the seat of the scornful;
2 But his delight is in the law of the Lord,
    And in His law he meditates day and night.
3 He shall be like a tree
    Planted by the rivers of water,
    That brings forth its fruit in its season,
    Whose leaf also shall not wither;
And whatever he does shall prosper.
4 The ungodly are not so,
But are like the chaff which the wind drives away.
5 Therefore the ungodly shall not stand in the judgment,
Nor sinners in the congregation of the righteous.
6 For the Lord knows the way of the righteous,
But the way of the ungodly shall perish.
The ironic thing is that even unbelievers love what results from living this way, don't they? Chick-Fil-As are filled with customers who are unbelievers. It is because they love the outcome of this unappealing way of life, they just don't want to do the work or make the sacrifices to have that same outcome in their own personal lives.
This goes the same for parenting. The world (and even other Christians who are following the world when it comes to disciplining their children) longingly watch parents who are actually enjoying their well-behaved and respectful children. But these godly parents are diligently following scriptural principles and making sacrifices to experience God's wonderful promise that children are a reward (Psalm 127:3). It doesn't just happen. Other parents watching them–whose children are unruly and unmanageable and make life so difficult– long to have the same results as their friends. But they are completely unwilling to follow the biblical principles in order to do so.
Well, you just can't have your cake and eat it, too.
You can't have the positive effects of living life based on Christians principles without…actually living life based on Christian principles. And that does take work and sacrifice and usually comes with its own share of mocking and ridicule, no matter where you live.
Interestingly enough, one can actually live a life based on the principles of the Bible without actually being a Christian and fare pretty well from a temporal perspective. I have seen this many times. Couples that live out and have instilled these Judeo-Christian values in their kids and who are living a life of harmony and success because of it. (In fact, these actually can be some of the hardest people to reach because they don't see their need for a Savior.)
Perhaps this, too, is why America was so wonderful for so long. Perhaps this is why she attracted so many from countries all around the world. Being based on those same Christian principles created her reputation of being fair and free and safe and full of opportunities.
Of course, that's all changing rapidly now.
We can't change the world. But we can, like Truett Cathy, change our corner of the world. We can change our families by following God's ordained roles for men and women and by training our children according to biblical principles. We can change our place of employment by doing our jobs with integrity, honesty, and diligence. We can change our churches by teaching the Bible, treating others with grace and mercy, and by calling out sin. Living life according to biblical principles not only makes our lives better but it also makes life better for those who live with and around us.
God wrote the Bible for us. He wrote every word for a reason. Our job is to study it and to live it out. Psalm 1 is not a promise but a principle. Some Christians have really hard lives and hardly seem to prosper at all. But you can never judge a book by its cover. The poorest Christian may be much more prosperous in eternal treasure than the richest one.
One thing we do know for sure: The way of the ungodly shall perish.